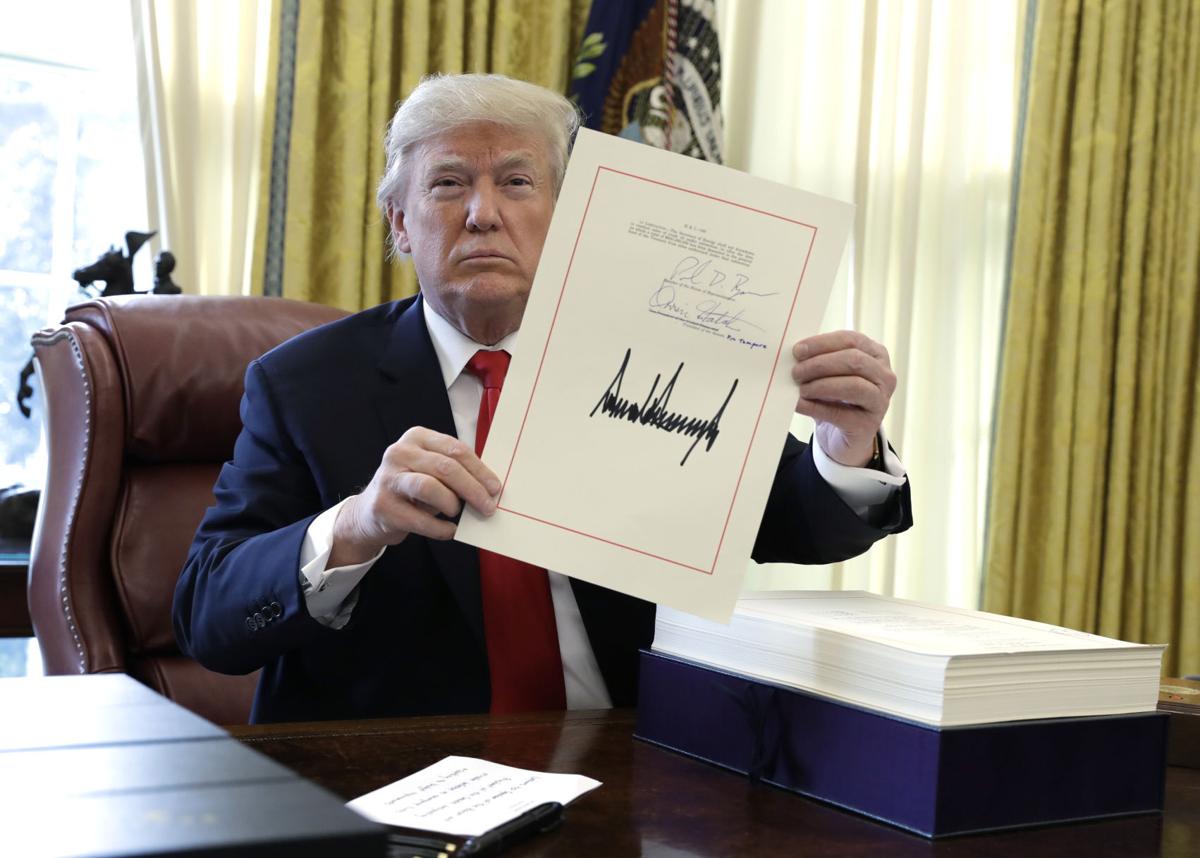 It remains President Donald Trump's signature legislative achievement — a $1.9 trillion tax law he signed in 2017. 
The tax law, as it was in 2018, is a significant issue in the 24th Congressional District. Democratic challenger Dana Balter criticized Republican U.S. Rep. John Katko, who voted for the measure. In the rematch between the two candidates, that criticism hasn't ended. 
In the final installment of the first batch of "On the Issues" stories by The Citizen, we examine the 2017 tax law and its impact on this race. As you will see, the two candidates are far apart on how the law has affected the district. 
John Katko
Katko, R-Camillus, was one of four New York Republicans who voted for what's officially known as the Tax Cuts and Jobs Act. In an interview with The Citizen after the vote, he touted the law's benefits for his constituents. He said it would provide tax relief to a "vast majority" of the 24th district's residents and provide more job opportunities in central New York. 
The law's main provisions include income tax cuts for millions of Americans, permanent corporate tax cuts and the doubling of the standard deduction. 
Nearly three years later, Katko stands by that vote. 
"Is it perfect? No. But is it a product of as much compromise as we could get? Yeah," Katko said. "It has allowed businesses in central New York to grow and thrive. I defy you to find those who don't." 
As an example, he highlighted a project led by JMA Wireless at the former Coyne industrial laundry building in Syracuse. The building is in a federal opportunity zone, a program created by the 2017 tax law to spur private investment in economically distressed communities. 
JMA also received help from the state — a $5 million grant — to support its 5G manufacturing expansion project. 
Katko believes that the project wouldn't have advanced without the tax law and the opportunity zones it created. 
"Now you have a decrepit area of Syracuse, a building that's been empty for a long time in a high poverty area that, as we speak, is getting refurbished and they're going to have hundreds of new jobs there and cutting-edge technology," he said. 
He vehemently disagrees with Balter's stance that the tax law should be repealed. He said repealing the law would amount to "another huge tax increase." He has already claimed Balter supports raising taxes because her preferred health care reform proposal, Medicare for All, would require an increase in Medicare payroll taxes. 
Before the COVID-19 pandemic, he argues that the country's economic strength was due to the tax law. There were record-low unemployment rates for African Americans and women. 
For Katko, the differences between him and Balter on taxes are another reason why he's supporting President Trump for reelection. When he endorsed Trump in January, he mentioned the president's economic record as a major factor in that decision. 
"I believe that less government and less taxes is the future of our government and not more government and more taxes," he said. "That is really this choice is boiling down to." 
Dana Balter
Balter, D-Syracuse, supports repealing the 2017 tax law. She wants to replace it with tax reform that would target people who are struggling most, including working families, people with disabilities, students and veterans. 
"Folks who kind of get the short end of the stick over and over and over again, and people for whom a little boost makes a big difference," she said. 
That, Balter believes, is the opposite of how the 2017 tax law impacted central New Yorkers. She said the law was designed to give "a vast majority of the benefits" to corporates and wealthy individuals — entities and people who "already have a lot," she noted. 
She recalled debating Katko about the bill in 2018. When he argued that it would bring jobs and increase wages, she disagreed. One of the chief criticisms of the law is that it would provide incentives to companies that outsource jobs. There have been proposals to end tax benefits for corporations that send jobs overseas. 
There are other problems with the law, according to Balter. She blasted corporations that pay no or lower taxes, but instead of hiring more workers or increasing wages, they provided those benefits to executives or shareholders through stock buybacks. 
"It is outrageous," she said. 
She also remembered the response to her claim in 2018 that the tax law would lead to calls from Republican leaders to address Medicare and Social Security. She said that Katko accused her of lying and spreading fear, but GOP leaders have said that because of the growing national debt — a Congressional Budget Office estimate suggests that the tax law will add nearly $2 trillion to the debt — they want to explore Medicare and Social Security reform. (Katko has said he wouldn't support cuts to the social insurance programs.) 
Since the Tax Cuts and Jobs Act took effect and central New Yorkers started to see the effects of the measure, Balter said she's received phone calls and letters from 24th district residents who have been negatively affected by the law. They are paying thousands of dollars more in taxes, Balter said. Union members lost the ability to deduct their union dues on their tax returns. For others, their tax liability increased. 
"There are a lot of people in our communities who have those stories and every time John Katko goes on television and talks about how great this bill is, it's an extra slap in the face to those people," Balter said. 
In 2018 and again in this campaign, Balter has criticized Katko's vote for another reason: The fate of the Affordable Care Act. 
The tax law contained a provision that eliminated the Affordable Care Act's individual mandate, a requirement that Americans buy health insurance coverage. With the individual mandate gone, Republican attorneys general are suing to have the health care law overturned. 
While Katko opposed the individual mandate, he has expressed opposition to the lawsuit. He says he supports protections for people with preexisting conditions, which are at risk if the health care law is tossed. 
"It was a terrible vote," Balter concluded. "It was harmful for central and western New Yorkers." 
Politics reporter Robert Harding can be reached at (315) 282-2220 or robert.harding@lee.net. Follow him on Twitter @robertharding.