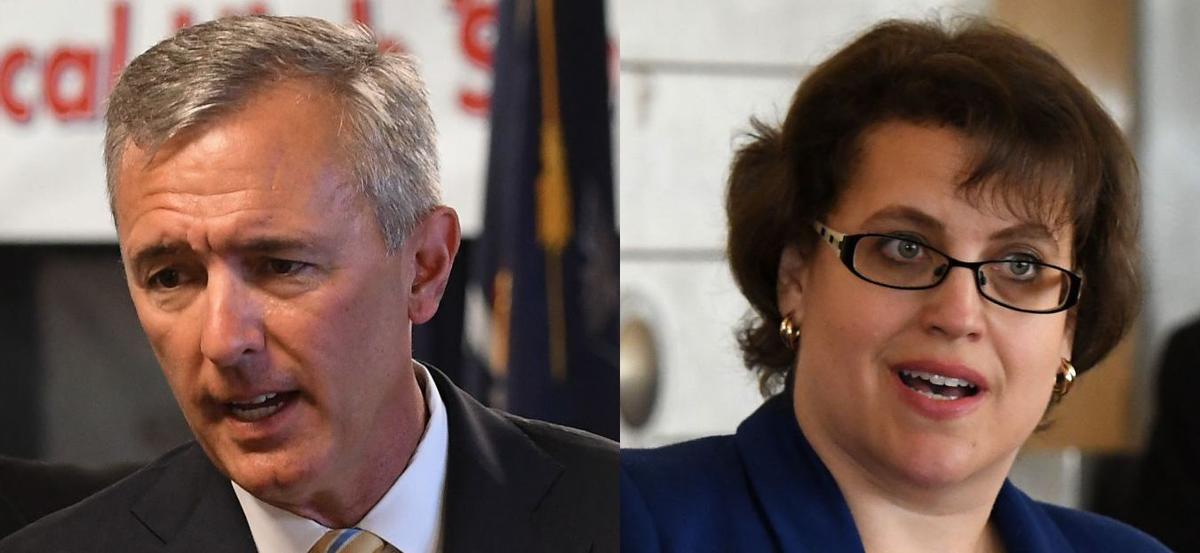 This isn't your typical "issue" that is debated in a political campaign. But in the 24th Congressional District race, it looms as a major topic, especially in a presidential election year. 
When Katko announced his endorsement, he detailed the reasons: The economy under Trump, "improved trade with other nations" and national security "is strong both at home and abroad." He contrasted that with the policies proposed by Democratic presidential candidates, which he described as "far left," including Medicare for All — a measure supported by Democratic nominee Dana Balter, Katko's opponent.
"As much as I am sometimes frustrated by the president's approach, I believe our country is in a better place today than it was four years ago," Katko said. "We cannot afford the extreme policies being championed by the left, which would result in higher taxes for every American and a guaranteed debt crisis for our country. Given this choice, I will support President Trump this November." 
However, Katko said it's not a "blanket endorsement" of Trump and that he will be a "vocal check on the president when I disagree with his rhetoric and with policy decisions that are not in the best interest of central New York." 
A lot has changed in the six months since Katko's endorsement of Trump. The COVID-19 pandemic led to significant economic and public health crises in the U.S. More than 4 million Americans have been infected and there have been more than 146,000 deaths. The jobless rate was 11.1% in June. Nearly 53 million people have sought unemployment assistance over the last four months. 
What hasn't changed is Katko's support of Trump. He believes that the state of the economy before the pandemic hit — the national unemployment rate was at 3.5% in February — helped the country weather the historic blow that was dealt beginning in March. 
"Really what this vote is about is yes, President Trump is the head of his party and yes, (Joe Biden) is the head of his party. But here's what it is," Katko said in an interview. "Before COVID hit, we had some of the lowest unemployment numbers in the history of our country. The fundamentals of our economy were unbelievably strong. I shudder to think where we would be right now were it not for that fact." 
He continued, "Where the economy was before this started gave us a great foundation on which to rebuild and I think we're going to do that." 
Endorsements, Balter told The Citizen, attach your name and reputation to another person. It's a show of support for their agenda and what they stand for. 
"It's a big deal," Balter said. "And in endorsing Donald Trump, John Katko is endorsing a man who shows zero respect for the office that he holds and zero respect for this country. He has spent the last four years attacking our democracy in every way he possibly could from undermining an independent judiciary to cozying up to aggressors around the world, distancing us from our allies around the world which makes us less safe as a country, which makes the world less safe. 
"He's been rolling back our progress on dealing with the climate crisis which is a major national security threat and a major health hazard and he's making us less safe on that front. He is, perhaps, the most corrupt president that we have ever had, certainly the most corrupt president in our lifetime." 
Balter criticized Katko for supporting Trump's policies, namely the 2017 tax law. That was a significant vote, in Balter's view, because she not only believes that the legislation didn't benefit central New Yorkers, but she blames it for motivating GOP attorneys general to sue to dismantle the Affordable Care Act. 
For Balter, it's about more than just Trump's policies. It's also about Trump's character. 
"(Katko is) endorsing a president who foments fear and hatred and xenophobia — who brings out the worst in people and who uses those things as a tool to increase and maintain his own power," Balter said. "And history is rife with examples of what happens when that is done and not checked.
"One of the most important functions that Congress is supposed to serve is to be a check on the presidency. This president has needed that more than any other in our lifetime, and John Katko has steadfastly refused to be that check." 
Katko disagrees with that assessment. In an interview with The Citizen, he said that there have been "many, many times where I've broken with the president." As an example, he mentioned times when he broke with Trump to support measures to end government shutdowns. 
According to FiveThirtyEight's tracker, Katko has voted in line with Trump's position 75.7% of the time — the fifth-lowest percentage among House Republicans. He's split with Trump on several votes, including a bill to repeal the $10,000 cap on state and local tax deductions, which is part of the 2017 tax law, and he voted for a resolution opposing Trump's decision to withdraw troops from Syria. He also supported a measure to overturn the president's emergency declaration that would allow him to shift funding for the border wall. 
While Katko differs from Trump on some issues, ultimately he wants the president to be successful. 
"I wish my opponent and those in the Democratic Party would feel the same way, but I think their hatred for his personality and their distaste for his personality overshadows much of what has been accomplished," he said. 
Politics reporter Robert Harding can be reached at (315) 282-2220 or robert.harding@lee.net. Follow him on Twitter @robertharding.