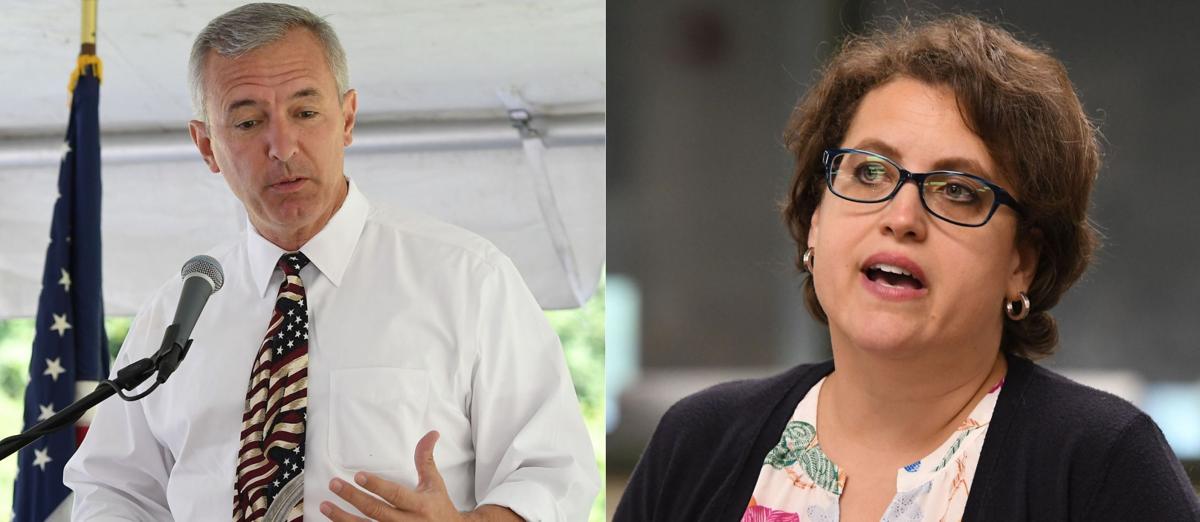 A new poll found that Republican U.S. Rep. John Katko has a three-point lead over Democratic challenger Dana Balter in the 24th Congressional District race. 
The poll, which was conducted by RMG Group on behalf of U.S. Term Limits, shows that Katko, R-Camillus, leads 40-37% over Balter, D-Syracuse, in the 24th district. Nearly one-quarter of voters (23%) are undecided.
RMG Group surveyed 500 registered voters online from July 29 through Aug. 4. The poll has a margin of error of plus or minus 4.9%. 
It's the first general election poll that shows Katko leading in his bid for a fourth term in Congress. One poll released by the Democratic Congressional Campaign Committee showed Balter leading by three points. A separate poll released by House Majority PAC, a Democratic super PAC, revealed that the race is a dead heat. 
The main purpose of RMG Group's poll was to determine whether 24th district voters support term limits. U.S. Term Limits is a group that advocates for imposing term limits on elected officials, including members of Congress. 
The poll found that nearly three-quarters of voters (74%) either strongly favor or somewhat favor term limits for members of Congress. Thirteen percent either somewhat oppose or strongly oppose the idea, while 12% aren't sure. 
Among NY-24 voters who support term limits, A vast majority (76%) said they would support limiting members of Congress to three terms, or six years. Eighteen percent said congressional representatives should be limited to six terms in office. 
Voters were also asked whether they knew if Katko supports term limits for members of Congress. Most of the respondents (75%) weren't sure, while 12% said he doesn't support limiting congressional terms. 
U.S. Term Limits said that the GOP congressman "opposes" its pledge, which asks candidates to support a constitutional amendment that would limit House members to three terms and U.S. senators to two six-year terms. Katko's campaign said that it hasn't seen the pledge. 
However, Katko does support term limits. He has been a proponent of term limits and believes House and Senate members should serve no more than 12 years (six terms for the House, two for the Senate) in office. 
The poll then asked voters who they would support if Balter signed the U.S. Term Limits pledge, but Katko opposes term limits. Balter would hold a 17-point lead, 45 to 28%, over Katko. 
That's not likely to happen. Balter opposes term limits for members of Congress. 
Despite the hyperfocus on term limits, the poll's NY-24 findings are similar to what other polls have found. It's expected to be a close race between Balter and Katko. Political forecasters rate the contest either "leans Republican" or "tilt Republican." 
Balter and Katko each have aired four television ads in the district. Outside groups, including the DCCC and National Republican Congressional Committee, are investing in the race. There was more than $9 million spent on the 24th district race in 2018. The rematch between Balter and Katko could exceed that figure. 
Politics reporter Robert Harding can be reached at (315) 282-2220 or robert.harding@lee.net. Follow him on Twitter @robertharding.
Get Election 2020 & Politics updates in your inbox!
Keep up on the latest in national and local politics as Election 2020 comes into focus.