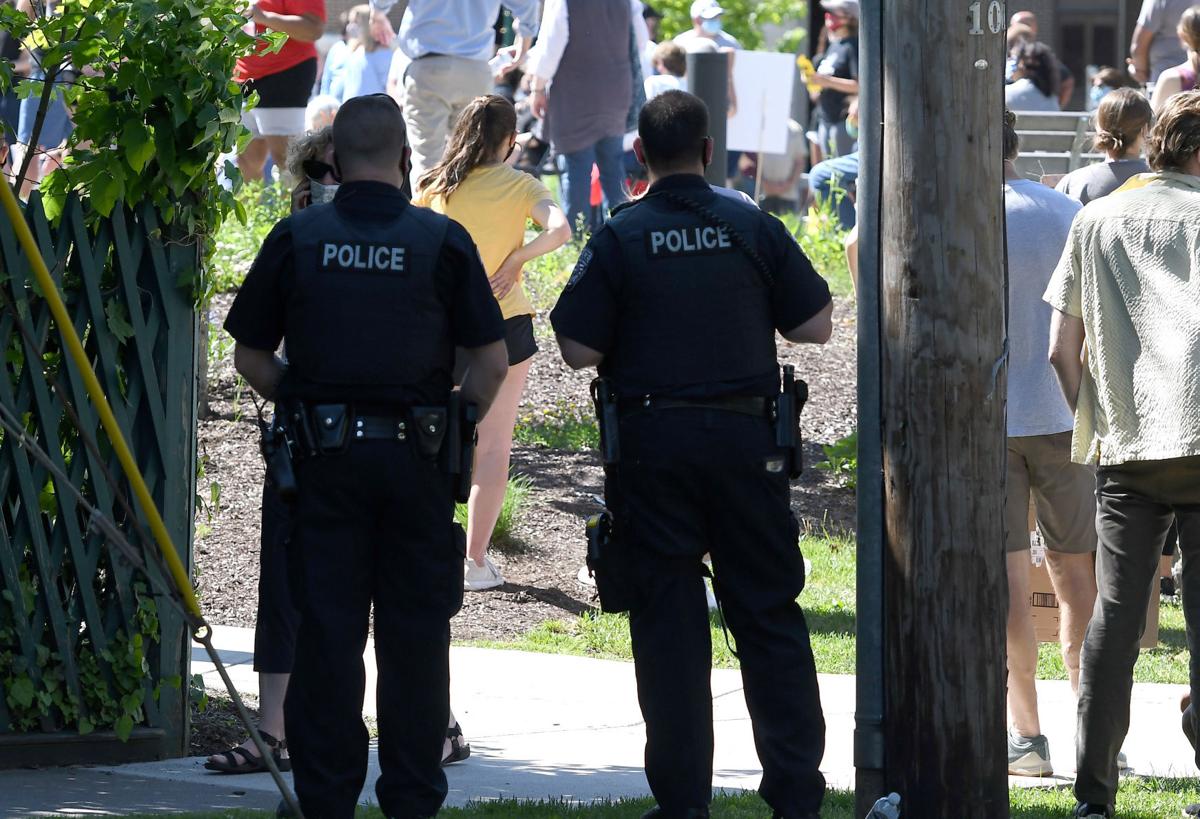 U.S. Rep. John Katko panned a Black Lives Matter-led effort to "defund" the police while accusing Democratic congressional candidate Dana Balter of being silent on whether funding should be slashed for law enforcement agencies. 
Black Lives Matter leaders have said the goal of "Defund the Police" isn't to disband departments. They want funding to be redirected to other needs, such as education, health services and housing. 
There are nationwide protests demanding police reform after the killing of George Floyd. Katko, R-Camillus, says he supports the protests and is joining the calls for legislative action — he said in an interview that he supports community policing and enforceable standards for police departments. But he doesn't believe defunding the police is a solution. 
"There are few rational Americans who want to disband police agencies," he said Monday. 
Katko's statement mainly targets Balter, who is running for the Democratic nomination in the June 23 primary. It doesn't mention the other primary candidate, Francis Conole. 
In the statement, Katko claims Balter "has been silent as leaders in her party call to defund police departments." Katko doesn't specify which Democratic leaders support defunding the police. Former Vice President Joe Biden, the presumptive Democratic nominee for president, said Monday he opposes defunding police agencies. The top congressional Democrats, House Speaker Nancy Pelosi and Senate Minority Leader Chuck Schumer, haven't endorsed the idea. Pelosi said it's a "local decision." 
Balter responded to Katko's comments on Monday by criticizing the congressman for being "inexcusably late and remarkably hollow in his acknowledgment of the racism that permeates the criminal justice system he's long been a part of." Balter is referring to Katko's past role as a federal prosecutor. Before he was elected to Congress, he served as an assistant U.S. attorney. 
Balter's position is that police reform is needed. She supports proposals that would end police brutality and "racist law enforcement policies." She doesn't support the elimination of police departments. 
"That, along with investing in vital community programs to end homelessness, provide mental health care and substance abuse treatment, and end domestic violence is how we increase public safety for everyone," she said. 
Conole also issued a statement that highlighted the need for more investments in clean energy, infrastructure and job training. He said greater funding would "strengthen our communities and reduce the effects of systemic racism in our society." 
"That includes ensuring quality education and affordable housing in all our neighborhoods, as well as equal access to capital for small businesses, particularly those owned by people of color," he said. "Now is the time for concrete action, not just words." 
Balter and Conole are vying for the Democratic nomination in the 24th district. The winner of the June 23 primary will face Katko in the general election. 
Katko faced Balter in 2018. It was the closest race he's had in three elections. He won reelection by five percentage points. 
Politics reporter Robert Harding can be reached at (315) 282-2220 or robert.harding@lee.net. Follow him on Twitter @robertharding.