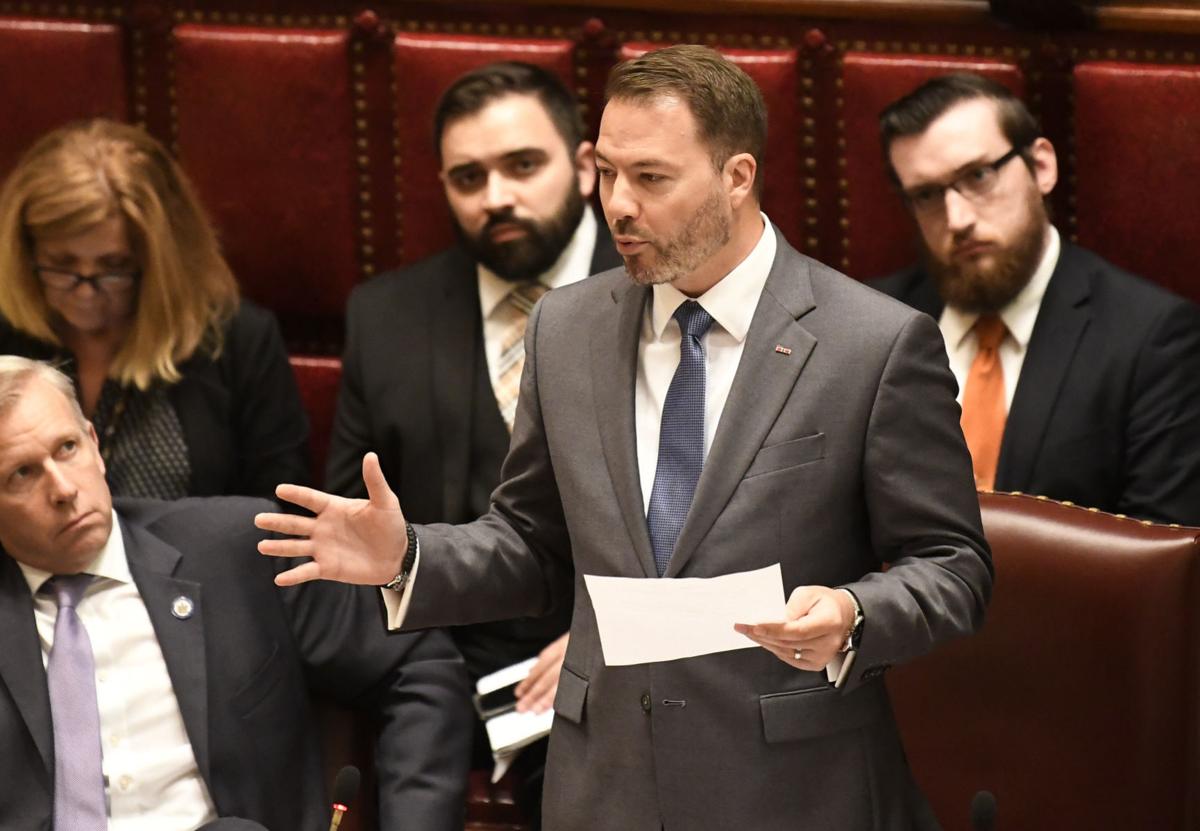 State Sen. Rob Ortt is the youngest member of the Senate Republican Conference. Two weeks ago, he became its leader. 
Ortt, R-North Tonawanda, succeeded retired state Sen. John Flanagan as Senate minority leader. There was a brief race for the leadership post, but two other competitors — state Sens. Patrick Gallivan and Andrew Lanza — ended their bids and backed Ortt. 
At 41, Ortt is leading a changing conference. Two years ago, Republicans sought to defend several Senate seats across the state and hold onto the majority. This year, with GOP members holding a third of the chamber's seats, they need to defend the 21 seats they hold now and cut into the Democrats' 40-seat majority. 
It won't be easy. Two Republicans — Bob Antonacci and Flanagan — resigned from the Senate, leaving two open seats in central New York and on Long Island. There are seven other GOP senators who decided not to seek reelection this year. 
"It's an unprecedented turnover and there's no question that presents a host of challenges aside from just going and trying to win more seats," Ortt said in a phone interview Thursday. "We also have so many open seats on our side that we're going to have to defend some of those as well. It presents a unique challenge." 
Ortt has a local government and military background. He enlisted in the New York Army National Guard after the 9/11 attacks. His eight years of service included several stints on active duty and a nearly year-long deployment to Afghanistan. 
For his service, he won the Bronze Star, Army Commendation Medal, the Afghanistan Campaign Medal and the Combat Infantryman's Badge. More than the honors, though, he learned about leadership. 
"It's probably the best leadership school you can think of and they're very focused on that at all different levels," Ortt said of the Army. "I think that's something that is in short supply across all different spectrums today." 
In 2007, a year before his deployment to Afghanistan, he was appointed city treasurer in North Tonawanda. He was elected to a full four-year term as treasurer later that year. 
After North Tonawanda chose to merge its city clerk and treasurer positions, Ortt became the first clerk-treasurer of the city. He held that post until the end of 2010 when he was elected mayor. 
Much like his current role, he faced challenges when he became mayor. It was in the midst of the Great Recession and the city's finances weren't in good shape. He had to work with the city council and five unions representing the city's workforce. 
"All those things that mayors have to deal with, but we left the city in a much better spot than it was in," Ortt said. 
Ortt was elected to the state Senate in 2014. He represents the 62nd district, which includes the towns of Ogden and Sweden in Monroe County and all of Niagara and Orleans counties. 
At the time of his election, he was the youngest member of the GOP conference. In his sixth year as a senator, he still holds that title. As he focuses on the 2020 elections, he's hoping to make the conference more diverse than it has been in the past. That includes recruiting younger people, women and people of color to run for office. 
He highlighted the Republicans' slate of candidates this year, which includes Angela Renna, the Republican nominee in the 50th Senate District, and Sam Rodgers, who is challenging Democratic state Sen. Rachel May in the 53rd district.
Outside of central New York, he mentioned Rob Astorino, a former Westchester County executive and GOP gubernatorial nominee who is challenging Democratic state Sen. Peter Harckham in the 40th district, and Alexis Weik, the GOP candidate running against Democratic state Sen. Monica Martinez on Long Island. 
"I think we have to be cognizant of not only the issues and the policy, but how the conference looks," Ortt said. "I do think that, for some people, you never get to the issues because they say, 'Well, this person, I don't identify with them and they're not going to identify with my story' and so they kind of tune you out.
"While I do think the Democrats do a better job certainly of playing identity politics and it's sort of their brand or part of their strategy, I do think we have to be cognizant that in certain areas where you have different communities, more diverse communities, it is OK. Not only is it OK, we should be looking to recruit candidates who reflect those communities. If it's a black conservative, a Latino conservative, whatever it might be — a female, younger candidate. I think those are all areas that we need to get better at." 
Ortt noted that when he was sworn in as a state senator in 2015, the Republican conference had more women senators than the Democrats. However, he doesn't think the conference talked about it enough and didn't highlight the work of those senators as much as they should've at the time. 
He also wants diversity reflected in the conference's leadership. His first step in that process was naming state Sen. Pam Helming as chair of the Senate Republican Campaign Committee. Helming, a Canandaigua Republican, is the second woman to hold that post. 
"We represent all corners of the state much more than the other side does," Ortt said. "That's going to be central to our messaging as we go forward." 
The first test is this year's election. Ortt summarized the Republicans' platform which focuses on economic security and public safety. They plan to target competitive seats held by Democrats who supported the 2019 bail reform laws. That has been a top issue for the GOP conference. They are also critical of attempts to "defund the police." New York City recently cut $1 billion from its police department's budget. 
On the economic front, population losses are a concern. Ortt worries that the coronavirus pandemic will worsen the problem and lead to a loss of businesses and jobs. 
"That's a bad spot to be in," he said. "You need a healthy middle class and the middle class in New York are the people who are leaving." 
Republicans will also discuss the importance of checks and balances. Ortt argued that one-party rule doesn't benefit New Yorkers. Democrats not only hold the statewide elected offices, but they control both houses of the state Legislature. 
Regional balance is also important, he said. With the Democrats in control of the state Assembly and Senate, most of the power is in the New York City area. He believes Republicans represent a more geographically diverse population across the state. 
"Those people deserve some voice in their state government," Ortt said. "Obviously that is our message and that's what motivates me every morning to get out of bed and go fight this fight on behalf of those constituents." 
Politics reporter Robert Harding can be reached at (315) 282-2220 or robert.harding@lee.net. Follow him on Twitter @robertharding.
Get Government & Politics updates in your inbox!
Stay up-to-date on the latest in local and national government and political topics with our newsletter.