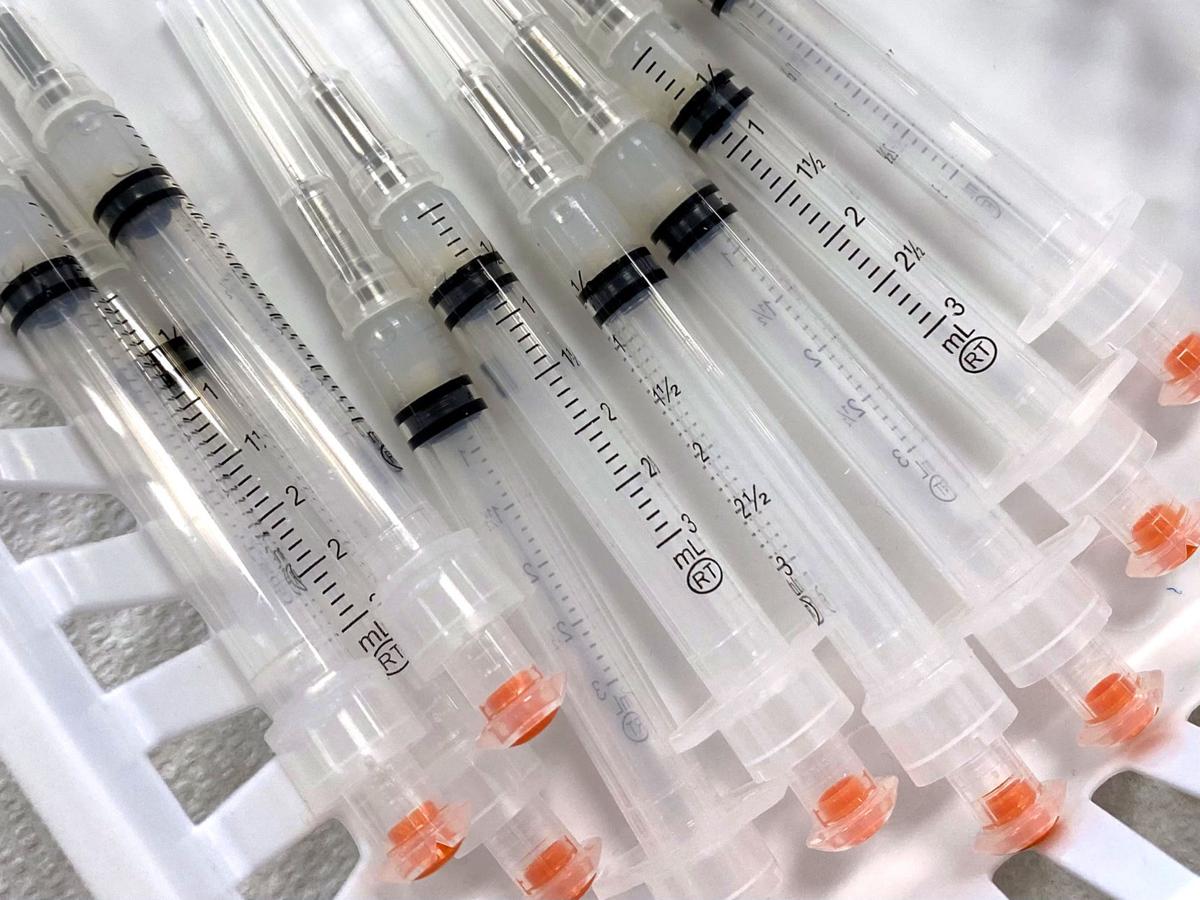 Two SUNY Upstate Medical University experts helped U.S. Rep. John Katko respond to questions about how COVID-19 vaccines work and address misinformation about the immunizations. 
Dr. Kathryn Anderson, an infectious disease epidemiologist, and Dr. Stephen Thomas, SUNY Upstate's chief of infectious disease, joined Katko, R-Camillus, on Tuesday for an hour-long telephone town hall about COVID-19 vaccines. Katko mainly moderated the conversation as most constituents had questions for Anderson and Thomas. 
Thomas, who was named the lead principal investigator for the Pfizer vaccine trial, summarized the development of the vaccines. Each of the three vaccines that have been available in the U.S. received an emergency use authorization from the Food and Drug Administration. The standards for an emergency use authorization, he explained, are similar to the licensing process. 
The Moderna and Pfizer vaccines use messenger RNA technology, while the Johnson & Johnson vaccine — which has been paused due to at least six cases of a rare blood clot — has a different feature to generate an immune response to the virus. 
With the mRNA vaccines (Moderna and Pfizer), Thomas noted that clinical trials found the vaccines are safe and "highly, highly efficacious." Both vaccines have an overall efficacy rate of at least 94%. 
"When you look at all vaccines, most vaccines don't achieve that number," Thomas said. "So it's really incredible." 
Anderson highlighted the importance of the vaccines, especially as new variants emerge that can threaten the progress of the vaccination effort. In New York, nearly 40% of residents have received at least one dose of a COVID-19 vaccine. One-quarter of residents have been fully vaccinated. 
However, the variants could fuel a potential fourth wave of the virus. Anderson said one variant, B117, has been found in 44% of positive cases in the U.S., up from 4% in January. There has been increased transmission in certain parts of the country, particularly in the Northeast and Midwest. There are also more cases among young people. 
"We're really at a unique and critical point," Anderson said. "The vaccines do offer us a path to return to some normalcy." 
During the question-and-answer period, there was a range of queries from Katko's constituents. One caller from Auburn asked about the mRNA technology and the long-term effects of the vaccine. Anderson said they have heard those concerns. She described mRNA as a "temporary code that gets into your cell, and then that mRNA is destroyed." It doesn't get into your DNA, she added, and it doesn't remain in your body for a long period. 
A second caller also inquired about the use of mRNA in vaccines. Thomas explained that COVID-19 vaccines aren't the first to use the technology. There have been other vaccines for Ebola, influenza and Zika that have used mRNA. Because of that, they have been able to follow people who receive the vaccinations over an extended period. 
"We continue to look for it, but we really haven't seen any long-term effects," he said. 
One constituent, Mark, is a Cato resident. He said he and his wife had COVID in December. Because they were infected, he said they were told not to get the vaccine right away. 
Anderson told him that people who are infected with COVID-19 should wait to get the vaccine. Once they recover, they can get the vaccine. There may be an exception for patients who received antibody or plasma treatment. They may need to wait to get the vaccine. 
The experts also faced questions that highlighted a major challenge to achieving herd immunity. At least two callers shared their hesitance about the vaccine, with one of them saying that they are being "badgered at work for not wanting" to get the vaccine. They want to wait to "see some of the side effects." They also expressed concern about how it would affect fertility. 
Anderson said the claim about COVID-19 vaccines and fertility can be traced back to a doctor, who has a history of opposing vaccinations, spreading misinformation. She acknowledged that it's gained traction, but it's not true. There has not been an increase in miscarriages or fertility problems that can be attributed to the vaccine. 
A second person mentioned that while she has been vaccinated, she knows others who aren't going to get inoculated. She asked how to convince someone to get vaccinated. 
For this question, Katko interjected. He was vaccinated when it was available for members of Congress. 
"It's a free country and that's what's beautiful about our country," he said. "My experience with it was great ... One of my sons has had pneumonia multiple times. He was a little concerned about getting it. In the end, he got it and had no effects whatsoever." 
Katko added that the whole purpose of the town hall was to help constituents make more informed decisions about the vaccine. 
Politics reporter Robert Harding can be reached at (315) 282-2220 or robert.harding@lee.net. Follow him on Twitter @robertharding.