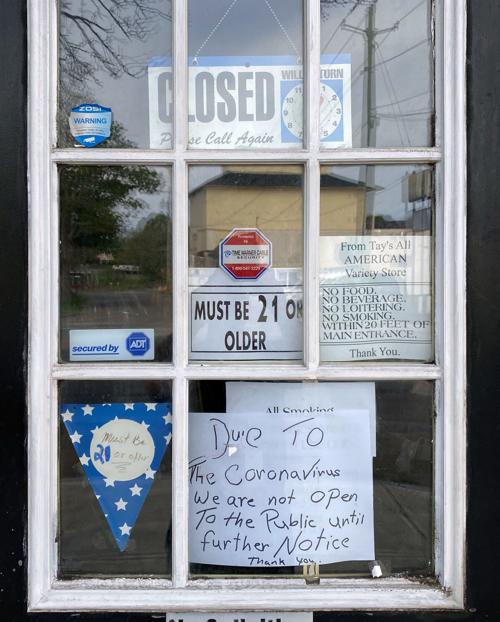 For more reasons than one, early April was when I started getting acquainted with New York's unemployment system. 
As a journalist, I was tracking the economic collapse and the increasing number of people who filed for unemployment benefits. As the employee of a media company, I faced the reality that my wife, Sarah, who also works at The Citizen, and I would need to seek assistance. 
The Citizen's parent company, Lee Enterprises, informed us that we would be furloughed for two weeks between the start of April and the end of June — our third fiscal quarter. We were advised that we could file for unemployment benefits. 
Because I was in the midst of covering one of the biggest stories of my lifetime, I opted to wait until May to begin my furloughs. To lessen the financial blow to our household budget, Sarah took most of her furlough days — we were allowed to take individual furlough days instead of a week at a time — in April. 
The week of April 6 is when my wife took the first two of her 10 furlough days. She filed her unemployment claim and waited. She applied days before Gov. Andrew Cuomo's administration announced that the unemployment website, which was overwhelmed by visitors seeking to file claims. 
Sarah made a small error when filing her claim and tried to contact the Department of Labor through the unemployment hotline. She called hundreds of times over a three- or four-week period. The result was the same: Either she couldn't speak to a representative, or it would tease her by letting her jump through a few hoops first before announcing that no one was available to assist her. 
Her frustration mounted. The process did not work for her. As I covered the unemployment situation, I heard from New Yorkers who shared similar stories. I could relate. I would tell them about Sarah's struggles and they would detail theirs. Nearly all of the people I spoke to filed in March or early April. 
By the end of April, Sarah took all but two of her furlough days. For weeks, her paychecks were reduced and she wasn't receiving unemployment benefits. We put it in perspective: At least we still had jobs, even if we had to take these temporary pay cuts. But the bill collectors are less forgiving. 
As I prepared for my first furloughs, I took to Twitter to share Sarah's story. A few days later, I received a call from state Sen. Pam Helming's office. Helming's staff said they were willing to help. 
Later that week, Sarah received a call from a Department of Labor representative. They helped move her claim through the system. The following week, she received the benefits she was owed. 
Sarah's experience is similar to many others I've talked to throughout this ordeal. Some of the people I spoke to finally received their benefits. Others are still waiting. 
By the time I filed my claim in early May, I had notes available to ensure I filled out the claim application correctly. I knew from the Department of Labor press calls that one of the common problems people had was they didn't include their federal employer identification number, or FEIN. A week or so before I filed my claim, our company sent that information out to all employees. 
Another problem that people had is that they left at least one field blank. I made sure to fill out all the fields. It took me about 15 minutes to complete the form. 
About a week later, I learned my claim would be paid. I completed my weekly certification, which is required for claimants to receive benefits. Two days after certifying, I received my first benefits. 
My experience was much less stressful than Sarah's, but I think it's because of the differences between the two systems. When Sarah filed her claim, it was clear there were issues with the website and phone system. It took Sarah a few tries to complete the claim because she would get timed out of the page. 
For me, the application was streamlined and the process went smoothly. I didn't get booted from the page. I completed it in one shot. 
I'll leave you with a few tips: 
• Have your personal information and (if this applies to you) your employer's FEIN ready. Don't leave those fields blank or it will cause a delay in the state paying those benefits to you. 
• If you're having trouble contacting the Department of Labor, contact your state representatives for assistance. Many of these offices are helping New Yorkers navigate the bureaucracy. 
• Once your claim is approved, make sure you certify to receive your weekly benefits. If you don't, you won't receive the money owed to you in a timely manner. The state does have a new way of certifying for back benefits, but certifying every week ensures you will receive the benefits quickly. 
Politics reporter Robert Harding can be reached at (315) 282-2220 or robert.harding@lee.net. Follow him on Twitter @robertharding.
Concerned about COVID-19?
Sign up now to get the most recent coronavirus headlines and other important local and national news sent to your email inbox daily.