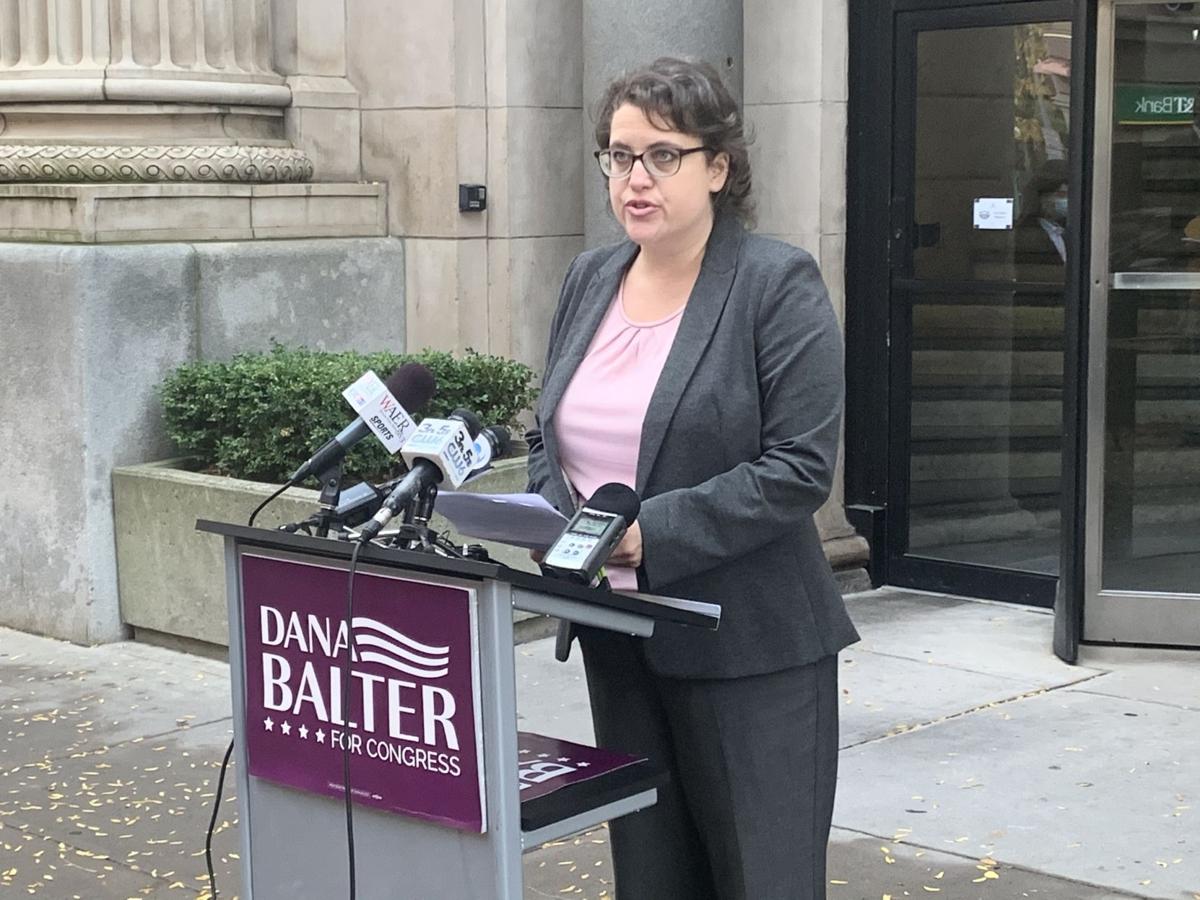 Days before early voting begins and with less than two weeks to go until Election Day, Democratic congressional candidate Dana Balter is calling on Republican U.S. Rep. John Katko to take down negative TV ads she says contain racist and misogynistic images. 
Balter, D-Syracuse, responded to a series of ads that Katko's campaign has paid for over the past few months. At a press conference Wednesday in Syracuse, she said the GOP congressman's tactics are stoking fear and seek to divide the 24th Congressional District. 
"The racist dog whistles and sexist tropes that he's been using in his ads are abhorrent and they are straight out of Donald Trump's playbook," she said. 
As examples, Balter mentioned some of her images that have been used in Katko campaign ads. She said they used "the most unflattering photos" and made changes to the images' contrast and intensity. She also believes they intentionally used images of women with their mouths open making it seem as if they are angry or screaming. 
"This is feeding into the misogynistic stereotypes," she said. "It is a tried and true tactic." 
Regarding the accusation that Katko's ads have contained racist imagery, Balter noted that one commercial criticizing her stance on New York's bail reform law showed a man walking in a hoodie. 
"In this moment in our history when we are finally having the national reckoning of racial justice that is so long overdue, for him to play into and amplify a stereotype, that's not only mean but it actually makes young black men in our community less safe by perpetuating those stereotypes," she said. "That is an inexcusable choice." 
According to Katko's campaign, the man featured in the TV commercial is white and they added that no people of color appear in any bail reform ads. The ad referenced by Balter is no longer running in the Syracuse media market. 
The Katko campaign also says they did not alter any images of Balter that appeared in their TV ads. 
"There are no people of color in our bail reform ad, and to assume the spot portrays a Black man is offensive," said Benedicte Doran, who serves as political director for Katko's campaign and is the new chair of the Onondaga County Republican Committee. "Our ads show Dana Balter for who she is: a professional candidate and protester. They focus on her far-left support of bail reform and a costly government takeover of health care."
Doran added, "Dana Balter lies in her ads, and is lying now to try and distract from her extreme and costly positions, which is insulting to central New York voters." 
At Balter's press conference, two Auburn women joined her to slam Katko's negative TV ads. Jane Oliver, a senior at Auburn High School and founder of Cayuga County Young Democrats, said the ads make Balter look angry and frazzled. She's disappointed by the commercials because they are "misleading and sexist." 
Oliver questioned why Katko is intimidated by a powerful woman like Balter. 
"I think your campaigns say a lot more about your morals than they do about Dana Balter's," she said. 
Gwen Webber-McLeod, a business owner who ran for Cayuga County Legislature in 2019, agreed with Balter's assessment that Katko's ads contain images and language that feed into stereotypes about women and people of color. 
She said the ads make her question if Katko is aware that women, including Black women and mothers, are paying attention to his work in Congress. 
"These ads leave me wondering if he truly cares about Black families the way he says he does," she said. "His words and actions don't match." 
Between the two candidates, there have been at least 25 television commercials in the 24th district race. That doesn't include the ads paid for by outside groups. 
The 24th district is one of the most competitive House races in the country. Polls show Balter and Katko are in a dead heat. Political forecasters rate the race a toss-up. 
Politics reporter Robert Harding can be reached at (315) 282-2220 or robert.harding@lee.net. Follow him on Twitter @robertharding.
Get Government & Politics updates in your inbox!
Stay up-to-date on the latest in local and national government and political topics with our newsletter.