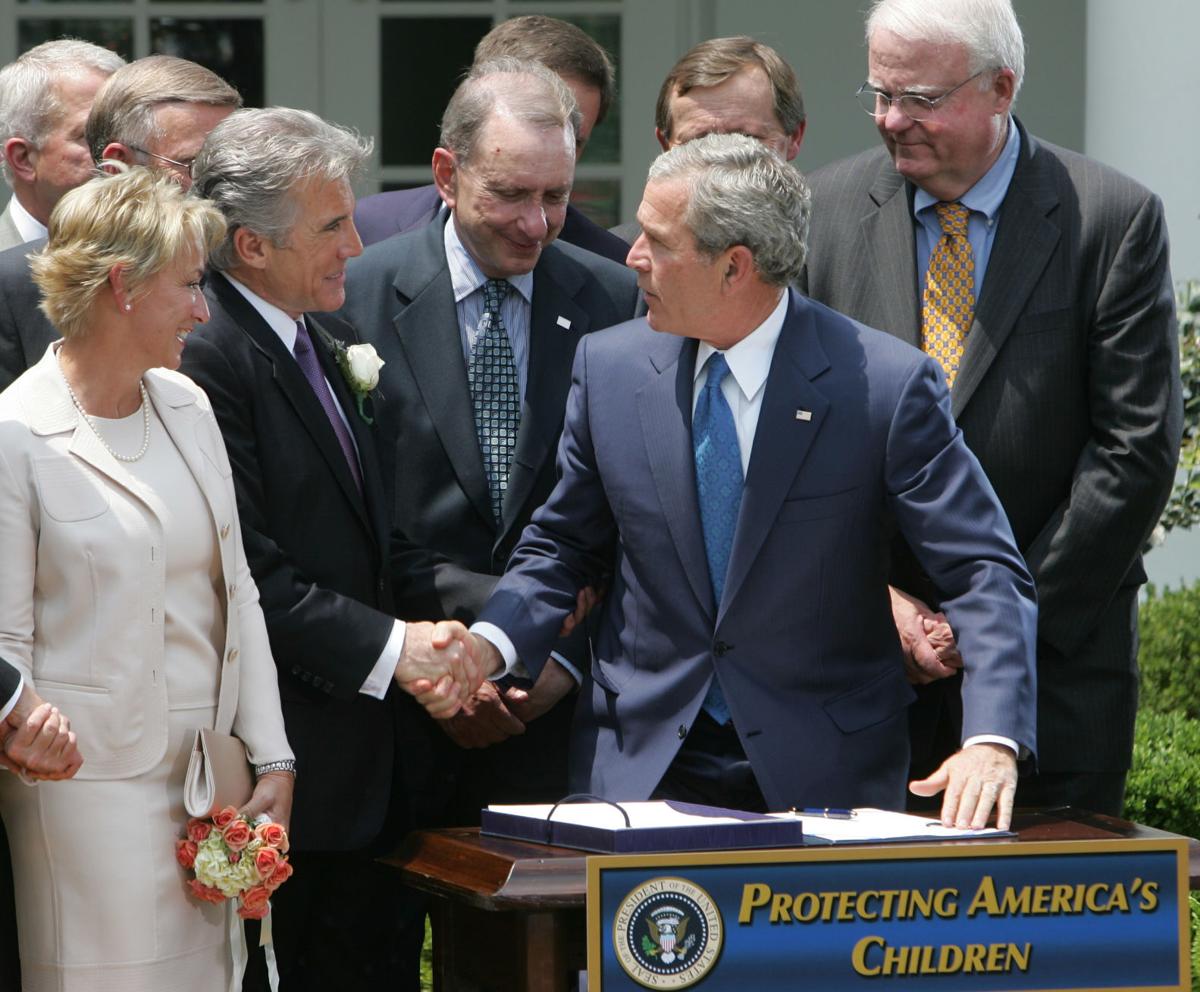 The U.S. Marshals Service detailed its work over the past 15 years as it marked the anniversary of the Adam Walsh Child Protection and Safety Act, a federal law named for the son of Auburn native and former "America's Most Wanted" host John Walsh. 
Former President George W. Bush signed the law on July 27, 2006 — the 25th anniversary of Adam Walsh's abduction from a Florida mall. The law established requirements for sex offender registration systems, increased penalties and added new provisions for crimes against children, and set up child safety grant programs. 
Donald Washington, director of the U.S. Marshals Service, said the agency has commenced more than 39,600 investigations and arrested over 5,500 people for violations since the Adam Walsh Act was signed in July 2006. In addition to those actions, marshals arrested more than 41,000 people wanted on state and local warrants for failing to register as sex offenders. 
The U.S. Marshals Service is the main federal agency responsible for cracking down on sex offender violations. The agency has a sex offender investigations branch to assist state and local law enforcement authorities with the location and arrest of fugitive sex offenders. 
The Marshals Service has executed more than 4,000 sex offender compliance and enforcement operations and worked with over 58,500 law enforcement officers from more than 16,000 state and local agencies in every state and U.S. territory, according to Washington. The marshals helped state and local police agencies conduct more than 634,000 compliance checks on sex offenders. 
"When the Adam Walsh Act became law in 2006, the U.S. Marshals Service was well-positioned to carry out its new responsibilities because the agency had already established a foundational network of deputy U.S. marshals working alongside law enforcement officers from hundreds of state, local and federal agencies, all dedicated to making communities safer," Washington said. 
After the law was signed, the Department of Justice established the Office of Sex Offender Sentencing, Monitoring, Apprehending, Registering and Tracking, also known as SMART, to implement the sex offender registration requirements. The office has awarded more than $156 million in grants for the implementation of provisions in the law and took control of the national sex offender registry website, nsopw.gov.
The National Center for Missing & Exploited Children, which John Walsh co-founded, lauded federal agencies for efforts to implement the law since it was signed in 2006. The center's president and CEO, John Clark, was the director of the U.S. Marshal Services when Bush signed the Adam Walsh Act into law. 
"There's no doubt that the Adam Walsh Act has made this country a safer place for our children," Clark said. 
For Walsh, the law is the latest example of a major achievement that was born out of a tragedy. After his son's abduction and murder in 1981, he helped establish the National Center for Missing & Exploited Children and, in 1988, began his run as the host of "America's Most Wanted." 
When the Adam Walsh Act was introduced in Congress, John Walsh advocated for its passage. 
"My family and I are honored that this law, named after my son, has made such a tremendous impact," Walsh said. "I want to say thank you to everyone involved. Thank you for all the hard work you do every day to make our country safer." 
Politics reporter Robert Harding can be reached at (315) 282-2220 or robert.harding@lee.net. Follow him on Twitter @robertharding.