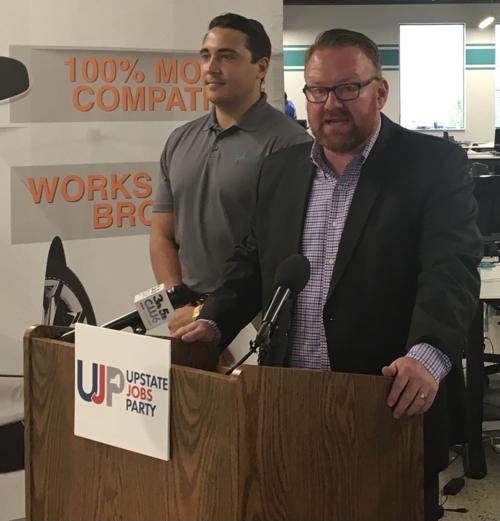 With four minor parties losing automatic ballot status in New York, another is hoping voters, especially moderates, will join their cause. 
The Upstate Jobs Party launched a statewide campaign, named Unite NY, to appeal to voters who were members of the Independence and other minor parties that lost their automatic ballot status in 2020. But it won't end there. The party also wants to attract voters who feel they have been left behind by the two major parties. 
Through the Unite NY initiative, the Upstate Jobs Party will focus on political reforms beginning with an informational campaign about ranked-choice voting in the New York City mayoral election. The party will also circulate petitions for candidates to run on an independent line in the 2021 and 2022 elections. 
Upstate Jobs will support candidates "who focus on bipartisan solutions to improve New York's economy, without being bound by party or geography." 
The main goal of the Unite NY initiative is to run a candidate for governor in the 2022 elections. That's how the party could secure a ballot line. 
"UJP has been building momentum since our founding in 2016, helping great independent leaders achieve electoral success, while shining a light on the opportunities presented by the innovation economy," said Martin Babinec, the party's founder. 
John Bullis, the state chair of the party, added: "The time is long past for some honest to goodness common sense to be injected into New York state politics. UJP's new Unite NY effort will seek a unified, non-partisan path for candidates, public officials, and all New Yorkers to ensure a brighter future." 
Beginning with the 2020 presidential election, New York required minor parties to reach a new threshold — at least 130,000 or 2% of the votes cast, whichever is higher — to maintain their place on the ballot. The Conservative and Working Families parties were able to keep their ballot status, but the Green, Independence, Libertarian and Serve America Movement parties lost their lines. 
Three of the parties — Green, Independence and Libertarian — had presidential candidates on the ballot last year, but didn't reach the minimum number of votes required to retain automatic ballot status. The Serve America Movement did not have a presidential candidate on its ballot line, so it lost its spot on the ballot. 
There were more than 500,000 voters enrolled with the four parties, including over 480,000 with the Independence Party. 
Politics reporter Robert Harding can be reached at (315) 282-2220 or robert.harding@lee.net. Follow him on Twitter @robertharding.