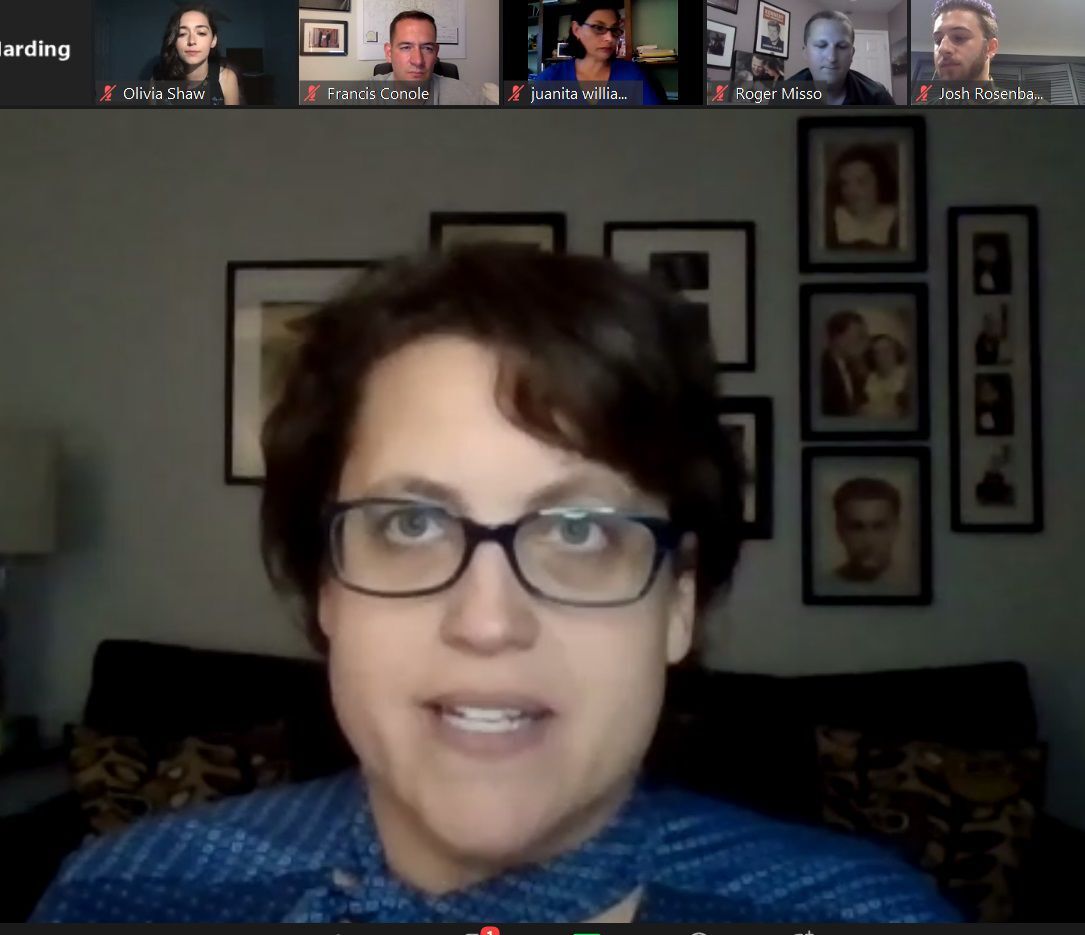 Roger Misso remembers a conversation with Dana Balter in the basement of a building. There was a tornado watch and attendees who stayed after an event took shelter in the bowels of the structure. 
During that time, Balter and Misso — both of whom sought the Democratic nomination to challenge Republican U.S. Rep. John Katko in the 24th Congressional District — talked for nearly an hour. It allowed Misso to learn more about Balter's personal history. 
After that conversation, their talks continued. 
"She has always asked about my kids. She is always texting me to ask me how I'm doing," Misso said. "That is the kind of person Dana Balter is. She cares about us." 
Misso, along with Francis Conole and Juanita Perez Williams, joined together Thursday to host a virtual phonebank in support of Balter's campaign for Congress. The three Navy veterans held the event to show that they are united behind Balter, their former Democratic primary opponent. 
Balter defeated Perez Williams in the 2018 primary election. More than two years after that race, Perez Williams told participants on the videoconference that she's a "big fan" of Balter — and emphasized the importance of uniting in support of the Democratic nominee. 
"We have to unify and the overall goal has to be getting John Katko out of office," Perez Williams said. "We know that John Katko, when he supports legislation, he's simply a Trump tool. But Dana is out there. Dana is fighting for us. She's been advocating for a very long time." 
Conole offered a similar message to the virtual crowd. It was nearly three months ago that he lost to Balter in the Democratic primary. Even though there were thousands of absentee ballots to count, he conceded the election and urged his supporters to back Balter. 
Like Misso, he recalled the joint events the candidates attended across the district. Each of the candidates launched their campaigns in April 2019, which meant that they spent a lot of time together at various events in Cayuga, Onondaga, Oswego and Wayne counties. 
In his 14 months as a candidate, Conole said he got to know Balter and believes that she is committed to advocating for the district. 
"We are in the fight of our lives here," he said. "Dana's got our back on all of these critical issues that are going to shape our country going forward." 
Misso, who introduced Balter on the virtual phonebank, noted that the 24th district race is a top target for Democrats. Some polls have shown that Balter has a two- or three-point lead over Katko. Politico, a national publication, rates the race as a toss up. Other news outlets have identified Katko as one of the most vulnerable House Republican members. 
The reason the race is a toss up, according to Misso, is Balter. 
"It's because of the person she is and the candidate she has been," Misso said. "Dana Balter is a fundamentally good and decent human being. As each of us, Fran and Juanita and I know having campaigned alongside her, she is incredibly smart. And at a time when people don't believe in science, at a time when people don't believe in the news that's right in front of their faces, we need smart people in Congress and Dana is the smartest of all of us." 
Balter welcomed the support of her former primary foes. She also remarked about the level of their involvement in her bid for Congress. 
After primaries, it's common for those on the losing end to endorse the nominee. But you don't usually see those individuals actively campaign for the person they lost to in the primary election. 
"It speaks to your honor and goodness as people, and your commitment to bringing the political change that we need here in this district and across the country," Balter said. "When we stand together and fight together, we win. And we're going to win this race." 
Politics reporter Robert Harding can be reached at (315) 282-2220 or robert.harding@lee.net. Follow him on Twitter @robertharding.
Get Government & Politics updates in your inbox!
Stay up-to-date on the latest in local and national government and political topics with our newsletter.