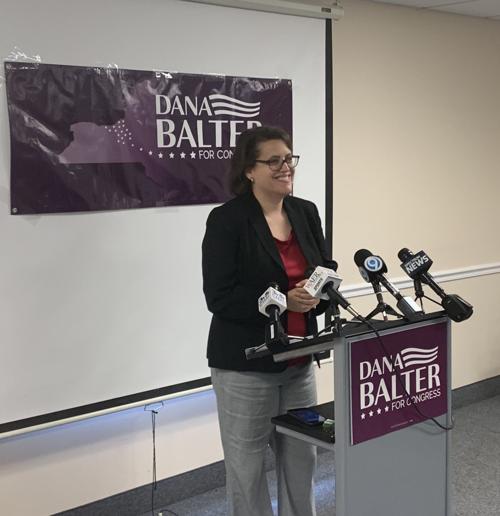 SYRACUSE — A day after becoming the presumptive Democratic nominee in the 24th Congressional District race, Dana Balter presented her case for why voters should choose her instead of Republican U.S. Rep. John Katko in November. 
Balter, D-Syracuse, launched her general election campaign against Katko, R-Camillus, with a speech Friday that highlighted her policy positions while reminding voters that Katko has endorsed President Donald Trump for reelection. 
That endorsement looms as a major issue in the 24th district campaign. Katko announced his support for Trump in January. Katko didn't vote for Trump in 2016 — a decision he reached after the release of the infamous "Access Hollywood" video showing Trump making lewd comments about women. 
In front of supporters at her campaign headquarters in Syracuse, Balter listed the ideas she endorses, including health care as a human right, the ability of farmers to access fair markets, helping people who are fleeing persecution in other countries and treating others, regardless of their backgrounds, with dignity and respect. 
As she rattled off the points one by one, she contrasted them with Trump's policies — and noting that Katko is supporting him for president. 
"I endorse an America where every person has dignity, access and opportunity," Balter said. "I endorse an America where every human being has worth and where every voice matters. John Katko endorses an America where we have Donald Trump. Whose vision for America do you endorse?" 
The 24th district race between Balter and Katko is a rematch of the 2018 contest. Katko won reelection by five percentage points over Balter. It was his closest election in three cycles after winning by at least 20 points in his two previous bids. 
To set up the general election matchup, Balter had to win the Democratic primary. She wasn't endorsed by the Cayuga and Onondaga Democratic committees — the party organizations backed Francis Conole — but received support from other local and national elected leaders and organizations. 
After primary day Tuesday, Balter held a 29-point lead over Conole. She received 10,566 votes, while Conole netted 5,813. There are more than 30,000 absentee ballots to count, but Conole acknowledged that it was a massive deficit to overcome and conceded on Thursday. 
The concession helps Balter get an early start in the general election campaign. Katko has a fundraising advantage — as of early June, he had more than $1.2 million while Balter had $180,000. Balter said Friday that she's confident she will be able to break the fundraising records she set in 2018 when she raised $1.5 million in one quarter. 
Democrats have identified Katko as a top target this year. Hours after Conole conceded to Balter, House Majority PAC, a Democratic super PAC, released a poll showing Balter and Katko are tied in the 24th district race. Before Balter's speech on Friday, the Democratic Congressional Campaign Committee said its polling shows that Balter leads Katko by three points. 
In an interview Friday, Katko said he welcomes Balter to the general election race and is looking forward to the campaign. 
Balter believes 2020 is the most important election of her lifetime. In her speech, she said the election is about "who we are as Americans and what do we stand for as a people." The stakes, she said, couldn't be higher. 
"We have to decide whether our great democratic experiment is going to survive," she continued. "Will we pass our democracy on to future generations or will we let it slip into the annals of history? If we want our democracy to survive, we have to protect it and we have to nurture it." 
Politics reporter Robert Harding can be reached at (315) 282-2220 or robert.harding@lee.net. Follow him on Twitter @robertharding.
Get Government & Politics updates in your inbox!
Stay up-to-date on the latest in local and national government and political topics with our newsletter.