New Year's Day 2007 ushered David Gould into both his first term as Cayuga County sheriff and his marriage to his wife, Suzanne. Twelve years later, the first day of 2019 will mark the end of Gould's nearly 50-year law enforcement career.
When Gould went to college after graduating from high school in Union Springs in 1965, he planned to become a high school gym teacher or perhaps a college's athletic director, he said. He had "no intentions in the world" of entering law enforcement. The career, instead, found him.
In 1967, Gould entered the U.S. Army and served for two years. While serving, his parents wrote to him about joining the state police as there was a publicity push encouraging people to take the test. He took it, and "was lucky enough to be smart enough" to be one of the 200 people hired in 1970 from the more than 40,000 people who took the test, Gould said. 
Gould still remembers his first case as a police officer. A young boy's bicycle was stolen, and he was able to find it and return it — the boy cried, so did he, he said, and he'll never forget it.
"That changed my whole attitude of life. It's the greatest occupation in the world, it just is. I wouldn't change a day of my life being a police officer. It's so rewarding. A police officer can make a difference in peoples' lives every day," he said. "And that's what I'm all about."
Gould said he learned his passion to help others and make a difference from his parents. When he and his brother were young, he said, they watched their parents canvas door-to-door in Cayuga County for the March of Dimes to combat polio, a disease his mother was born with in the 1920s.
"That's how I learned to volunteer. And I've been doing it ever since," Gould said through tears. "It just means so much to me to be able to be in a position to do that."
Gould has served on more than 40 community boards and currently sits on more than 20. He said his nearly 35-year career in the New York State Police was full of "great details, great times. Some hard times, some good times — but it's what you make of it." 
Among the first class of state police hostage negotiators, Gould and a team were trained to do security at the 1980 Winter Olympics in Lake Placid. He said this was a response to the Munich massacre in which Israeli athletes were killed at the 1972 Olympic games. He watched every hockey game, he said, including the famed "Miracle on Ice," when the U.S. team upset the Soviet Union and went on to win the gold medal — "talk about an outstanding time."
For about 10 years in the state police, Gould worked the homicide detail — and there is one case still open that he's determined to help solve before he dies. Kristin O'Connell, from Minnesota, was visiting a friend in the village of Ovid in Seneca County, Gould said. On a Wednesday night, Aug. 14, 1985, the 20-year-old left a party and went for a walk. She never came back, and Gould said he and the state police found her, with her throat slit, in a cornfield the afternoon of Aug. 16.
Gould spoke with O'Connell's mother, Phyllis, just a couple of weeks ago. They still keep in touch and she's already written a book, he said, but she's "waiting for that last paragraph to say that we solved the murder of her daughter" before she releases it. With a private investigator's license, he plans to continue to assist the state police on the case.
"That's probably one of my wishes before I die, that the murderer of Kristin is found, persecuted and held accountable," Gould said.
Among numerous other professional accomplishments, Gould was also once one of two in the state police assigned to guard Prince Andrew for 10 days at a Ryder Cup at Oak Hill Country Club in Pittsford. Gould has also received awards for his work negotiating with hostages and saving lives from suicide.
"It gave me a lot of satisfaction to talk people out of suicides," Gould said. Whether it was talking people off ledges, or from shooting themselves, he said, "a lot of times they needed someone to listen to them."
In 1992, Gould received an award for "Outstanding Police Action Taken during a Hostage and Barricaded Situation" during a December 1991 event in which hostile fire was encountered. Gould said he's been shot at three times in his career.
This particular day in 1991, police were called to a Genoa home because a hostage — who'd been shot — escaped and was able to get help from a neighboring residence. Police were alerted and the event led to Gould being in an armed standoff with Rolf Rahn, a man in his pajamas. Unfortunately, Gould said, Rahn was killed.
"It's a shame anybody had to die on that one," Gould said. "He actually thought I was Captain Kirk because he was mentally ill. We had the helicopter above and he thought that was a spaceship."
You have free articles remaining.
Register for more free articles
Stay logged in to skip the surveys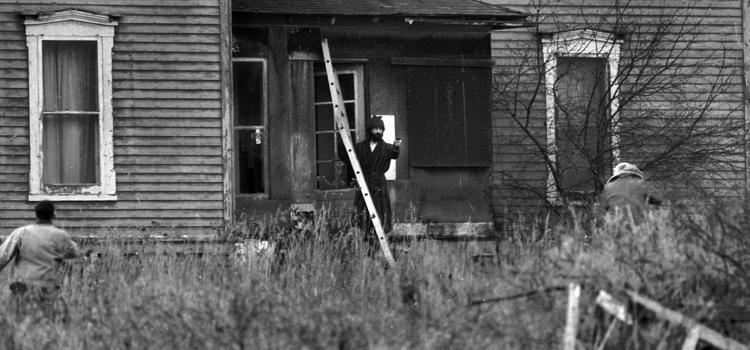 When Gould retired from the state police in 2004, he didn't plan to run for Cayuga County sheriff. Members of the sheriff's department approached him, however, and asked him to run. Gould won that election over former Sheriff Rob Outhouse and took office Jan. 1, 2007. 
Within about an hour of becoming sheriff, he and Suzanne got married in an intimate, at-home ceremony before heading to the Springside Inn where about 300 people were waiting to celebrate him becoming sheriff.
"When we walked in we had the DJ announce us not only as Sheriff Gould, but as Mr. and Mrs. Gould. People went crazy, because they had no idea," Gould said. "I'll never forget it," he said, adding that it was a 55-degree day — the warmest January day in his memory.  
Gould ran his campaign on the saying, "Respect should never be demanded, respect should always be earned." Now that he's leaving the office after three terms, he hopes a culture of respect is part of his legacy — "I think I've distilled that into every member of this department."
One of his greatest accomplishments, he said, is the cooperative and working relationship he has with all other police agencies, from local agencies such as the Auburn Police Department, up to federal agencies such as the FBI and Homeland Security. In his 12 years as sheriff, he also opened up two satellite sheriff's office locations, one in Cato, one in Moravia; upgraded weapons, equipment, cars, created a mobile command post that assists all county police agencies and got accreditation for both the road patrol and jail custody divisions of his office. 
"That's not easy, only 25 percent of all police agencies accomplish that," Gould said of receiving both accreditations. While road deputies often get most of the credit, Gould said, running the jail is probably the toughest job for any sheriff. Thankfully, Cayuga County has "outstanding custody officers" as well.
"It is said that we have one of the best run jails in New York state, we've been told that several times," Gould said. "I give all the credit in the world to our custody officers and our supervisors."
Soon-to-be-sherrif Detective Lt. Brian Schenck said it's Gould's "deep love of the community" that has made him such a successful sheriff, and he hopes to carry that on. Gould led by example when it came to respect, he added, and the department will continue to do all it can each day to earn the respect of the community.
"It's been an honor to work with him as sheriff," Schenck said. "I think the lessons he's taught us ... will be here for many years to come."
"I have all the faith in the world that Det. Lt. Brian Schenck, the sheriff-elect, will do an outstanding job here," Gould said. "I wish him truly the best. I'm very content leaving knowing this department will run just as good as it has been, if not better."
As for Gould, he's unsure what retirement holds for him. While he's been offered some "really great jobs" already, he hasn't made any commitments —  it really hasn't sunk in that he's leaving in a matter of days, he said. He's been busy trying to fulfill requirements and promises before he leaves office. It likely won't hit him until New Year's Eve, he said.
What he's certain of is this: he won't sit still and he's not going anywhere. As someone who's taken one vacation in the past 50 years, he doesn't plan to stop working now.
"The main thing I want to do is something for this community," Gould said. "I was born in this county, I'll die in this county. ... As far as I'm concerned, this is the best community in the country, in the world," he said with tears in his eyes.
"It's been a great career," Gould said. "I just wish every young person would think about becoming a police officer, to me it's just the most important job in the world."
"I feel bad that I'm leaving, but it's time. It's time for someone else to take over. I will miss the job immensely, I will miss being the chief law enforcement officer in the county and I will miss everybody here," Gould said. "The greatest honor in my life was to proudly be able to serve my country in the U.S. Army, my state as a member of the state police and my county as a county sheriff."