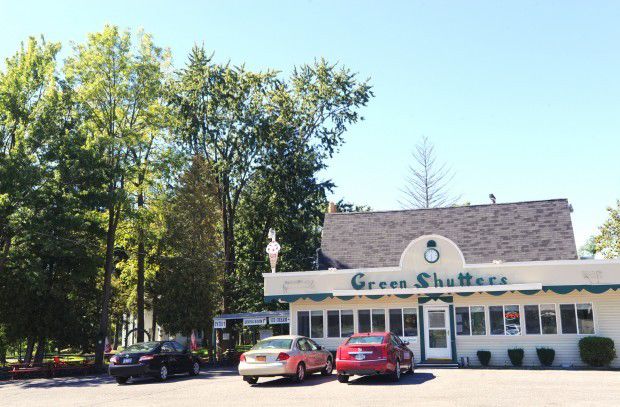 Green Shutters will be open for the summer — and fall, and winter, and so on.
The Owasco restaurant has been sold by Bob Leonardi, who owned it for the last 15 years, to Liverpool caterer Floyd House. The property sale price was recorded as $141,000 with the Cayuga County Clerk's Office.
Leonardi had been looking for a buyer since Phil and Nick Siracusa, the restaurant's leasees of two years, left in September. Since then, Leonardi met with several prospects. Doug's Fish Fry in Skaneateles, for instance, expressed interest — but Leonardi felt their menu was a less-than-perfect fit for Green Shutters.
Instead, Leonardi sought to pass the century-old restaurant on to someone he felt would preserve its mission: Hofmann hot dogs, burgers with french fries and onion rings, and ice cream, all delivered swiftly and with a smile, he said.
He found just the person in House, he said.
"Floyd was the only one I met with that had the background and the experience to provide continuity of the Green Shutters tradition that had been built over the last 100 years," Leonardi said.
As new owner of the restaurant, House will expand it from seasonal to year-round operation, and also bring back breakfast service, Leonardi said.
"It was one of the most popular meals we offered. It was the most loyal crowd," he said. "So I wanted someone who would do breakfast, lunch and dinner."
The owner of Premier Catering, House was executive chef of the Springside Inn in Fleming from 1977 to 1997. His wife, Lisa Gallaro, works there currently. During that time he also moonlighted at the Owasco Country Club, and, more recently, he submitted a bid for catering rights at the Emerson Park Pavilion.
"I love the Finger Lakes," he said.
House graduated from the Culinary Institute of America in Hyde Park, and plans to use his experience as a pastry chef and saucier to enrich the Green Shutters menu, he said — especially in the fall and winter.
"In the fall you can pay more attention to detail and take it up a notch," he said. "Like pasta pies with wild mushroom crust — I have a lot of items in the back of my mind."
Speedy service will be another priority, House said. He's currently planning three facets of food delivery: An outdoor cart where patrons can grab hamburgers, hot dogs, pulled pork and more traditional summer fare, grab-and-go container meals in the front of the restaurant, and more traditional sit-down service in the back.
Efficiency is a concern for any restaurant, but with bus loads of Merry-Go-Round Playhouse patrons pulling in some summer nights, it'll be an especially high priority for House, he said.
"It's nice to get your food quick," he said.
House becomes the restaurant's fourth owner in about 100 years, Leonardi said.
"Green Shutters is a real tradition," Leonardi said. "You ask anyone who lives in any of the surrounding communities and they've been to Green Shutters. Their parents brought them, they went probably on their first date in high school, then when they got married they brought their own kids there for ice cream."
Lake Life Editor David Wilcox can be reached at (315) 282-2245 or david.wilcox@lee.net. Follow him on Twitter @drwilcox.
Get local news delivered to your inbox!
Subscribe to our Daily Headlines newsletter.