AUBURN — The city of Auburn's slow sand filter plant is a pretty, white-stucco building tucked away behind the water treatment plant's main office on Swift Street. A few vines crawl up the sides and a bronze plaque out front shows that next year will mark its centennial, 100 years filtering the water of hundreds of thousands of residents, including approximately 43,000 current customers.
But last year, more than raw water floated into its basins. A filmy sheen of green creeped in on top of the water, something John West, water filtration plant operator, had not seen before. Blue-green algae, or cyanobacteria, had made its way into the plant.
West, who's worked at the plant since 1998, said operators added powder activated carbon to the water treatment process, putting in about 50 pounds per day. They also increased the amount of sodium hypochlorite to disinfect the water.
External contact with blue-green algae can cause skin rash and respiratory problems. Drinking the algal toxins can cause diarrhea and stomach problems, as well as damage to the liver and kidneys.
But the Owasco Lake treated water test results in both 2014 and 2015 showed no microcystins, a toxin which can potentially be released from dying blue-green algae.
Cold weather set in, the blue-green algae blooms died off, and the water plant continued its operations as usual.
But as Cayuga County residents know, with warm weather comes algal blooms, so as summer 2016 months went by, the lakes got warmer and sightings became more frequent. In August and September, the health department reported larger blooms, some further out from the shoreline, and several showing high levels of toxins. The highest level of raw water sampled showed 1.3 micrograms per liter — high considering the U.S. Environmental Protection Agency's advisory level is .3 micrograms per liter for children under the age of 6.
So when West saw the familiar film creep into the basins on Sept. 11 this year, he took up the same protocol as before, calling the county health department, adding the carbon, increasing the disinfectant.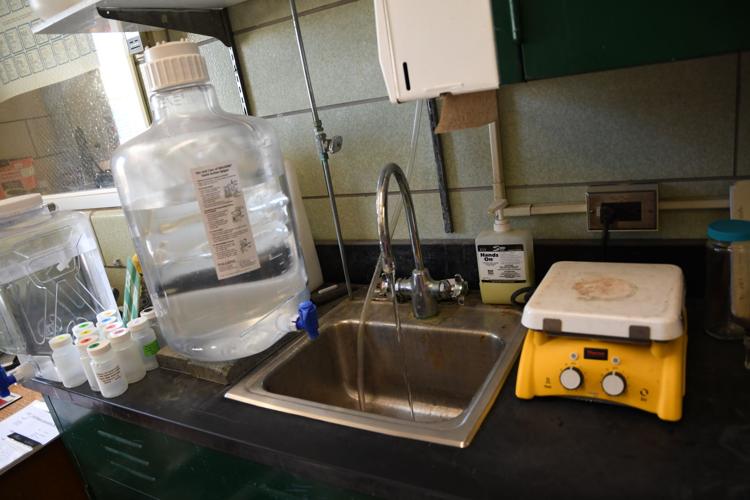 The health department came in the next day, testing the raw water out of a spigot in one of the plant's large blue pipes, its pathway to what's called the flocculation and sedimentation basin. There, polyaluminum chloride is added, a coagulant that when mixed with the water, attaches itself to any particles. With the help of 13 jumbo mixers, the solid particles separate from the water and settle to the bottom of the basin.
The water then travels to rapid sand filters for further removal of particles. Finally, it meets in a well with water from the slow sand filter, and sodium hypochlorite is added for disinfection. The county health department took its first treated water sample from a faucet in the plant's laboratory on Sept. 12. The samples are analyzed at the Wadsworth Center, the state Department of Health's laboratory in Albany.
County health department staff either overnight ship or drive the collected samples to Albany. Cayuga County environmental health director Eileen O'Conner said she and her staff live in this community, raise families here, and are doing everything they can to help keep residents informed and safe.
No toxins were detected in either the raw water or drinking water from that day. But samples taken from the town of Owasco's filtration plant on Thursday, Sept. 22, came back with detectable levels of toxins. Samples taken on Monday, Sept. 26, showed them in Auburn's treated drinking water. It was something West had never seen before.
It was something the state of New York had never seen before.
It was not the first water-related public health concern the state has been tackling over the past year. North of Albany in Hoosick Falls, high levels of a chemical linked to causing cancer, thyroid disease and other health problems was found in the public water supply. It was not until May this year that the EPA released a lifetime standard for perflurooctanoic acid, or PFOA, in drinking water, and residents there are finding levels in their blood skyrocket above those numbers. That event has caused distrust of the state Department of Health over the time it took to ban residents from drinking the water.
Though the detection of blue-green algae toxins in Owasco Lake drinking water have been below the EPA's advisory levels, and thus not a public health concern, O'Connor told residents at an Owasco Watershed Lake Association meeting Oct. 5 that, "unfortunately, there haven't been a lot of long-term studies on exposure." An EPA fact sheet created in 2015 describes a study in rats, which were exposed to advisory levels for 10 days. While residents haven't been exposed to those levels, people receiving water from Owasco's plant have had toxin levels detected in their water eight times this fall as of Friday. An EPA spokesperson said it has not released an advisory beyond the 10-day exposure mark, and the toxin is not regulated. Therefore, while it has submitted guidelines for state health departments to follow regarding toxins in drinking water, none of it is enforceable.
Blue-green algae, also known as cyanobacteria, is a filmy, paint-like scum that has been dis…
The state Department of Health said it's been working closely with the county, and it's provided guidelines for the water treatment plants. For example, West said the Auburn plant has increased its use of powder activated carbon to 100 pounds per day, double the amount used during last year's bloom. More disinfectant has been added to the water. Filters are backwashed more frequently. The basin where solids are separated is cleaned out more often.
Still, while plant operators are doing everything they can, treated water tests have come back with detectable levels of toxins.
For West, it's unsettling.
You have free articles remaining.
"I intend to keep doing it until we're past this," he said, about the multiple precautions the plant has been taking.
Owasco has been taking similar precautions, too, said O'Connor, who has worked closely the past few weeks with both facilities. But the plants are designed to remove bacteria and particles in the water, she said, and not toxins.
With autumn's chilly breezes rolling in, the toxin threat may soon start to fade. But lawmakers, residents, and local officials are wondering—what about next year?
For a start, both Owasco and Auburn's treatment plants are in contact with their designers and engineers. There's discussion about potentially extending the plants' intake pipes into deeper parts of the lake.
Cayuga County Legislature Chairman Keith Batman said at the OWLA meeting that there is the short-term public health concern regarding the treated water, and the longer-term issue regarding the overall health of Owasco Lake.
"May, June, July next year, we have to have a solution," Batman said. "It will come back. There's no reason to think this is an anomaly."
O'Connor said in the EPA's reports, the No. 1 cause of blue-green algae blooms is an increase of nutrients in water bodies. While a spokesperson for the state Department of Health said the state has provided more than $5 million to study why the blooms are happening in Owasco Lake and to implement projects throughout the watershed to reduce their occurrences, the county Board of Health recently decided to send a letter to Howard Zucker, the state's commissioner of health.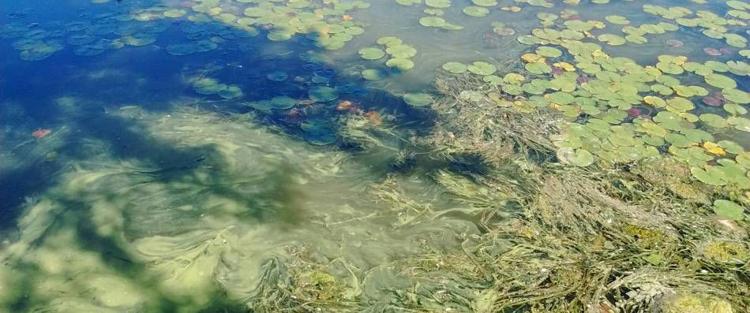 In that letter dated Oct. 4, the board requests assistance from the state's Water Quality Rapid Response Team. That team is led by Zucker and the Department of Environmental Conservation Commissioner Basil Seggos. Also included are leaders of the state Department of State, Department of Agriculture and Markets, Office of General Services, Division of Homeland Security and Emergency Services, Homes and Community Renewal, Public Service Commission, Empire State Development Corp. and Environmental Facilities Corp.
The Board of Health cites the state of Vermont's new and more rigorous agricultural laws to decrease phosphorous loading. Phosphorous is one of the nutrients believed to proliferate blue-green algae, and is often found in fertilizer and manure runoff. The board's letter states that not enough is being done in New York.
"The waters of New York State are currently being protected by an expired Concentrated Animal Feeding Operation (CAFO) permit that has been shown to be ineffective given the degradation of water quality in Owasco Lake," the letter reads. It goes on to say that "agriculture is responsible for 57% to 74% of the phosphorus loading of Owasco Lake. Action needs to be taken immediately."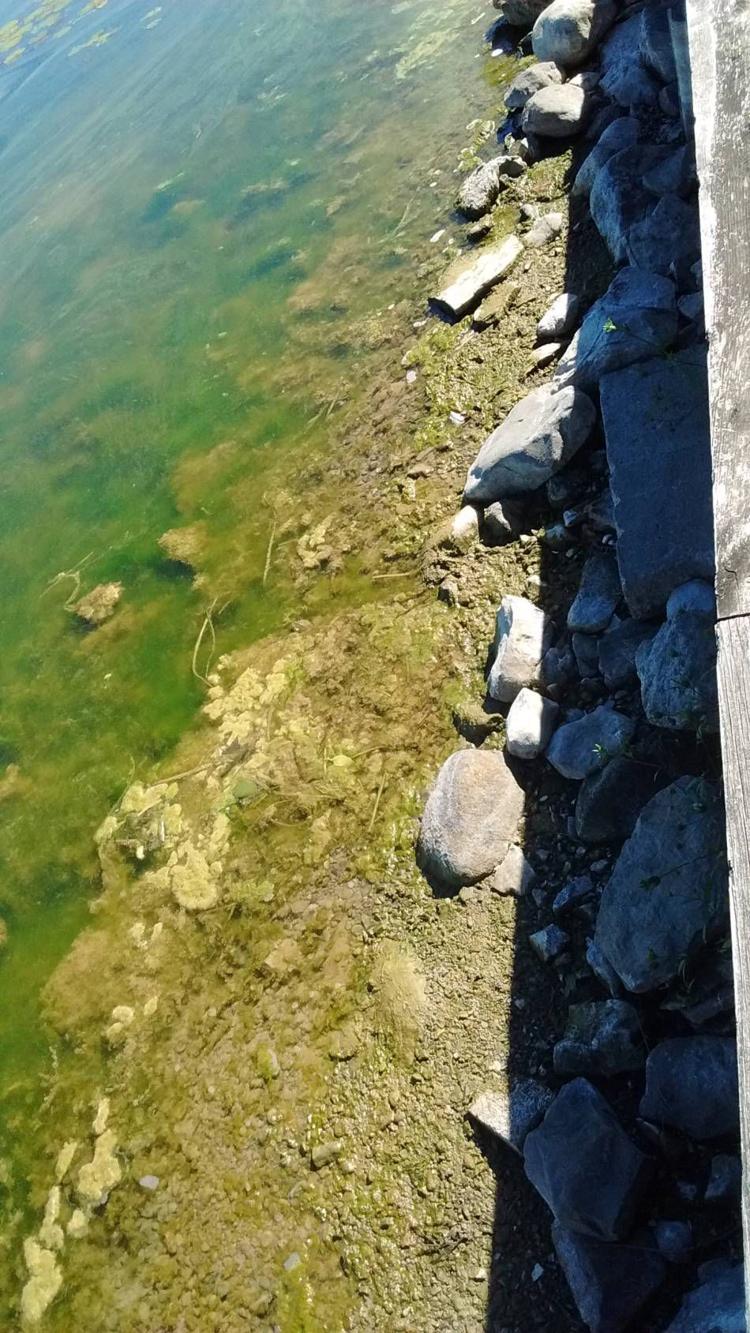 A spokesperson for the state Department of Health said in an email Friday that the DEC is reviewing and responding to several hundred comments submitted on the draft CAFO permits, and expects to release final versions this winter. But O'Connor said she's concerned how long the process is taking. The DEC has had public comments on the draft since February, and the past CAFO permits expired in June.
The same spokesperson said that Gov. Andrew Cuomo's Water Quality Task Force is coordinating a multi-agency response to address nutrient runoff in Owasco Lake. Also in the email were references to state funding already given to the cause, including funds for the Dutch Hollow Brook Implementation Project, a water quality monitoring and agricultural water quality project, and a whole lake watershed plan.
Despite these efforts, several residents at the OWLA meeting asked O'Connor why Owasco Lake does not have the same strict farming regulations as near Skaneateles Lake, which supplies water to the city of Syracuse and other Onondaga County communities.
According to a state Department of Health spokesperson, both Owasco and Skaneateles lakes are subject to the same state rules and regulations for agricultural guidelines. However, since the city of Syracuse has an unfiltered drinking water system, the Skaneateles Lake watershed has additional agricultural best management practices.
O'Connor said about 15 years ago local and county officials met with a representative from the state's Department of Agriculture and Markets to consider implementing similar best management practices in Cayuga County.
"We were told at a meeting that Ag and Markets would challenge any regulations that put any kind of restrictions on agricultural activities," she said. "And we were told that they (Agriculture and Markets) had the authority to do that."
A spokesperson for the Department of Agriculture and Markets said the state has invested $4.4 million in 39 projects on 81 farms in close proximity to Owasco Lake, and "beyond these public investments, many farmers are proactively reducing their impact on the environment, thereby protecting the water quality of the Finger Lakes." 
O'Connor said she plans to revisit the issue again at an Owasco Lake Watershed Management Council meeting.
Another wrench in the nutrient runoff reduction effort is the DEC's testing, which shows Owasco Lake is actually improving. Earlier in the year the DEC had ruled not to include Owasco Lake on its state list of impaired water bodies, but after the Cayuga County Water Quality Management Agency sent a letter detailing the harmful algae blooms occurring, the DEC changed the lake's status to impaired. That allowed more state funding to flow for research on the lake, but Jacqueline Lendrum, a research scientist and Scott Kishbaugh, an environmental engineer with the DEC, said phosphorous levels are low in the lake for having so many blooms. They said it could be that there are localized sources of phosphorous or nitrogen causing the blooms, with wind carrying the buoyant algae to a clearer area of the lake, but that it's difficult to speculate.
Andrew Snell, watershed inspector for Owasco Lake, said not only is it a mystery why the blooms are occurring, it's also a mystery why some of the algae has toxins and some does not.
"Worldwide they've been seeing more BGA's (blue-green algae blooms)," Snell said. "Is it climate change? Is it the heating of the planet? Is it atmospheric? We need to tie these things together. It's a puzzle."
Staff writer Gwendolyn Craig can be reached at (315) 282-2237 or gwendolyn.craig@lee.net. Follow her on Twitter @gwendolynnn1.