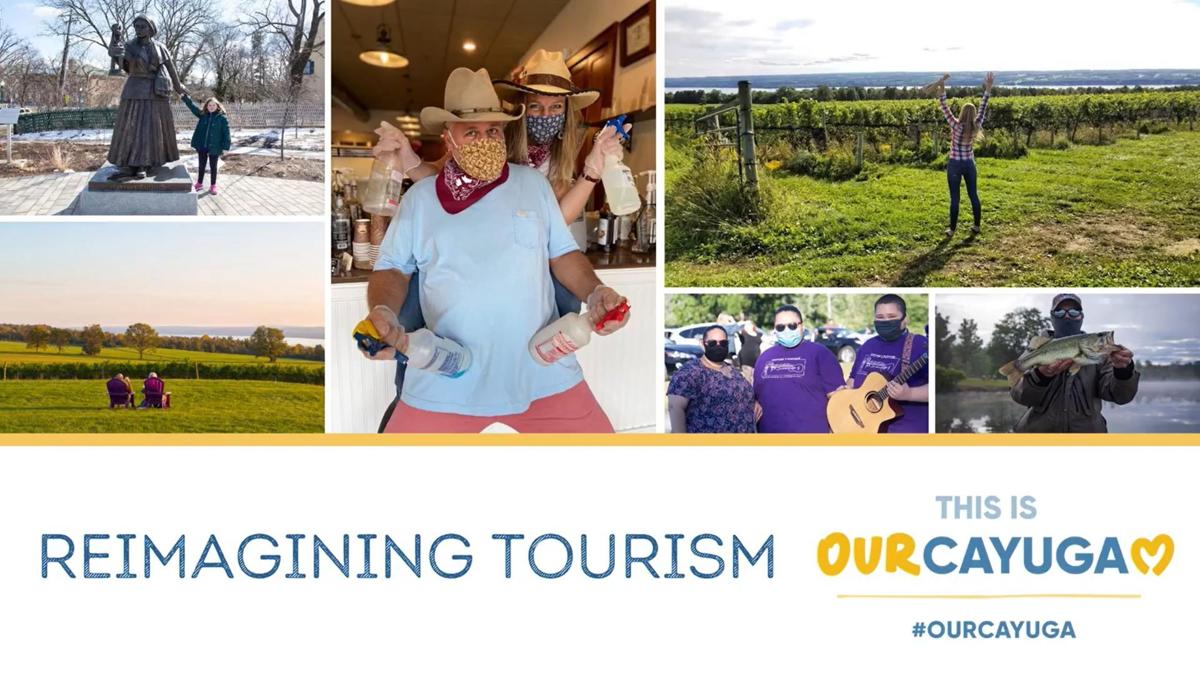 Although businesses throughout Cayuga County have taken financial hits during the COVID-19 pandemic, a series of videos are sharing how local tourist destinations are focusing on safety in this new climate.
The Cayuga County Office of Tourism recently launched "Reimagining Tourism" videos in which Karen Kuhl, the office's executive director, virtually interviews a person involved in a different business, talking about the changes they've made to make sure people are safe while there.
The tourism office's YouTube page has videos spotlighting the Inns of Aurora, Auburn Public Theater, The Rev Theatre Co. and Colloca Estate Winery in Fair Haven, and there are plans to feature other businesses, as well.
Kuhl said Friday that the idea is to inform people that the county's tourism partners "are doing everything within their control" to ensure people travel with confidence as they visit. The videos were developed to give these businesses a platform to tell their stories of contending with the new environment created by the outbreak.
"The tourism businesses are suffering, the tourism businesses are incurring a lot of stress and cost in ensuring that they're welcoming everybody safely," she said. "They're taking their staff, the residents of our county and their visitors in mind when they develop these policies and enforce these polices."
Each installment also emphasizes the importance of visitors respecting these safety protocols, such as social distancing and face masks, to keep the visitors, business staff and county residents safe.
Overall, Kuhl said, most guests have followed these regulations, and visitors are seeking out businesses that are following health standards.
"What's beautiful is, and those are the partners that we started highlighting, the staff feel safe and secure enforcing these health standards because the management is 100% behind it, and that's what's the series is trying to demonstrate," she said.
Additionally, the office wanted to document "this pivotal moment in our industry and our lives," for historical purposes, Kuhl said, and capture the stories of how the county's partners dealt with this period. The office also plans on promoting the videos more in the future and making more of them.
The videos also demonstrate a shift in the office's marketing. The office usually directs its time and resources promoting Cayuga County attractions to areas outside of the Finger Lakes region and the state, Kuhl said, to bring in tourism from Massachusetts, Pennsylvania, California, etc. In light of the pandemic, however, the focus is currently more on reaching those in the Finger Lakes region so they can can learn more about the businesses in the area. In March, the office began the "Our Cayuga" campaign.
"We started developing a lot more stories to raise awareness of our product within our own residents in order to promote them to help the businesses within their own backyard stay afloat and stay in business," Kuhl said. 
Additionally, with New York's list of travel restricted states continually being updated, the office isn't sending any messaging outside of the state.
Just as Cayuga County tourism destinations have been affected by the outbreak, the tourism office itself has also been impacted.  
At the Cayuga County Legislature Planning and Economic Development Committee meeting earlier this week, Kuhl reported the area's year-to-date hotel occupancy rate through August was at 36.4%, down from 51.4% in 2019. The tax collected on those hotel stays funds the tourism office budget, so the office is trying to manage costs while continually promoting the area.
Kuhl said the office's budget of is down 40% from what was originally anticipated for this year. She added that she feels "like a tightrope walker half the time," balancing the office's budget while contending with the hits so many businesses have taken in recent months.
"Our businesses are suffering and that is a real fact, and many businesses are on the verge of not surviving through 2021," she continued. "So our job right now is even more important, to try to get people to raise awareness of the businesses and get them some people coming in through their doors so they can pay the bills and they can stay in business." 
Regardless, Kuhl said, those challenges haven't stopped the office from making efforts. She said tourism office has been working "diligently with our finance committee" and has been focusing on using their budget wisely. The office has also been using professional development so people who already have other positions in the office can learn skills such as graphic design as well as they can, so work can be done in-house.
"We're prioritizing and strategizing how to use the limited funds we have available to do the best we can," Kuhl said. "We can't relent on sending the message out."
Throughout these challenges, however, the office is trying to increase pride in area businesses.
"We're going to get through this, and we will be able welcome visitors from outside the region, the state and the country, eventually, again, so we're trying to develop pride within their residents themselves," Kuhl said. "We're basically sending out a call of action for tourism ambassadors for our region who can speak proudly about their hometown, their favorite coffee shop, their favorite views, so that we can start documenting and getting those blogs out that will help us develop content for when we're able to do a much broader outreach." 
Staff writer Kelly Rocheleau can be reached at (315) 282-2243 or kelly.rocheleau@lee.net. Follow him on Twitter @KellyRocheleau.
Get local news delivered to your inbox!
Subscribe to our Daily Headlines newsletter.