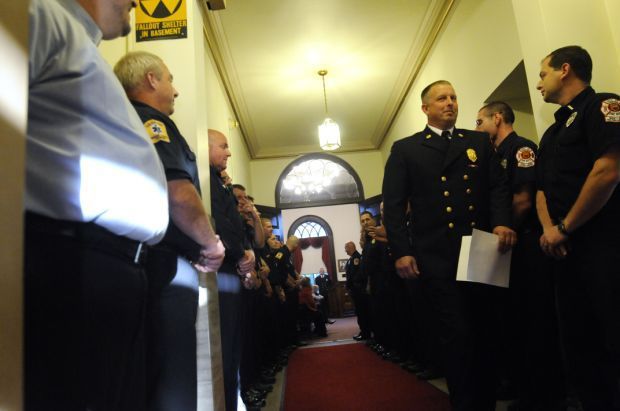 Jeff Dygert has worked for the city of Auburn for much of his life.
The 46-year-old was hired in 1994 as a firefighter for the Auburn Fire Department. His resume reflects his rise through the ranks: Lieutenant in 2001, captain in 2006, assistant chief in 2010 to chief, a position he's held since 2011.
Those promotions, he said, felt "natural" in his progression through the fire department. But as the finalist to become Auburn's next city manager, Dygert said he's considering the opportunity as a major change in his career.
"It's humbling, to say the least," he said. "I guess the big thing is if the council is supportive, if other city staff is supportive, that's a huge help and consideration for me."
On Tuesday, Dygert will meet with members of a community focus group that's been tasked with providing feedback to the hiring authority, the Auburn City Council.
A nine-member panel of stakeholders in the Auburn community will meet publicly next week wit…
The fire chief has held the interim city manager's job since late March, balancing those duties during council's search for someone to replace former top administrator Doug Selby, who resigned April 15.
The city initially advertised for individuals with the following requirements: A master's degree in public administration or a similar field with five to seven years of experience as a city manager, assistant city manager or department head; or a bachelor's degree in a related field with 10 years of experience.
The advertisement, intentionally or not, aligned with the qualifications of all of Auburn's full-time city managers since 2000.
All three — Selby, Mark Palesh and John Salomone — came into the job with relevant backgrounds: Selby was the former city manager of Las Vegas prior to taking the Auburn job in 2011, while Palesh and Salomone signed on in 2007 and 2000, respectively, with experience as municipal managers.
All three have master's degrees: Palesh and Salomone studied public administration, while Selby focused on biology and has a doctorate in environmental engineering.
Dygert, then, would be an unconventional candidate. He has an associate degree in fire science from Corning Community College and is pursuing a bachelor's degree in public administration from American Military University. Among his other accolades, Dygert was named the state's Career Fire Chief of the Year in 2015 and graduated from the Leadership Cayuga program in 2011.
In the search for Auburn's next city manager, lawmakers believe they may have found their pi…
Auburn councilors ultimately received more than 40 applications from the initial advertisement, but found no finalists from the bunch. They then turned their attention to Dygert; when Dygert's candidacy was announced earlier this month, Mayor Michael Quill said he thinks the council "is very much on board in moving forward" with Dygert's hire.
Dygert said while education and past job titles are important in evaluating individuals, he has experience managing people who have been successful in their pursuits.
Dygert also said he brings a strong local knowledge base and an established professional network to the table — though the observation, he added, is not meant as a criticism against past city managers. Salomone, Palesh and Selby were all new to the city government.
"I think that's huge," Dygert said of his local connections. "Sometimes the ability to have that network is a major part of trying to get business taken care of."
According to city records, Auburn has never hired an interim city manager for the full-time job, although some have served for longer than a year in the temporary role. Bruce Clifford, who served as city manager from 1966 to 1990, was later called upon as an interim city manager in 1998.
Nevertheless, several councilors said Dygert's experience and leadership elevate his qualifications for the job beyond his formal educational background.
Councilor Dia Carabajal echoed Dygert's sentiments regarding educational degrees, saying a person's schooling can serve as a measure for employers to evaluate that person's background. In Dygert's case, Carabajal said he has demonstrated leadership skills in his career that no other candidate in the council's search was able to show.
"There are so many things that make us qualified for positions that we take — many that have nothing to do with college degrees," Carabajal said.
Councilor Jimmy Giannettino said Dygert has had a very distinguished career as a fire chief that made him stand above any initial applicants.
He also noted the focus group's input, to date, as very important. The group has met twice since its appointment to discuss prospective city manager candidates, with members identifying the candidate's ability to balance community presence with business administration as an important quality.
"What I've seen in the last three months indicates leadership in addition to managerial skills," Giannettino said before adding, "(The educational background) is important, but it's not everything. I'm comfortable with moving forward to the next step, which is the focus group meeting."
Staff writer Greg Mason can be reached at (315) 282-2239 or greg.mason@lee.net. Follow him on Twitter @CitizenMason.
Get local news delivered to your inbox!
Subscribe to our Daily Headlines newsletter.