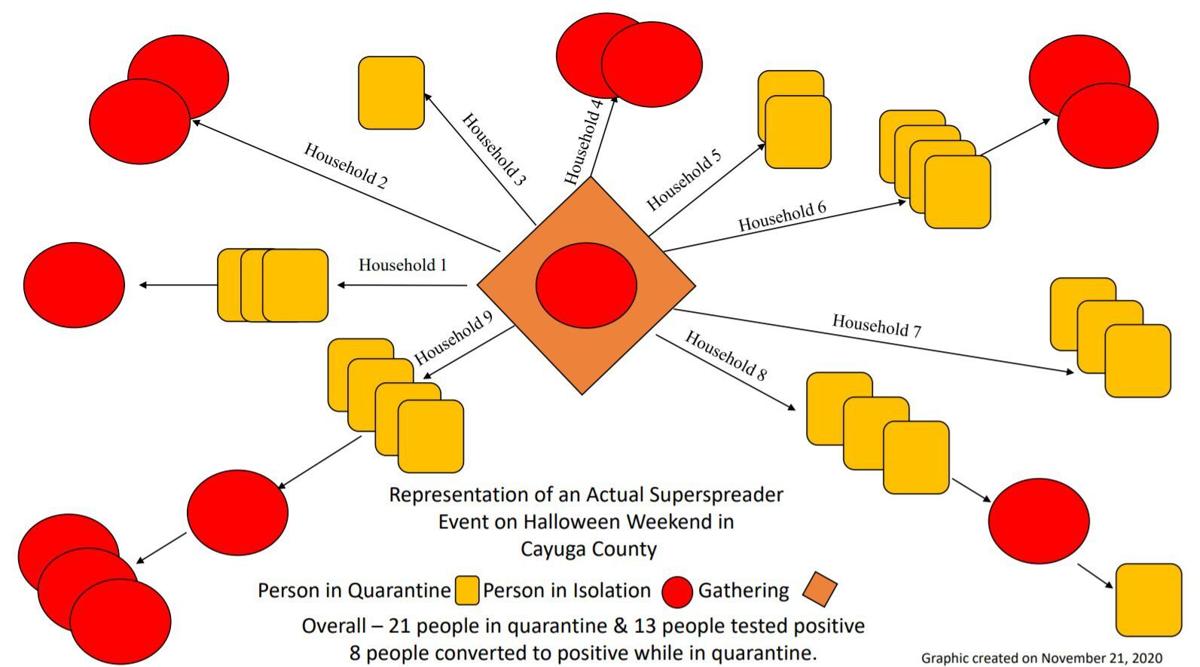 What may have seemed like an innocent social gathering turned into one of a few COVID-19 superspreader events that are now being managed by the Cayuga County Health Department. 
The health department released a diagram Saturday showing how one gathering over Halloween weekend affected nine households. Twenty people attended the gathering, 13 of whom later tested positive for COVID-19. 
The superspreader event began, according to the department, with an individual who attended the gathering. They were experiencing COVID-19 symptoms and infectious at the time of the gathering, health officials say. But the person didn't believe the symptoms were caused by COVID-19. 
Because they attended the event, others were exposed to the virus and had to be placed into quarantine. Four people from two households began to exhibit symptoms after the event and tested positive for COVID-19. They were among the first confirmed cases stemming from the party. 
It has been eight months since Cayuga County reported its first confirmed COVID-19 case. Thr…
There were eight other confirmed cases linked to the gathering. In each of those cases, they were in mandatory quarantine due to their contact with others from the gathering and later tested positive for the virus. 
At least one person from six of the nine households that attended the party contracted the virus, according to the health department. In one household, four people tested positive for COVID-19 while in quarantine. 
"The eight individuals who did convert to positive while in quarantine did not have exposures at school sites or workplaces because we were able to quarantine them from their exposure to the original positive case," the department said. "This demonstrates the importance of quarantine." 
The 13 people who attended the gathering and tested positive for COVID-19 had a "wide range of symptoms," according to health officials. Symptoms of COVID-19 can include a cough, fever, shortness of breath, body aches, headache, loss of smell or taste, fatigue, nausea, diarrhea and vomiting. 
COVID-19 cases have spiked in Cayuga County over the past two months. Since Oct. 1, there have been 467 confirmed cases in the county. That uptick accounts for more than two-thirds of the county's total number of cases (685) since the beginning of the pandemic. 
Politics reporter Robert Harding can be reached at (315) 282-2220 or robert.harding@lee.net. Follow him on Twitter @robertharding.