Several projects were part of Auburn's winning proposal in the state's $10 million Downtown Revitalization Initiative competition this summer. Now, as a local committee decides how it will spend that $10 million, each of those projects is up for a piece of it.
Here is a collection of The Citizen's recent reporting on several of those projects, with more information about their costs, their timelines and what they'll bring to downtown Auburn.
'An absolute need': Historic Auburn building up for $10M grant
Todd and Jonathan Borsa have some family history in Auburn's Market Street Park area.
Their great-grandfather, tailor Carmelo Siracusa, once owned the flatiron building at the corner of Market and Genesee streets. Its triangular architecture made it beloved by the community. But in the early 1970s, at the height of the city's urban renewal efforts, the building was demolished. It's memorialized on a mural a block up Genesee Street, next to Colonial Laundromat.
Now, the Borsas are trying to stop another Market Street building from going in the same direction.
Last November, the brothers bought 55 Market St., which consists of 18 residential units and two commercial ones occupied by Faith Chapel of Auburn. They plan to restore the building, which will cost more than $500,000. But the Borsas could get a boost from Auburn's $10 million Downtown Revitalization Initiative grant, as 55 Market St. was one of five historic properties included in a Main Street Improvement Program in the city's application. As that and other projects are considered by a local committee for submission to the state, the Borsas hope their building makes the cut.
"We've seen the momentum that's taken place over the past 10 years," Todd said Friday. "We want to continue that momentum."
Both born and raised in Auburn, Todd and Jonathan Borsa bought their first property, 17 Park Ave., in 2001, Todd said. But it wasn't until about three years ago that they ramped up their real estate interests, which now tally 11 properties and more than 40 units. Their great-grandfather wasn't their only inspiration: The Borsas' grandfather owned a dress factory across from the Dunn & McCarthy shoe factory, and their father owned about 70 units of his own in the '80s and '90s. So property ownership and management is "kind of in our blood," Todd said.
"We take a lot of pride in keeping well-managed, well-maintained properties," he said. "We enjoy working with people, and working with them as customers."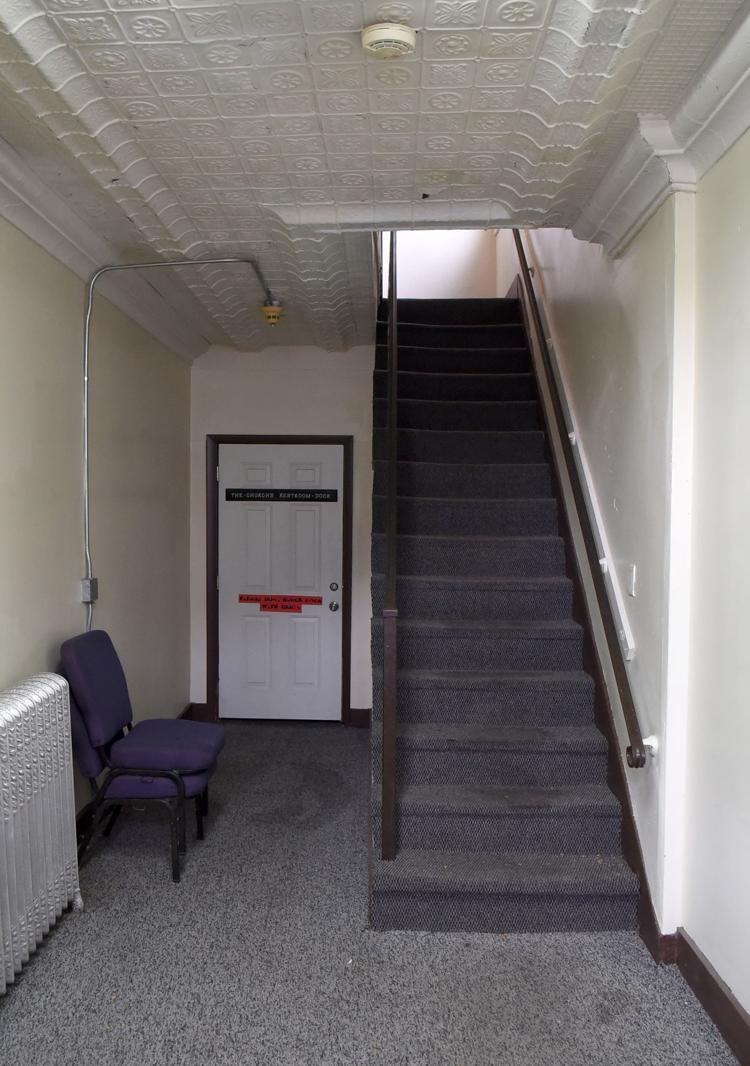 The Borsas almost doubled their number of units when they bought 55 Market St. Todd called it "a really cool building," and has been researching its history. Built shortly after the Civil War, the building was the Brunswick Hotel and then the Curtain Hotel until 1962. The next year, Ray Riordan bought the building and opened Riordan's Restaurant, which also served as an unofficial headquarters for the local Democratic Party. In 1980, the building was bought by George Kerstetter, who ran the restaurant before turning it into the commercial units that are there now, Todd said.
Since buying 55 Market St. from Kerstetter, the Borsas have been getting to know their new tenants. They credited Faith Chapel of Auburn with "(doing) a lot of good for people downtown," Todd said. Some of the residents are veterans, he continued, and some receive Section 8 housing benefits. The Borsas work with Unity House of Cayuga County, Chapel House, ARISE Cayuga/Seneca and other local agencies to place them. There are no formal income requirements to live in the building, Todd said, but even after its renovation, he and Jonathan hope to keep it affordable.
"Not everyone can afford $1,400 a month," Todd said. "We feel there's an absolute need for sustainable, affordable housing downtown."
Though the renovation was listed as a $538,918 project in Auburn's Downtown Revitalization Initiative application, Todd said he and Jonathan are scaling the project back. The first phase of work will cost $350,000 overall, he continued, and the Borsas are asking for $200,000 from the $10 million grant. They would cover the remainder of the cost with their own equity, Todd said. If the local committee leaves the project off its submission to the state next spring, or if the state doesn't approve it, the Borsas would fund the work themselves and possibly break it into more phases.
"We're excited, humbled and proud to be considered," Todd said.
As plans stand today, the first phase of work will consist of gutting the first-floor commercial spaces and the second and third floors' 13 residential units, and replacing their flooring, mechanicals, cabinets, countertops and appliances. Outside, the facade and sidewalls will be restored. The second phase will consist of the same work for the first floor's five residential units. Todd said he and Jonathan plan to secure short-term housing for their tenants while their units are renovated, and that they "wouldn't just put anybody on the street." The church, meanwhile, will stay put.
Though it will serve the same purpose for the same people inside, the sight of the restored historic building will be something to behold for those who walk by outside, Todd said.
"We want it to look like it used to," he said. "We never thought we'd own a building like this."
Auburn family ready to start work that will 'transform' John Street, Arterial
AUBURN — More than six years after securing a tax break from the city to rehabilitate 20 downtown properties, an Auburn developer is close to embarking on the final stage of an expanded overall project. 
JBJ Real Property, run by the Bartolotta family, is planning a $5 million project to renovate seven houses on John Street and build a number of new dwellings along Arterial East to develop one big apartment complex on the outskirts of the city's downtown district. The family's redevelopment project was included in the city of Auburn's winning Downtown Revitalization Initiative application and is vying for part of the $10 million grant from the state. The project requested $1.1 million in the original application, but how much funding the project will receive — if it is chosen to be funded at all — will ultimately be decided by the Department of State in the spring. 
During an interview with The Citizen in late September, Joe Bartolotta of JBJ said the project will be completed in two phases and the first phase — the rehabilitation of preexisting homes on John Street — will move forward with or without DRI funding and will hopefully begin before the end of the year. 
"We've wrestled with the way that entry point to the downtown business district looks and it's kind of old and in need of an update," Joe Bartolotta said. "We feel that the more residential occupancy in downtown, the more support that will lend to the businesses downtown and that will help to continue to spur the momentum of economic development that's recently been enjoyed downtown."
The seven John Street properties, Joe Bartolotta said, will be "completely transformed" into 16 loft apartments. On the exterior, the homes will have new siding, windows and roofs. Inside, the units will be fitted with new HVAC systems, electrical and plumbing. Anthony Bartolotta said the developers are trying to "save as much of the original aesthetics and architectural detail as possible for each house."  
JBJ is also planning on other amenities for the complex, including a community room, courtyard, workout room and plenty of off-street parking.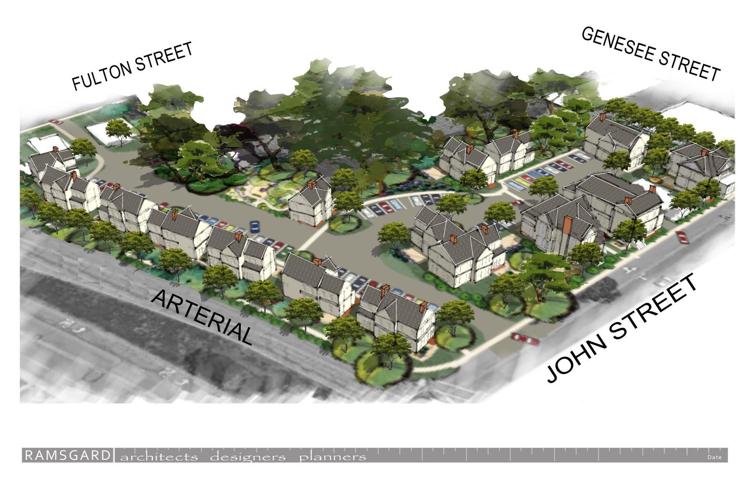 The second phase of the project — the new construction along Arterial East — is what the Bartolottas are hoping to utilize DRI funding for, Joe Bartolotta said. They plan to build six apartment buildings with four one- or two-bedroom units in each building. 
The developers are still deciding on how much rent they will charge once the apartments are finished. Joe Bartolotta said there is a need for "clean, neat, quality housing" downtown at a variety of price points for a variety of different demographics.
In May 2012, the Bartolottas received a 15-year payment in lieu of taxes agreement from the Auburn Industrial Development Agency to redevelop not only the seven John Street properties, but also 13 other properties on State Street, East Genesee Street and Dill Street in the city. The PILOT exempted the developers from any payments for the first two years of the agreement. Currently, the property tax assessments on the 20 downtown properties are frozen at the $3 million pre-investment rate that was determined in 2012. In 2018, those same 20 properties were assessed at over $4.8 million, but the developers are continuing to pay property taxes based on the 2012 assessment. 
JBJ's current PILOT payment is $131,155 a year, which is divided among the city, county and school district. Without the tax break, the developers would have had to pay nearly $188,000 for the 20 properties, based on 2018 property assessments, according to Cayuga Economic Development Agency Executive Director Tracy Verrier. 
For the final three years of the PILOT, from 2024 to 2027, the assessments will go up to $6.7 million and the payments will increase by 33 percent of the full taxable amount each year until they reach the full value.
Under the PILOT, the Bartolottas have redeveloped 13 other properties, raising the combined value of those properties nearly $2 million since 2012. They are eager to get started on the John Street properties, Joe Bartolotta said, "so we can allow the PILOT to start working for us." 
Since the PILOT freezes the properties' assessed values at pre-construction values, the developers are essentially paying the same amount of taxes on the John Street block it would be had they not received a PILOT.
JBJ acquired most the property along Arterial East from John Street to Fulton Street and one house on North Fulton Street several years ago when the development company was considering forgoing the residential redevelopment project and pursuing a commercial business on that block. However, that commercial opportunity fell through and the family went back to their original plan, but expanded the scope to include the newly acquired property. Joe Bartolotta didn't offer more details on the specifics of the commercial deal, but said it would have "completely transformed and reconfigured that whole block."
The failed commercial endeavor is the reason the John Street redevelopment project has taken so long to get off the ground, Joe Bartolotta said. JBJ had originally planned to start the housing project in 2014. 
Christina Selvek, the director of capital projects and grants for the city of Auburn, said the city included the Bartolottas' plan in its DRI application in 2017 and 2018 because the project will "transform the John Street neighborhood and give it the lift it needs." 
"It's important because John Street is the eastern gateway into downtown and the BID area," Selvek said. "It's a state route that takes people from route 90 to the lakefront. The city supports any efforts to rehabilitate the housing stock." 
The Bartolottas agree that their project is much needed in the area and hopes it will continue the renaissance downtown Auburn has seen over the last decade. 
"We came of age, my brother (Anthony) and I, in the late '80s and '90s when Auburn was a bit of a ghost town and we've seen a lot of great things happen in the last decade and if the near past is any indication of what the next decade is going to look like, I think we can expect a lot of growth here in downtown and more importantly, beyond there," Joe Bartolotta said. "We hope this will have a ripple effect that will continue into the neighborhoods and transcend the entire city in the years to come. That's the hope."
Culinary classroom: Auburn college project part of $10M grant proposal
A slice of Auburn's recent $10 million grant could support a facility where Cayuga Community College students sharpen their culinary skills.
A Cayuga Culinary Center is one of the projects included in the city's winning proposal for the 2018 Downtown Revitalization Initiative. The proposal says the center would feature a wine and beer education center, a working/teaching commercial kitchen, a small restaurant for training students, a bake shop and space for classrooms and faculty offices.
The proposal also says the center would open in fall 2020 at 9-15 State St. in downtown Auburn. The property is currently the site of Choices for Change and two vacant spaces, one of which was the site of the Cayuga County chapter of the American Red Cross. The project's total budget is listed as $750,000, and the amount requested from the $10 million grant is $500,000.
However, in an interview Oct. 2, college President Brian Durant explained that most of those details are still cooking. The institution is looking at "multiple facilities" for the center, he said, and is not locked into 9-15 State St., which is owned by the Stardust Entrepreneurial Institute. The college could either buy or lease the site of the center, Durant added.
The center's features are also undecided, Durant said, as they're subject to the square footage. He said the priority is the kitchen, which would provide a teaching space for credit and noncredit students in the college's culinary arts program. The space should also have the kind of equipment and technology that lets faculty provide an innovative educational experience, he said.
"We're focused on the teaching and learning experience, and how we maximize that," he said.
There will be several opportunities for Auburn residents to give their input on the city's $…
Additional flex space would allow the college to offer the other features in the city's proposal. And with a beer and wine education center, or a small restaurant, the center's reach would expand from the college's students to the community at large, Durant said. The public could taste foods or beverages, or even prepare basic dishes, he said.
Durant said the college continues to refine the center concept. Meanwhile, the spending of the city's $10 million grant is also taking shape. The center and other projects in the proposal are not guaranteed funding; they will be considered by a local planning committee that is developing a final list of projects for the state to review in the spring.
If the center doesn't receive funding from the Downtown Revitalization Initiative, Durant said, the college will still push forward with the project.
It began creating its culinary arts program within the last year, he said, and hopes to open it next fall. The program was not only inspired by growing interest in hospitality and tourism education, but a grant the college received last year to explore partnerships with the agricultural industry. Cayuga County's strength in both sectors made the program an opportunity, Durant said.
At first, the college planned to partner with Cayuga-Onondaga BOCES to use the kitchen facilities of its continuing education program. But when the grant process began, Durant said, the opportunity became mutually beneficial: A downtown culinary center would align with the city's priorities, and its proximity to Auburn's restaurants and breweries would shape the center's curriculum.
The "rich enrollment" in the BOCES culinary arts program bodes well for one offered by the college, Durant said. So does the success of similar programs at Finger Lakes Community College, whose students practice at Real World Kitchen in Canandaigua, and Onondaga Community College, which puts students to work at the downtown Syracuse restaurant it operates, With Love.
"We know the program need is there. It's a vision of the institution to have this established," he said. "When the moment's right, we'll be ready to make that vision become a reality."
Cultural corridor: Auburn's $10M grant could support arts campus
AUBURN — Two Auburn cultural sites are partnering on a project with goals of curb appeal, accessibility and growth.
The Schweinfurth Art Center and the Cayuga Museum of History & Art are planning to create an arts campus that will visually accentuate the buildings and make it easier for visitors to enter them, as well as open the door to further development like artist housing and additional programming space. The project was included in the city of Auburn's successful 2018 Downtown Revitalization Initiative proposal, putting it on the table for funding as the city works with the state to decide how the $10 million grant will be spent. The art center and museum asked for $1,121,120 in the proposal.
Thursday at the Schweinfurth, Executive Director Donna Lamb and museum Executive Director Eileen McHugh said they've been discussing the campus project for years.
"We're two very different institutions, but we benefit from proximity and we have a lot of overlapping visitors," Lamb said. "So it seemed like a sensible thing."
Gov. Andrew Cuomo came to Auburn less than two weeks ago to announce the city was the latest…
Lamb and McHugh said they decided to pitch the campus project to the city after Councilor Jimmy Giannettino asked for ideas at a meeting of the Historic & Cultural Sites Commission. The timing was perfect, Lamb said: CNY Arts recently hired a master planner to create an arts district in Auburn and other area cities, and the campus "fits in beautifully" with that project. Meanwhile, the center has submitted a Consolidated Funding Application to replace its HVAC system and install one on its second floor, allowing it to expand its Studio Schweinfurth workshop series. And the museum has submitted its own application to hire a preservation architect to devise improvements to the Case Research Lab. Water intrusion and other issues currently prevent programming there, McHugh said.
Those projects share a common goal with the campus, Lamb and McHugh said. It will feature accessible and attractive walkways between the four buildings that comprise it: the art center, the museum, the lab and the Carriage House Theater. Those who park in the lot behind the center sometimes have difficulty finding the door, Lamb said, or they may not even see the museum, McHugh added. All they do see is the unsightly rear of the buildings. But through landscaping, signage and other improvements, the campus will guide those visitors inside in a more efficient and aesthetically pleasing way. There will also be a direct path from the center to the museum's side entrance for people with disabilities, McHugh said. That path currently snakes around much of the property.
The campus will also include more sustainable green parking lots that can host outdoor programming, as well as a plaza space in front of the Schweinfurth with sculptures and seating. And as the timeline continues, the project's components get more ambitious. First, Lamb and McHugh hope to add artist housing either adjoining the campus or in the west end neighborhood. Being able to house artists in residence, visiting lecturers and other creative personalities will widen the scope of programming on the campus, they said. Though they'd like to be able to house at least six to 10 people, Lamb said more capacity would push the center closer to another of its goals: moving its annual "Quilting by the Lake" conference and exhibit from Onondaga Community College to Auburn.
An arts and entertainment district may soon be established in Auburn. But what should it do?…
The Schweinfurth's plaza space will be built around an addition with a side entrance and an elevator, another part of Lamb's long-term plan. And the elevator will be built to allow for roof access, as the center also hopes to create a rooftop event space. The museum, meanwhile, would like to turn the basement of the Case Research Lab into a cafe accessible from the center or the theater.
However, those plans are subject to the state's Downtown Revitalization Initiative process. Lamb said that if the campus project secures a piece of the grant, any work on it probably wouldn't begin until 2020. For that reason, as well as the uncertainty of further funding and therefore the extent of the project, she and McHugh are reluctant to attach figures to it at this point. Its overall budget is listed as $4,463,623 in the city's proposal, but that could change, they said. They're also unsure how many jobs the project will create, though components like artist housing and a cafe would assuredly require more staff. And they only know the potential is there to "significantly" increase visitorship from the Schweinfurth's annual figure of about 15,000 and the museum's of 8,500.
But Lamb and McHugh are certain that unifying their institutions as an arts campus on Auburn's west end would create a gateway to downtown — and a cultural destination for the region.
"Between these two places, we have history, art, theater, science — right here in one location," McHugh said. "We want to make it easier for other people to know that all of that's here in one spot."
Cuttler: How Auburn's $10M grant could support East Hill
With Auburn being named one of this year's winners of the state Downtown Revitalization Initiative award, I would like to congratulate the mayor, city councilors, Cayuga Economic Development Agency and, most importantly, the residents of the city of Auburn. I would also like to extend my sincere appreciation for offering East Hill the opportunity to submit a project as part of the DRI application.
East Hill Family Medical is a federally qualified health center, and as such receives federal funding annually to ensure that everyone, regardless of ability to pay, has access to high-quality primary medical and dental care. Community health centers use a holistic approach to patient care, treating the entire person by integrating mental health, oral health, substance use disorder and primary medical care services. Today, nearly 1,400 health centers are funded, operating more than 11,000 service delivery sites in communities across the country.
East Hill, your community health center, began as the Cayuga Family Planning Center in 1971 and has grown to include pediatrics, adult primary care, dentistry and family planning and reproductive health. More than 10,000 families receive care from East Hill each year, rendering more than 30,000 patient visits annually. Those patients who require specialized testing, surgery or visits to a specialist are referred almost exclusively to Auburn Community Hospital and its associated physician group, keeping health care local as much as possible.
Over the past two years, East Hill has rededicated itself to the provision of high quality health care. Each day, staff and clinicians work hard to create an exceptional patient experience for all — because everyone deserves great health care. Recently, East Hill achieved certification as an Advanced Primary Care Center, a designation bestowed upon health care providers in New York state with excellent quality measures and systems. Achieving this designation normally takes more than a year, but East Hill's team was able to accomplish that goal in just five months.
Gov. Andrew Cuomo came to Auburn less than two weeks ago to announce the city was the latest…
Located in the heart of downtown, the Metcalf Plaza, East Hill's headquarters, is an aging infrastructure. The $1.5 million project that was included in Auburn's Downtown Revitalization Initiative application envisions more modern clinical spaces, equipment, furnishings and a more inviting exterior. Auburn is fortunate to have a downtown medical center providing day and evening access to health care within a short distance of the homes of a large portion of the population. The downtown revitalization award will supplement a larger, proposed multi-million-dollar reconstruction project that will transform the 52,000-square-foot Metcalf Plaza into a modern, upscale and inviting mixed-use facility, contributing meaningfully to the resurgence already underway in downtown Auburn.
In small cities and communities across the country, health care centers are often major economic drivers. Beyond bolstering the workforce with good-paying jobs, they contribute substantially to healthier communities, fighting every day to ensure that friends and neighbors get well and stay well. Health is a vital part of any successful community.
With 47 years under its belt, East Hill Family Medical is focused on a bright future, and is recommitted to ensuring the best health care possible for anyone in the community.
Sun Café: Auburn Public Theater lines up funding, local coffee supplier for expansion
AUBURN — The former law offices of Dennis Sedor at 108 Genesee St. look like a war zone. Drywall has been punched through, cords dangle out of the walls and debris litters the floor. 
It's a somewhat familiar sight for the directors of Auburn Public Theater.
Scheduled to open in the space next spring is Sun Café, a coffee shop and restaurant that will connect to the neighboring theater and support it financially. Previously called Café Einstein, it's half of a $1.2 million project that also includes the renovation of the theater's 13,000-square-foot basement into a black box theater and a multipurpose space for stand-up concerts, weddings and other uses.
AUBURN — Auburn Public Theater is hoping for an early Christmas present.
Sedor vacated the café space in early July, clearing the way for Auburn Public Theater to start construction in the fall, Artistic Director Angela Daddabbo said Friday. The lawyer had nine years left on his lease, she continued, but agreed to let the theater buy it out and moved to 110 Genesee St. as a result. Daddabbo expressed gratitude to Sedor for clearing the way for the theater's expansion.
Meanwhile, the theater has been finalizing plans and funding for the Genesee Street café. It secured $600,000 through the Central New York Regional Economic Development Council in December, as well as $200,000 from the Allyn Foundation and $100,000 of its own piecemeal fundraising, Daddabbo said. Now, she continued, the theater is working to raise about $200,000 to earn a $100,000 challenge grant from the Emerson Foundation. And it's prepared to continue fundraising in case the cost of the expansion goes over its $1.2 million projections, she added.
Later Friday, the café secured a potential source of additional funds when Gov. Andrew Cuomo announced at the theater that Auburn won $10 million in the third round of the state's Downtown Revitalization Initiative. The café was part of the city's application for the money, with a $300,000 request, but the application is not binding and subject to a planning process with a state consultant.
Daddabbo said the theater is humbled by the support shown to its first capital campaign since it opened in 2005 in the old Grant's Department Store, which once looked like Sedor's office does today.
"There's a lot of goodwill for the organization," she said. "A lot of people want to be part of our continued success."
AUBURN | Ten years ago today, 102-108 Genesee St. was technically still Paul's Pocket Billia…
Fundraising isn't the only front of activity for Sun Café. It has also lined up a coffee supplier in Simple Roast, Matthew Peirson's business based in Grant Avenue Plaza in Sennett. Peirson will not only provide the cafe's coffee, Daddabbo said, he'll sell his beans there as well. Though Peirson's art isn't the kind the theater typically showcases, she continued, his presence there still serves its mission.
"The theater has been an incubator space, if nothing else, for local talent of any variety — singers, dancers, musicians," she said. "And he happens to have a superior product, which is exciting."
Along with coffee roasted by Peirson, Sun Café will serve tea, salads, sandwiches and wraps. Like it did with Simple Roast, the theater will source much of its menu locally, and feature local recipes. That approach is partly inspired by the opening of the nearby Equal Rights Heritage Center, which is expected to welcome 10,000 to 40,000 unique visitors to the area annually, Daddabbo said.
Daddabbo said theater board members Dave Tobin and Ed Catto have held a few meetings with local restaurant owners where they explained Sun Café's business model. Though it is for-profit, the café will donate revenue to the nonprofit theater. Daddabbo and theater Executive Director Carey Eidel found a guide for the idea in Café at 407 in Liverpool, which supports eating disorder treatment center Ophelia's Place. Also at the meetings, Daddabbo continued, Tobin and Catto sought to assure local restaurant owners that the goal of the café is to synergize with them, not supplant them.
"We just wanted to make sure the local restaurants understand that this is part of our original plan," she said. "This is about creating long-term sustainability for Auburn Public Theater."
For instance, Daddabbo said, Sun Café will seat 50 people inside and 20 at an outside area on Exchange Street, so it won't quite compete with the cozy atmosphere of Riverbend Coffee down Genesee Street. And the café won't have a liquor license, so it won't compete with local bars. But it will bring people to downtown Auburn, she said, and that will benefit everyone.
Auburn gym plans to expand to former Dunn and McCarthy site
AUBURN — After sitting vacant for 25 years, the site of the former Dunn and McCarthy shoe factory could one day be the new home of LIFT: Live It Fitness & Training. 
On June 21, the Auburn City Council approved a land sale resolution for four acres at 41-55 Washington Street to LIFT owners Dennis and Jessica Kelly for $40,000. The land, which the city has owned since 1994 after the former factory was destroyed by a fire, is assessed at $130,625. The sale is still pending as the Kellys review an environmental assessment conducted on the property by the city. Jessica said what happens next will depend on the results of the assessments.   
The Kellys opened LIFT in 2014. The gym offers personal training, groups fitness classes and nutritional coaching. With over 500 members, the gym has outgrown its current space at 321 Clark St. in Auburn, Dennis Kelly said.
"We're busting at the seams," Jessica said of LIFT's current facility.  
The couple's vision for the space is more than a gym; it's a lifestyle community. In phases, they plan to construct a 10,000-square-foot fitness facility with a daycare center, a cafe that serves healthy food, residential apartments and commercial space for retailers and specialists such as chiropractors and physical therapists.  

"We are excited to continue working on this even though we know this is going to take some time to complete," Dennis said in an email to The Citizen. "Jess and myself risked everything we had to start Live It Fitness and Training and we hope that the community and individuals follow our footsteps."
Added Jessica, "We really just have some big dreams. If you have a goal, if you have a dream, you have to shoot for it."
The couple's attorney, Dominic V. Giacona, said the Kellys are hoping their project can breathe some life into "an area that needs some revitalization." 
"They're hopeful their revitalization will extend beyond that parcel of land to areas that are really in need," Giacona said. "We expect this project to improve the area through gentrification."
Although the land sold for more than $90,000 under its assessed value, city councilors said during the June 21 meeting they were happy that a long-vacant property will soon be developed and back on the tax rolls. 
"Now we are going to be selling it with promise and hope," Councilor Terry Cuddy said. "I'm very excited that that property is in good hands and I look forward to seeing what they're going to build." 
Councilor Jimmy Giannettino said projects such as this are contributing to "the renaissance of Auburn" and this project will greatly improve the neighborhood, which has "really been suffering" since the factory closed. 
"It'll be good to see that (for sale) sign come down," Giannettino said. 
"It's about time for that sign to come down," agreed City Clerk Chuck Mason, who was a city councilor in 1994 when the city first acquired the property through foreclosure. 
Cuddy said he remembers witnessing the fire at the factory on Dec. 19, 1993, and later walking through the ruins. The fire was one of the worst Auburn has ever seen, said Auburn Fire Chief Joe Morabito, who was a firefighter with the department at the time. Morabito said it took multiple days and departments from all over the county to put out the fire, which was started by several juveniles who had lit a campfire in the vacant building.
Flocking downtown: Inside Good Shepherds Brewing's new, bigger Auburn location
AUBURN — Green shag has given way to wood and steel at 132 Genesee St., where The Good Shepherds Brewing Co. will hold a grand opening Friday, April 6.
Owner and brewer Garrett Shepherd held the soft opening Saturday, March 17. It was a few days shy of one year since he bought what's known as the Goss Building and relocated his brewery to its first floor, where clothing store PBJ on the Corner operated until 2012. Being St. Patrick's Day, the soft opening perfectly demonstrated why Shepherd moved, he said Friday. Many of his customers that day stopped in because they were bar-hopping at his new neighbors, like Parker's or A.T. Walley. They wouldn't have even seen the old Good Shepherds on Loop Road, which opened in 2014.
Though it's more visible, the new brewery has the same atmosphere as the old one, Shepherd said. He described it as modern but cozy, industrial but rustic. The cold steel of its chair legs and beams are balanced by warm wooden surfaces, including a community table that seats 16 and a bar with the curvy edge of raw lumber. And above each of the two 12-tap draft towers is a lattice window with four crest patterns. Shepherd found them in the basement, he said, and installed them so customers can see his brew room. The patterns evoke his shield logo, he added, so they're a perfect fit.
"It exceeded my expectations," Shepherd said of his new space. "Everything came out quite well."
Shepherd has a few final touches left: He wants to add some damping material to the walls and ceiling to reduce the echo, and he wants to mount a new chalkboard display for the beers he has on tap. In the summer, after some scheduled work on his Genesee Street sidewalk, Shepherd plans to install an awning with signage and secure a cafe permit so he can seat customers outside. And though serving food is a possibility, Shepherd said, for now he's encouraging customers to bring fare from nearby restaurants into his taproom. He carries menus for Parker's and others.
Behind the bar, Shepherd continues to brew with a 2.5-barrel system. He's added a glycol temperature control system, two 5-barrel fermenters and a 5-barrel brite tank. Along with his new walk-in cooler, which is 15-by-15 feet compared to his previous 6-by-6 one, the new equipment will help Shepherd raise production, he said. Last year, he brewed between 600 and 700 barrels.
In 2007, there were just over 1,500 breweries in America. In 2017, that number passed 6,000.
Shepherd recently brewed his fourth batch on the new system. Because he couldn't brew for the few weeks it took to move his equipment, he's currently riding out a shortage. Before long, though, Good Shepherds beer will be flowing from its 24 taps — as will Good Shepherds cider, which Garrett can now make because he recently obtained a farm brewer's license. The license will also allow him to serve beer, wine and spirits from New York producers. He's partnering with Izzo's White Barn and CJS Vineyard & Aurelius wineries, he said, and plans to add house cocktails to his menu.
Shepherd said he doesn't expect to be hindered by the farm brewery license requirement that he use a rising amount of state-sourced ingredients. As much as 50 percent of his malt and hops come from producers like 1886 Malt House in Fulton and Skaneateles Hop Farm, he estimates. And though Shepherd has established his brewery as an equal-opportunity one for styles, serving Scotch ales and pilsners alongside India pale ales and stouts, he's lately been "having a lot of fun" with the New England IPA — the same hazy style as Prison City Pub & Brewery's Mass Riot.
A version of Shepherd's There Is No Spoon New England IPA with Galaxy hops will join several other special beers at Friday's grand opening: a sour dry-hopped with Centennial from Heifer Hops in Skaneateles, a sour brown ale, a sour featuring raspberries from Shepherd's garden, and a porter aged on caramel, peppers and chocolate. Trio The Primates will play at 7 p.m.
After the grand opening, Shepherd will focus on brewing. He wants to get his beer back on tap at the places that poured it before his move, including Moondog's Lounge in Auburn, Oak & Vine at Springside in Fleming, The Gould Hotel in Seneca Falls, Finger Lakes on Tap in Skaneateles and Boathouse Beer Garden in Ovid, for which Shepherd also contract-brews. He needs the "breather" before he starts renovating the rest of the Goss Building in at least a few months, he said. He plans to rent the second floor as commercial space and the third as apartments.
Until then, Shepherd will be in the brew room and behind the bar of the new Good Shepherds. He still sees it as "a neighborhood bar" — it just happens to be in a new, more visible neighborhood.
Tubman national park in Auburn: Parties near agreement on managing South Street site
Harriet Tubman Home, Inc., and the National Park Service are close to finalizing an agreement that will detail how the entities will manage the main sites associated with the Harriet Tubman National Historical Park in Auburn. 
Frank Barrows, superintendent of Fort Stanwix National Monument in Rome and project lead for the Tubman park, said Wednesday that the implementation agreement is under National Park Service internal legal reviews. An executed agreement is expected within the current fiscal year. 
The federal government's fiscal year ends Sept. 30. 
Barrows didn't have a specific timetable for the completion of the agreement, but explained that negotiations are ongoing between the Tubman home and National Park Service. 
"It's important for us to have a full understanding of how resources will move back and forth between the park service and the Harriet Tubman Home and how we'll be able to work in cooperation to preserve and protect the resources associated with Tubman," he said. 
Harriet Tubman Home President and CEO Karen Hill described the implementation agreement as a broad document that will guide how the two sides will operate the park. The parties will be responsible for jointly managing the South Street property where Tubman's brick residence and the Home for the Aged are located. 
The implementation agreement won't require any additional approvals from the federal or state governments. But a conservation easement, which is necessary for the National Park Service to have a role at the South Street property, will require the state attorney general's review. 
Hill expects the conservation easement process will begin once the implementation agreement is finalized. 
One issue the implementation agreement could help address is staffing. Once the park is fully operational, it's anticipated that National Park Service rangers will be on site. Despite the park being formally established last year, park rangers haven't had a permanent presence at the Tubman home because the implementation agreement isn't in effect. 
Barrows noted that park rangers have been able to assist the Tubman home during times of need. When a Tubman home staffer was ill, park rangers filled in to provide tours. And when larger groups visited the site, park rangers helped with programming. 
Once the implementation agreement is completed, Barrows said it's possible that rangers could be available for temporary assignments at the park this year. 
"We've been fortunate that we've been able to work that out at least in this interim period," Hill said of staffing. "Our expectation is that that becomes something that is more facile once we have an agreement in place on how we share those resources." 
Church update
The National Park Service's work at the Thompson Memorial A.M.E. Zion Church on Parker Street continues. 
Barrows said the agency's preservation crew is at the historic site and is working on renovating the church and neighboring parsonage. The crew is restoring window frames at the parsonage and have nearly finished improvements to the front porch. 
Contracts are being prepared to remove the existing roof, which will be replaced with cedar roof shingles. Chimney repair work is also planned and a bathroom that is complaint with the Americans with Disabilities Act will be installed, according to Barrows. 
There is also some other basic work being done at the sites, including basement and foundation repairs and replacement of heating and cooling systems. 
"They're moving right along," Barrows said. 
Brick residence
Hill is looking to secure federal funding that would finish renovations at the brick residence and enable visitors to access the structure. 
The Harriet Tubman Home organization has spent "considerable resources" on the site, she explained. Now she's hoping the federal government will come through with support. 
"I believe that there's an openness about doing all that is possible to bring the resources forward to help complete the Tubman brick residence so we can add that to the body of work that has already been completed at the Tubman site and make the brick residence a full part of the tour," she said. 
She estimated that the final renovations would cost about $400,000. Most of the exterior work has been completed, she said, but the interior needs to be finished. And the Tubman home would like to install a lift at the rear of the brick residence that would allow those in wheelchairs to enter the first floor of the home. 
Park service presence
Beyond assisting at the Tubman home, the National Park Service is establishing a regular presence in Auburn. 
Beginning this month, park rangers will participate in the city's First Friday events. Last week, a park ranger delivered a presentation on the basics of the national park system. 
The agency's goal of joining the First Friday event lineup, Barrows said, is starting the educational process about what it means to have a national park in the area. 
"We're very excited to start building those kinds of relationships and participating in collaborative programming," he said. 
Pilgrimage
The annual Tubman pilgrimage is a few months away, but Hill shared some details about the event. 
The pilgrimage will be held Saturday, June 2. It will begin with an 8:45 a.m. service at Tubman's grave site in Fort Hill Cemetery. Later in the day, a program will be held at Auburn High School. 
Hill said the program will recognize the work of U.S. Reps. Elijah Cummings and John Katko. Cummings, a Maryland Democrat, and Katko, R-Camillus, introduced legislation that would ensure Tubman's likeness is placed on the $20 bill. 
Park rangers will staff the Tubman home during the pilgrimage, Hill said. In the past, they had to close the property during the pilgrimage ceremony. 
Plans for city, county public safety complex at Auburn's Save-A-Lot plaza moving forward
A plan to consolidate Auburn and Cayuga County emergency services into one facility has been resurrected on a smaller scale than initially proposed but nevertheless is moving forward.
The proposed new facility would be located in the Save-A-Lot plaza on Seminary Street and would house the Auburn Fire Department. Auburn City Manager Jeff Dygert and Cayuga County Administrator J. Justin Woods have also discussed conceptual plans to relocate the county Emergency Management Office and E-911 office to the new facility. The city was awarded a $2 million grant in 2016 from the state Department of Environmental Conservation to put toward the facility. Dygert and Woods both hope the project will qualify for funding under the state's Shared Services Initiative. 
The fire department has expressed the need for a new facility for years. The Market Street station is over 85 years old and cannot support the weight of modern fire trucks — the floors are cracking and parts of the building are crumbling. The department is also running out of space for record keeping, equipment storage and staffing needs.      
The plan for a public safety center has been discussed by the city and county on and off for years. In 2015, the city received four development proposals and began to move forward with one proposal from First Response Developers. However, the Auburn City Council canceled the project in May 2016 amid budgetary restrictions. The plan at the time was to build a new complex at an unspecified downtown location for between $22 million and $28 million. Tenants for the building at the time included the Auburn fire and police departments, Auburn City Court and several Cayuga County agencies, including the probation department. 
The police station, which underwent significant renovations in 2017, will remain at its North Street headquarters. Dygert said the police department will be able to utilize some extra space once the fire department moves to its new building, but to what extent has not yet been decided.    
Now, the city is working with Washington Street Partners, a Syracuse developer, to build the facility. The developer already owns the Seminary Street plaza, named Seminary Commons. There is about 13,600 square feet of vacant building currently available, according to the Washington Street Partners' website. Dygert said the city will try to utilize the structure already there, but any plan will have to include constructing a garage for fire trucks. Dygert said the plaza's other tenants will not be displaced from their current spaces if the project moves forward.     
Dygert stressed the project is still in the early stages and very few details are known about the cost or scope at this point. The size of the facility will hinge on which county agencies, if any, decide to relocate to the complex.  
Woods discussed the preliminary plans with members of the Cayuga County Legislature during the Feb. 14 Judicial and Public Safety Committee meeting.  
"Conceptually, I think the idea makes a lot of sense," Woods said during a phone interview with The Citizen, adding that he believes the legislators are also "conceptually supportive" of the idea. However, the county will not commit to any plan until more details are known.  
Dygert said he plans to have a better idea of what the project will cost in the next few weeks. By the end of April, he hopes to have a complete plan to present to the city council for public discussion. 
"I am working very hard with the developer to make the most efficient use of the property we can," Dygert said. "We know we need the facility. I can go back to 1991 for the need for a new facility. It's something that's been talked about and it continually comes up but just never quite gets to the finish line. The scope of the project has been significantly reduced to keep the project as economical as possible. We're going to get to a point where we can't wait any longer. We can't keep putting it off."
Auburn Public Café: Downtown theater plans $1.2 million expansion
AUBURN — Auburn Public Theater is hoping for an early Christmas present.
The downtown theater is awaiting word from the state on a $600,000 Consolidated Funding Application it submitted earlier this year. The state will make the announcement at its regional economic development council awards ceremony sometime this month. And for theater Executive Director Carey Eidel and Artistic Director Angela Daddabbo, that announcement can't come soon enough.
That's because the $600,000 would support the next expansion of Eidel and Daddabbo's theater: Café Einstein.
The café will be located at the corner of Genesee and Exchange streets, which is currently the office of lawyer Dennis Sedor. It will be a for-profit business that pays rent and donates to Auburn Public Theater. Daddabbo said she and Eidel modeled the café, and its relationship to their nonprofit theater, after Café at 407 in Liverpool, which supports eating disorder treatment center Ophelia's Place. 
The café will neighbor the theater's Stage Right performance space and be separated by a collapsible or curtained glass wall, Daddabbo said. Consulting on its menu and other matters will be Daddabbo's brother and theater board member Tony Daddabbo, who's done the same for high-end restaurants in New York City and Las Vegas — as well as Mesa Grande Taqueria in central New York, which is owned by his and Angela's brother Jim. Angela said the café will serve standard fare like coffee, tea, sandwiches and wraps, and that it will not have a license to sell alcohol.
Daddabbo believes the streetside café will not only give Auburn Public Theater a dependable stream of income, but increased visibility and accessibility.
"Getting a burger or a sandwich or a salad, or grabbing a bottle of water or a cup of tea, is a much easier entry point to a business than spending $35 on a 'Calamari Sisters' ticket," she said. "We feel like that food piece is going to offer the kind of final democratic solution to getting people who might not think this space is for them to just cross the threshold."
AUBURN | Ten years ago today, 102-108 Genesee St. was technically still Paul's Pocket Billia…
But the café is just one part of the theater's next expansion. As Eidel and Daddabbo open the business, taking over the last remaining space on the building's first floor, they also plan to renovate its 13,000-square-foot basement. Its only current tenant is public access station Auburn Regional Media Access, Daddabbo said, and the station takes up about 1,000 square feet.
The rest of the finished basement, Daddabbo said, will be available for additional programming or rental by the community.
For instance, the space will allow the theater to book concerts for standing audiences again, she said. It could when the theater opened in 2005, but not after it was remodeled into its current Stage Right and Main Stage performance spaces, both of which are seated. Daddabbo said Trumansburg rock band Donna the Buffalo will be "the first phone call we make" to perform at the new space.
Among the other uses for the space, Daddabbo said, could be weddings. Citing data that Cayuga County venues are booked to capacity during the summer, she said Auburn Public Theater could meet some of that demand. She suggested a couple could even be married on the Main Stage — where the audience would enjoy the angled view — and hold their reception in the finished basement.
The total budget for the theater's basement and cafe projects is $1.2 million. They would have begun together in January if Auburn was awarded $10 million in the state's Downtown Revitalization Initiative contest this summer, as the projects were part of the city's proposal. Now, Daddabbo said, funding will determine when they begin, and whether they do so together. Another priority is Sedor's comfort with relocating his office, she said. Though he has agreed to let the theater buy out his lease, she continued, he'll need at least six months' notice before he has to move.
Regardless, Daddabbo said, Auburn Public Theater will reach its next stage, one that she and Eidel have envisioned since they bought the former Grant's Department Store almost 15 years ago.
"These plans of ours are written into the DNA of our organization," she said. "It was part of the original plan, and you can see it in the original drawings. It just took longer to get the funding than we thought. Everything took longer than we thought, as it is in life."
Environmental test results, concept designs unveiled for Auburn lot
AUBURN — Preliminary soil and ground water tests for the future community park space at 1-7 State St. — the site of the former Kalet building — came back "non-detect" for contamination, Ted Liddell, a landscape architect with Bergmann Associates, said during a public meeting Monday night at the Hilton Garden Inn.
The land was tested in five different areas for contaminates, such as petroleum, volatile organic compounds, pesticides and PCBs. Two samples were taken from each spot and compared for the most accurate results. Liddell said there was a discrepancy with one of the ground water samples, so that one will be retested to ensure no pollutants are present. 
"So far the preliminary results have shown that there's nothing to worry about," Liddell said. 
Liddell also unveiled four possible park designs during the meeting. The concepts were designed using ideas from the previous public meeting, including a stage for performances, green space and water features. He said the park will have a mix of contemporary and traditional design features. 
The first design features a large green space surrounded by built-in wall benches, foliage around the perimeter and a shaded stage platform. Design two is more of a plaza, with a paved center, overhead lighting, a water feature and movable seating. The third design also includes green space, along with a band shell, public restrooms and light posts with built-in charging stations. Design four features a paved center with a checker board design for large checker and chess games, along with a water wall and planters and trellises for greenery. 
All four designs incorporated a stage, foliage, lighting, seating, bike racks and the potential for an ice skating rink in the winter.
After the designs were presented, those in attendance were asked to write down what they liked and did not like about the each concept, as well as write down a name and choose their favorite overall design. Concept three seemed to be the most popular option. 
"There might be something in each one that you really, really like and there could be the opportunity that some of the elements from each of the four concepts could be combined into the final concept," Liddell said.  
Auburnian Jack Hardy said the concepts were "interesting" and he liked different elements of each design. Hardy, who helps organize the Founders Day car show downtown, said the park will be a attractive feature for visitors. 
Jane Stebbins, the president of the Music United Foundation in Auburn, attended last month's meeting and said the architects did a "phenomenal job" with the designs. 
"I think they listened to us and put a lot of time and care in constructing all four park concepts," Stebbins said. "Out of the four, you certainly could garner pieces of each to create one amazing park."
Stebbins pitched the idea at the last meeting to name the park after Thommie Walsh, a two-time Tony Award winner from Auburn who died at the age of 57. Several other people suggested naming the park after the performer as well. 
Thommie's sister, Barbara Walsh, was at the meeting and said it is "pretty exciting" that the park could be named after her brother. 
"I think my brother would be extremely proud and honored to know that the Auburnians were thinking of him and wanting to name something after him," Barbara said. "I think he would be thrilled about it." 
Anyone who has additional ideas or comments can submit them by email to Auburn's Office of Planning and Economic Development Director Jenny Haines at jhaines@auburnny.gov, or Kimberly Baptiste, a practice leader at Bergmann Associates, at kbaptiste@bergmannpc.com.
State funds to support creation of Auburn arts district — but what shape should it take?
An arts and entertainment district may soon be established in Auburn. But what should it do? How should it look? And whom should it include?
Auburn is one of five central New York municipalities slated for the districts; the others are Cortland, Oneida, Oswego and Syracuse. A $49,500 award from the Regional Economic Development Council, announced in December, will support the districts' blueprinting by CNY Arts. The blueprint will then be presented to the state for consideration of further funding for the districts.
At this early stage in the districts' creation, The Citizen spoke to two key figures in Auburn's arts and entertainment scene about the concept and how they'd like to see it executed: Auburn Public Theater Artistic Director Angela Daddabbo and Schweinfurth Art Center Executive Director Donna Lamb.
Q. Do you think Auburn needs an arts district?
Daddabbo: Yes, I believe a designated arts district would be extremely helpful to Auburn for many reasons. Auburn is rich — rich! — in cultural and historic sites. Rich, not middle-class, not lower-class, not poverty-stricken, but rich. Gratefully, we have this incredible resource, so let's utilize it. And if we're going to utilize it, let's make the connections between all of the amazing things that are going on in Auburn crystal clear. If someone comes to town (or comes from town) to visit the Seward House, for example, a designated arts district could help make the connection between them visiting the SHM and visiting the Willard Memorial Chapel or the Schweinfurth Art Center or the Cayuga Museum or the Harriet Tubman Home, etc. The longer people stay and visit and have lunch and shop and spend the night in a hotel, etc., the more the local economy benefits. Similarly, if someone comes to town (or from town) to eat in one of our many (many!) great restaurants, with the help of a designated arts district, they could be pointed in the direction of visiting one of our sites. Finally, if a young professional is thinking about staying in the area or even moving back to the area or moving to the area for the first time, I believe a designated arts district could help influence that decision in a positive way.
Lamb: I think Auburn can benefit from an arts district. With Auburn's great historic and cultural attractions, and recent downtown development, an arts district would be a natural and desirable development. Arts districts have been used in many other communities, such as Paducah, Kentucky, as a framework for revitalization and economic development.
Coming into 20 years as director of Cayuga County's tourism office, Meg Vanek said she has s…
Q. What could an Auburn arts district do that would make it most effective for the area's arts organizations?
Daddabbo: An arts district will help unify all the area arts and historic organizations in a way that they are not yet unified. Each one exists, but to some extent on its own steam. We would be stronger together. Two cities that inspire me are Paducah, Kentucky, which I have visited, and Moose Jaw, Canada, which I have only read about.
Lamb: An arts district would provide greater visibility to our arts organizations and increase cultural tourism in the city. It would be used to help brand Auburn as a cultural destination. Collaborative marketing and programming, signage and a website would all help to increase cultural tourism and expand our audiences. This would also have a positive economic impact on local businesses and potentially attract more arts-related businesses.
Q. What form do you think an Auburn arts district should take, be it physical or online?
Daddabbo: I think the arts district needs to be both physical and online. Definitely both.
Lamb: A physically defined district with recognizable signage would have the most impact, but you would also need an online presence and even a map. You really need to cover all the bases to reach as many people as possible. The signage raises awareness of our cultural attractions within our own community and for people travelling through the city. A map and an online presence would be useful in attracting out-of-town visitors and helping them plan a visit. A website also offers the opportunity to provide more information on the sites, related businesses and the community as a whole.
Q. What, locally, do you see being a part of an Auburn arts district?
Daddabbo: I think the answer to this question is best determined by committee. (Did I really just say that?!) Seriously, this is a project that has the potential to affect a lot of people, so I think all interested parties should have a seat at the table.
Lamb: I envision a main arts district that is primarily based on the downtown Auburn business district, but with outposts to include parks, public art installations or cultural sites that are outside of downtown. I see the main district and the outlying attractions being identified with arts district signage or banners, and on the map and website.