AURELIUS — Luke Gaffney's Marine training came in handy on Christmas Day in 2015 when he found himself crouching behind the shelves at Rite Aid, waiting for an unsuspecting bride-to-be to enter the store under the guise of picking up a prescription for her father. 
Her future husband hired Gaffney to take photos while he popped the question to his soon-to-be fiance in the drug store's aisles. 
Before becoming a professional photographer and opening his own studio, Fisher Photography, Gaffney, a Union Springs native, served for eight years in the United States Marine Corps, some of that time working surveillance for the 4th Force Reconnaissance Company in Hawaii and Iraq. He was deployed twice to Iraq during his military career and sustained a traumatic brain injury. He was also diagnosed with post-traumatic stress disorder. 
Gaffney discovered that photography, and the creative freedom of being a professional photographer, was something that helped his recovery. His work has been therapeutic in helping him deal with his TBI and PTSD. 
"I love trying to tell a story in a second, like capturing a moment in time that gets people wondering what else was going on, what's the story," Gaffney said. "I also love seeing something and trying to show the rest of the world what I see. Dealing with the TBI, as well as PTSD and some other things, I don't always communicate the best and I like to have an outlet for that as well as an outlet to create. It's therapeutic."
Gaffney and his wife, Jessica Gaffney, recently relocated their studio to the vacant Verizon store in the Fingerlakes Mall from their previous spot on Franklin Street at the beginning of May. They've utilized some of the furniture from the old store, like the built-in peg board wall and shelves to hang art for sale, and kept the signature black and red Verizon color scheme.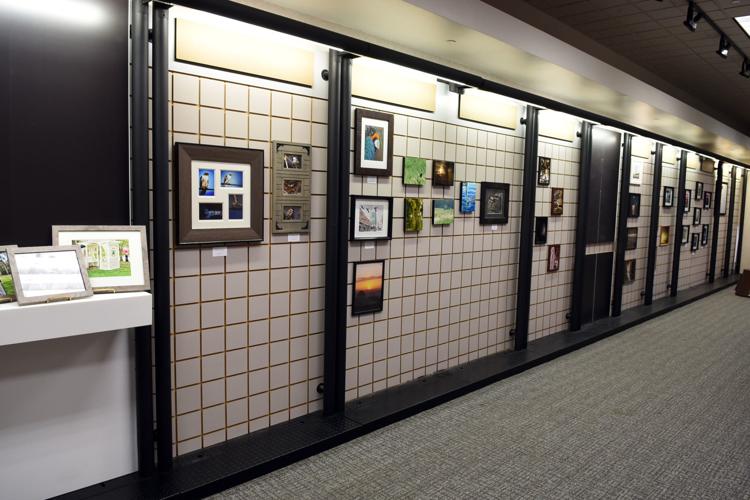 The couple works together at the business, with Luke serving as the primary photographer and Jessica handling the behind-the-scenes work, though she will sometimes shoot photos as well. They recently brought on a third photographer, Emily Lane of Union Springs, to work on a freelance basis. 
In an time where technology makes it easy for anyone to be an amateur photographer, Gaffney said having his own studio adds credibility to the Fisher Photography name. 
"Right now, it's a very saturated market with the ease of getting more and more high end cameras out there for a lower cost, you have more and more people trying their hand at it," he said. "There's a lot of ammature photographers out there as well so I like to set myself apart by having a physical studio." 
Fisher Photography does everything from wedding photography and senior photos to real estate and product photography, both in the studio and on location. Gaffney said his favorite shoots to do are individual portraits and headshots. He posts examples of his work on Facebook and Instagram under the handles Fisherphotography12 and Fisherweddings. 
There's a stark difference between the photography Gaffney did in the military compared to what he does now. Gaffney said he prefers being a professional civilian photographer, but credits his time in the military with giving him the opportunity to learn how to use cameras and other photography equipment. 
"In the military, it was more learning the systems and whatnot." he said. "You weren't worried about your two-thirds rule or composition, you were worried about can you gather the information out of the shot."
As a veteran, Gaffney knows how difficult it can be to assimilate back into civilian life after serving in the military. When he first started out as a photographer, Gaffney said he struggled with his confidence and sometimes wasn't sure if his art was good enough.
He tries to give back to veterans in any way he can through his business. He offers a 15-percent discount on all services to veterans and first responders. He also donates 50-percent of the profit from certain art he sells to an organization he is part of, called Heroes to Heroes. The group takes "morally wounded" veterans to Israel and links them to support groups in the U.S. and overseas in an effort to reduce the number of suicides among veterans. According to the foundation's website, an average of 22 veterans commit suicide every day. 
"Being a veteran myself, I know what they sacrifice, some more than others," Gaffney said. "I wanted to show my appreciation and share a little bit especially when things can be hard. They say patriotism is dead, but there is a desire to serve your country and when it comes down to it, you do it for the guy to you left and to your right. I enjoy the freedoms I have in this country, but nothing is ever free. If I can give back, I want to give back."