January top reads: Fatal Auburn fire, first Cayuga County babies of 2019, new Auburn restaurant
The Citizen's top 10 most-read stories in January 2019. 
Crash involving snowplow results in 'serious injury' on Routes 5 and 20 in Cayuga County
State police are investigating an accident involving a snowplow and a passenger vehicle that injured a 58-year-old Auburn woman Tuesday morning.
The crash involved a state Department of Transportation snowplow and a car each with one occupant, state police said. Police reported that the driver of the car, DeAnna Taylor, was extricated from the wreckage and airlifted to Upstate University Medical Center in Syracuse with lower body injuries. Police did not have an update on the extent of Taylor's injuries, but believed airlifting her to Upstate was a precautionary measure.
The sedan was traveling west on Route 20 when it lost control and entered the eastbound lane, police said. Todd Arnold, who was operating the plow, traveling east, noticed the vehicle and slowed down as much as he could, police said, but the sedan collided into the plow. Arnold suffered a back injury, but police were unsure if he sought medical attention at a hospital. 
The accident occurred just before 10 a.m. Rescuers later requested that a helicopter be sent to assist, and a landing site was established at the state police barracks on Route 20 in Aurelius. The helicopter reportedly departed at 10:50 a.m.
Routes 5 and 20 west of Auburn between Lime Kiln Road and Basswood Road were closed for several hours as state troopers remained at the scene of the crash to conduct an accident investigation. The roadway was reopened at about 1:40 p.m. State police said the accident is still being investigated. 
Spoon and Forks: New restaurant brings Thai, sushi and more to Auburn's west end
AUBURN — As Thai food becomes more and more popular in America, many Auburnians have asked when a Thai restaurant would open in the city.
And many times, Bilin Gao and Jinwen Li have been the ones they've asked.
The owners of New China Royal on Genesee Street for 10 years, Gao and Li are now counting on that interest in Thai food as they open a second restaurant: Spoon and Forks Asia Cuisine.
Located down the street from their first restaurant, at the former Tabatha's and Ricky's before that, Spoon and Forks features an expansive menu of Thai and sushi. Traditional dishes include curry chicken, basil chicken and pad Thai (stir-fried noodles with egg, scallions, bean sprouts and dry tofu topped with ground peanuts). The sushi bar serves all manner of tuna, salmon and other rolls. There's also a hibachi bar in the restaurant with chicken, shrimp, steak, salmon and scallop options. And those who just want good old General Tso's or sesame chicken will find those dishes as well.
Speaking in their new restaurant Thursday, the day of its soft opening, Gao and Li said they've been planning to open a second restaurant for several years. They envisioned it being a more formal, sit-down restaurant to complement the takeout business they've been doing at New China Royal since 2009, they said. They were just waiting for the right place to open that restaurant.
That place came along in September 2017, when Gao and Li bought the building at 264 Genesee St. for $98,365, according to The Citizen archives. But that was only the beginning: Gao and Li spent the next 15 months renovating. They replaced the floors, painted the walls and installed their kitchen. What was a seating area between the bar (which serves beer and wine) and the main dining room now hosts a private party area, as well as the hibachi grill and the sushi bar. There's also new wooden trim, new lighting, new tables and seats — it looks like a whole new restaurant. 
Gao and Li said they liked the openness and location of the building. Now, they're spending the week until their restaurant's Jan. 24 grand opening making sure the food they serve there is also to their satisfaction. Between the community's appetite for Thai cuisine and their good relationship with that community, Gao and Li believe Spoon and Forks will be to Auburn's satisfaction, too.
"I care about my food, my customers and my business," Li said. "I treat my customers like my good friends, so everybody treats me like a good friend too."
One dead after early morning fire in Auburn
An occupant of a Pulsifer Drive home in Auburn was found dead Tuesday morning after an early morning fire. 
Auburn Fire Department personnel responded to a 911 call from a neighbor to find a structure fully involved in flames at 47 Pulsifer Drive at approximately 12:45 a.m., according to Assistant Chief Ed Sherman.
The presence of a vehicle in the driveway of the single-family residence indicated an occupant was still inside the home, but the large volume of fire prevented crew members from attempting a rescue, according to Chief Joseph Morabito.
Firefighters were able to bring the fire, which Morabito described as "basement to roof and front to back," under control after an hour and a half, and a subsequent search found that the occupant was unable to exit and had not survived.
The victim, whose identity was being withheld pending a positive identification, is believed to be the only occupant of the residence, Morabito said.
As of 12:30 p.m., investigators were still on the scene working to determine a cause.
The home is a complete structural loss, Sherman said.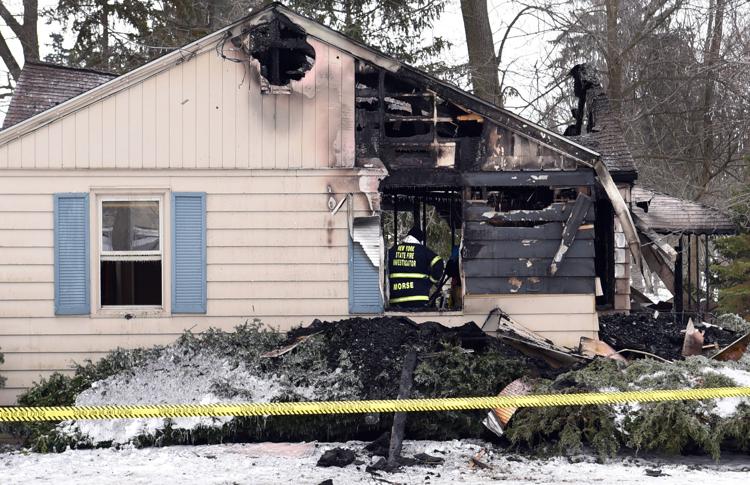 The last fatal fire in the city of Auburn was in March 2012, when a 38-year-old woman and her 2-year-old goddaughter died from smoke inhalation caused by a stove top fire at 26 Greenview Circle, just east of the town of Aurelius border.
In addition to the Auburn Fire Department, members of the Auburn Police Department and the New York State Office of Fire Prevention also responded to the call Tuesday.
Anyone with information regarding the fire is asked to contact Detective Chris Cooper at (315) 235-4706 or the Auburn Police Department at (315) 253-3231. Callers may remain anonymous.
Cayuga County welcomes two New Year's babies before 8 a.m.
AUBURN — Two families found themselves in an unexpected race New Year's Day morning at Auburn Community Hospital to see who would deliver Cayuga County's first baby of 2019.
Sarah and Jason Dimari welcomed their second son, Jagger Charles, into the world at 6:03 a.m. Jan. 1, a few days before his Jan. 5 due date. Cassandra and Matt Roberts, however, expected to be induced later this week for their overdue baby, but Coraline Jane also made her grand entrance at 7:37 a.m. New Year's Day.
Sarah, of Locke, said she and her husband took to calling Jagger "our little holiday baby," because she found out she was pregnant on Mother's Day. Initially told by doctors that she wouldn't be able to have children, both Jagger and his 4-year-old brother Cylis came as gifts. 
"Doctors said it wasn't going to happen," Sarah said of her conceiving.
Nearly everything was different about Jagger's birth, Sarah said. Cylis' name was picked out when she was 16 weeks pregnant, he arrived two weeks late and weighed more than 9 pounds. 
Jagger, however, shocked everyone by being "a little peanut," Sarah said, as he was born 6 pounds, 5 ounces and 19 inches long. 
On the way to the hospital the morning of New Year's Eve after her water broke, Sarah thought they would name their son Arlo. But when they saw he was "such a little guy" they opted for what they thought was more of a strong, cool name.
"It gives him a little edge," Sarah said.
"It's exciting, totally unexpected," she said of Jagger's early debut. "It made our new year, that's for sure."
Just about 1 1/2 hours after Jagger was born, a baby girl also made her way into the new year.
Coraline Jane Roberts was a surprise New Year's baby as well. She was overdue and doctors talked about inducing her on Jan. 2, but Cassandra said that Coraline clearly wanted to come on her own.
She entered the world at 7:37 a.m., weighing 9 pounds, 3.5 ounces and stretching 22.5 inches tall. Coraline was about 1 pound heavier and 1 inch longer than her 5-year-old brother Landen, Cassandra said.
"It's exciting," she said. "What better day — every time we say 'Happy New Year,' we can say 'Happy Birthday,' too."
New Year's Day also marks seven years of Cassandra and Matt being together, Matt said. The couple moved to Aurelius around August soon after they found out they were expecting — which came as a surprise as the couple originally only planned to have one baby.
While Cassandra's pregnancy "was pretty spot on" to her pregnancy with Landon, she said that the delivery was different. For one, the couple chose to be surprised by the gender. And instead of 36 hours of labor, Coraline was born after about eight hours.
Cassandra's water broke mid-evening New Year's Eve, and they eventually arrived at the hospital at 1:53 a.m. New Year's Day.
"We're happy because we're healthy," Cassandra said to Coraline, who was named after the "Coraline" film.
Seven arraigned in Cayuga County Court for connection with Auburn meth lab bust
AUBURN — Seven of the eight people arrested in connection with the Auburn meth lab bust in November were arraigned in Cayuga County Criminal Court Thursday morning. 
AUBURN — A home in Auburn reportedly being used to produce methamphetamine was raided by pol…
A number of adults and three children were found at the scene. The New York State Police's Contaminated Crime Scene Emergency Response Team helped handle the dangerous substances involved in the making of the drugs at the home.
Seven of the eight defendants arrested in connection with the meth bust were arraigned in court Thursday and are now each facing at least three felonies and six misdemeanors.
Seven more arrests have been made following the Finger Lakes Drug Task Force's raid of a met…
The defendants arraigned in court Thursday include:
• Raymond Cox, 37, of 68 Orchard St., Auburn
• James Delaney, 33, of 54 Orchard St., Auburn
• Heather Hutton, 45, of 8 Throop Ave., Auburn
• Theresa Hutton, 23, of 117 Main St., Port Byron
• Thomas Hutton, Sr., 54, of 54 Orchard St., Auburn
• Breanne Lunn, 31, 11 Garden E. Lane, Hannibal
• Timothy Rathbun, 35, of 8270 W. Loop Road, Montezuma
The seven defendants are each facing the charges of:
• Second-degree conspiracy, a class B felony
• Second-degree criminal possession of a controlled substance, a class A felony
• Second- degree unlawful manufacture of methamphetamine, a class C felony
• Second-degree criminal possession of methamphetamine manufacturing materials, a class A misdemeanor
• Criminal possession of precursors of methamphetamine, a class E felony
• Three counts of endangering the welfare of a child, class A misdemeanors
• Second-degree criminal use of drug paraphernalia, a class A misdemeanor
Thomas Hutton is the only exception, as he faces an additional class E felony of unlawful disposal of methamphetamine laboratory materials in addition to the common nine charges. Thomas and Cox are the only two defendants who were remanded to Cayuga County Jail, each are being held in lieu of $5,000 cash or $10,000 bond bail.
Thomas was remanded to the jail after his November arrest, but Cox was remanded to the jail Thursday. District Attorney Jon Budelmann said in court Cox had some risk of flight since he left Tompkins County while on probation for driving while intoxicated, a misdemeanor charge, in the past.
An arrest has been made following the discovery that an Auburn home was being used to manufa…
Lunn, Rathbun, Delaney, Heather Hutton and Theresa Hutton remained out on their own recognizance. Budelmann argued for all defendants released that they be given bail due to the seriousness of their charges and considering they had only low-level felonies when initially released by Auburn City Court. He requested for bail to be set at $1,000 cash or $2,000 bond.
Before releasing the defendants, Leone made sure they understood the serious nature of their charges and explained that if they got into any further trouble he would remand them. All seven defendants are due back in court April 11. 
The eighth defendant, Shaun Cronin, 40, of 36 Franklin St., Auburn, also appeared in court but his arraignment was adjourned until next week. The court adjourned it because there was no court appointed interpreter available to translate the proceedings to sign language for Cronin.
Historic Grounds: Downtown Auburn coffee shop has new name, owner, menu
AUBURN — Mark DiVietro had his eye on the former Riverbend coffee shop on Genesee Street for awhile.
He was certainly in a position to: DiVietro has worked at Silbert Optical for the past 25 years, and owned the eye care business for the past 10. It was around the time DiVietro took over Silbert from his father, Joseph, that Tim Bridenbecker opened Riverbend in Lattimore Hall. He had opened its first location in Fingerlakes Mall in 2004, and a third later in Auburn Plaza.
Working less than 100 feet down Genesee Street, DiVietro would often stop in the shop. He came to love the experience, he said Wednesday. Its atmosphere was as relaxing as its drinks were replenishing. So after Bridenbecker retired several years ago, and Renee Slayton took control of what she renamed Maggie's at Riverbend, DiVietro started to imagine what he'd do with the shop.
When Slayton started looking for a buyer last year, DiVietro got his opportunity. As of December, he is the owner of what's now Historic Grounds Coffee. 
DiVietro, who also serves as Owasco town justice and president of the Auburn Downtown Business Improvement District Board of Directors, is leasing the space from the owners of Lattimore Hall, WCBB Holdings LLC, of Rochester. The coffee shop is managed day-to-day by Beth Murphy, but at Silbert, DiVietro is never too far.
He's already overhauled the menu: Coffee now comes from Coffee Mania in Cortland, Belgian waffle mix from New Hope Mills in Auburn and baked goods from Just Desserts in Auburn. The latter two are additions, DiVietro said. He's also emphasizing soups of the day and deli sandwiches, which Riverbend introduced about a year ago, but "no one knew they were there," he added.
Another highlight of the menu is Art's Delight, a frozen coffee drink dedicated to well-known Auburnian and former Riverbend regular Art Wenzel, who passed away in 2016.
Since December, DiVietro has also worked on his coffee shop's look. It's been repainted and gotten new furniture, and new tables to replace the booths near the windows should arrive soon. DiVietro also added an area with an electric fireplace and leather seats. All the changes have been made to open up the floor and enhance the overall experience, he said.
"It's nice walking in and seeing people relaxing," he said. "Coffee makes people happy."
DiVietro also hopes to add a newsstand area where basic items like pens, Band-Aids and aspirin are available — filling a need left by the closure of Cervo's News in 2016. Opening the space to book clubs and live music is also in the cards. And the storefront will be repainted and receive a new LED sign, DiVietro said. The Historic Grounds logo features "1848," the year Auburn became a city. 
The shop's hours have already been extended to 5:30 p.m. weekdays and 5 p.m. Saturdays. In the summer, DiVietro hopes to push them back further, and add café seating.
Though downtown Auburn is slated to add two more coffee shops in the near future — Octane Social House in the Nolan block and Sun Cafe in Auburn Public Theater — DiVietro is confident Historic Grounds fits in without competing directly with anyone. He thinks people will be happy to have somewhere to grab a quick deli sandwich — and the same cozy experience that drew him there.
"I just want a good experience," he said. "For people to walk in and feel relaxed, as a coffee shop should be."
Three arrested in southern Cayuga County stabbing
Three people are facing robbery and assault charges stemming from a reported incident early Saturday in Ledyard.
The Cayuga County Sheriff's Office said deputies and state police were dispatched to a reported stabbing on Dublin Hill Road in Ledyard. The victim, who reported being beaten and stabbed several times, was taken to Auburn Community Hospital and then Upstate University Hospital in Syracuse, where he was treated for his injuries. His injuries were not considered life-threatening.
Working with state police and the Auburn Police Department, the sheriff's office tracked down and arrested three suspects. Dijon Starling-Harvey, 19, of Spring Street, Cayuga, and Mia Loiacono, 21, of Bentley School Road, Weedsport, were stopped in a vehicle in Auburn and taken into custody without incident. Later, William Vest, 28, of Olympia Terrace Apartments, Auburn, was taken into custody without incident at his residence.
The sheriff's office said the alleged victim knew the attackers, and that the incident stemmed from a disagreement.
The sheriff's office said all three suspects are charged with first-degree robbery and second-degree assault, both felonies. There were arraigned in Town of Sennett Court and remanded to the Cayuga County Jail on bail of $10,000 cash or $20,000 bond.
The sheriff's office said that anyone with information on the incident can contact Detective Sgt. Rob Franklin at (315) 253-1132. Tips can also be left at www.cayugasheriff.com. Tips can be anonymous.
Retiring Cayuga County Sheriff Gould surprised with goodbye salute
SENNETT — Cayuga County Sheriff David Gould ended his last day in office after 12 years as the county's top law enforcement official with a surprise he said he never saw coming.
Following a formal last sign-off from the county's 911 broadcast system, Gould walked out the doors of the Cayuga County Public Safety Building to a procession of more than three dozen deputies, sheriff's office staff and friends and family standing at attention and saluting.
"Thank you so much," the sheriff could be heard saying again and again as he took the time to give a handshake or a hug to every single person lining the sidewalk.
New Year's Day 2007 ushered David Gould into both his first term as Cayuga County sheriff an…
At the end of the line, Gould returned the salute of his right-hand man, sheriff-elect Det. Lt. Brian Schenck, who will formally be sworn in as the next sheriff on Wednesday.
Gould's wife Sue, nieces and nephews, and even their daughter — Facetiming in over phone from New York City — greeted him as well with an emotional embrace.
"Thank you so much for everything you've done for this department and for me," Gould said as he addressed everyone gathered outside. "Now get inside and get warm!"
The day, which Gould started at 5:30 a.m. to say goodbye to the night shift, had been bittersweet and had gone by fast, almost as fast as the last 50 years of his career as a police officer, he said.
Saying goodbye to all the deputies and office staff, Gould said he considered friends more than employees, was "one of the hardest things I've ever had to do."
"There's so many good friends here and it's been such a great working relationship. It was just a great honor, a great, great honor," Gould said.
Schenck said the goodbye was just as hard for him and the deputies as it was for the sheriff, who he called a great leader for both the department and the entire county.
"I think he worked hard to make sure not only the department but the community respected him, because he had a great deal of respect for the department and the community himself," Schenck said. "He worked tirelessly every day to make sure he earned everyone's respect and I think he accomplished his mission."
While it was difficult to say goodbye, Gould said he couldn't have been happier to have the chance to serve as long as he had.
"I've been able to serve my country, my state and my county, there's nothing more that any one can ask, to be able to do that, I'm very, very proud of that and I'm proud of everyone that lives in the county and certainly every one of my deputies," Gould said.
'A big thrill': Aurora Polar Bears host 29th New Year's Day polar plunge
AURORA — More than 30 people — some for the first time, others with more than a decade of experience under their belts — stormed into Cayuga Lake at noon on New Year's Day to welcome 2019 with a splash.
When Zack VanOrman woke up this morning, he didn't plan to take the plunge. But he changed his mind when he saw his dad, Chris, wrote a Facebook post announcing he was going to do it this year.
"It was spontaneous," Zack said. "I was just like, 'yeah, let's do it.'"
A first time for both him and his dad, Zack said his only game plan to prepare for the impending chill was to "keep the adrenaline going."
"I've been wanting to do it for three years," Chris said. "Kind of regretting it now," he said, laughing, as a strong wind blew across the white-capped waves on Cayuga Lake.
The 34 people who took the plunge this year shivered in the 36 degree weather, wrapped up in robes, blankets and winter gear as they awaited the countdown to prepare to run into the lake. 
"It's just a big thrill, it's something crazy to do at the beginning of the year," said Sarah Homick.
Homick first took the plunge in 1998, and got involved because her Southern Cayuga High School swimming coach, Nancie Tengi Saphara, was the one who started the tradition in 1991.
This year, Homick dedicated her plunge to her father, Ron Jones, who has served Aurora's volunteer fire department for 63 years. Her father wasn't able to attend or volunteer at the plunge this year because he's sick in the hospital, Homick said. So when Jones asked if Homick was jumping in, she gave him a definite yes.
"It was important to do it for him," she said, adding that she planned to visit him at the hospital after warming up a bit.
Saphara did the plunge herself for 25 years, and has continued to organize the event since then. As an Aurora Fire Department and ambulance volunteer at the time in 1991, the departments also supported Saphara's endeavor by being present and have been there every year since.
Each year, the plunge is also an opportunity to raise money for and thank the fire department, Saphara said. In the past, hundreds of dollars have been raised, but this year the plunge only raised about $35. Saphara said due to a transition in leadership there wasn't as much "pump up" this year, but she hopes those donations will increase again in the future.
While she still plans to attend the plunge at least two more years to hit 30 years of tradition, Saphara is passing the leadership baton of the plunge over to Homick and Adam Rossbach, another one of her former student-athletes from the swim team.
Rossbach said he also took his first plunge in 1998 as a senior in high school — because some girls he had crushes on at the time were doing it. He remembered that year being so cold that a hole was cut through the ice on the lake for participants to jump in. He "wised up for about 10 years" before doing the plunge again in 2008, he said, and has done it each year since.
After coming out of the lake Rossbach felt "great," noting that the plunge "gets your blood pumping" and is perhaps the quickest cure for a New Year's Eve hangover.
Rossbach and Homick thanked both Saphara for starting the tradition and the volunteer crews on the scene to keep people safe. They plan to keep the tradition alive as long as they can.
Homeowner identified as victim in fatal Auburn fire
The person killed in an Auburn house fire early Tuesday morning was the property's owner.
Valerie Usowski, 42, was the owner of the home destroyed in the blaze at 47 Pulsifer Drive, the Auburn Police Department said Thursday afternoon upon receiving identification confirmation from the Onondaga County Medical Examiner's Office.
The Auburn Fire Department was at the home within a minute of being dispatched around 12:45 a.m. Tuesday, but the house was fully engulfed in flames at the time. A rescue operation could not be attempted, and after the fire was under control, responders discovered a deceased person who was believed to be the home's lone occupant.
The fire's cause remains under investigation, with the Auburn Police Department, Auburn Fire Department and State Office of Fire Prevention involved. The APD said Thursday that there are no signs of foul play, but a cause and origin of the fire have not been determined.
Anyone with information that could assist the investigation is asked to contact APD Detective Chris Coopper at (315) 253-4706 or (315) 253-3231 or AFD Investigator Travis Poole at (315) 253-4031. Callers may remain anonymous.
On Thursday, the Heieck–Pelc Funeral Home submitted Usowski's obituary, which said she died from injuries sustained in a fire at her home. Cayuga County property records show that Usowski has owned the 1,300-square-foot house since 2010. The home was built in 1951.
Usowski was a catering manager at Upstate University Hospital in Syracuse. She previously worked as food and beverage director at the Auburn Holiday Inn. An Auburn High School and Culinary Institute of American graduate, she wrote a food column for The Citizen from 2008 to 2010.
Citing her love for animals, Usowski's family is asking that memorial contributions be made to Finger Lakes SPCA of Central New York at 41 York St. in Auburn.