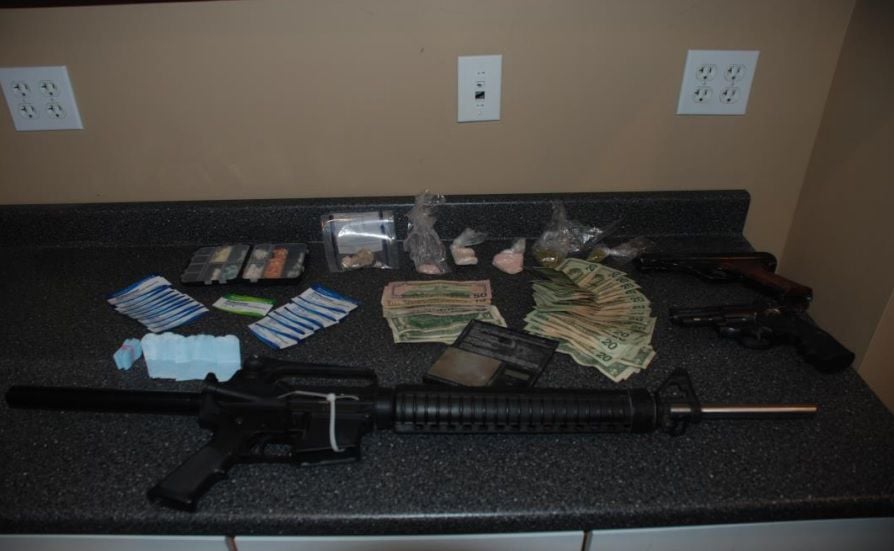 AUBURN — An Auburn man arrested during a February drug bust is facing a maximum of 12 years in prison after a Cayuga County jury found him guilty Tuesday of five drug-related crimes. 
Floyd Chavis, 37, was convicted of illegally possessing heroin, a stolen assault rifle and drug paraphernalia, such as a scale and envelopes for the purpose of packaging drugs for sale. Though Chavis was convicted of possessing a stolen rifle, he was not convicted of stealing it.
The week-long trial under Judge Mark Fandrich in Cayuga County Court came to a close at 2 p.m. Tuesday, when 12 jurors returned unanimous guilty verdicts on all five charges attached to Chavis's indictment, which included three felonies and two counts of the same misdemeanor.
After the court proceeding, Senior Assistant District Attorney Brittany Grome Antonacci said she appreciated the jurors' attention and applauded the evidence collection of the Finger Lakes Drug Task Force.
"I was very impressed by their efforts and they made my job easy," she said. "I'm just very glad we have this guy off the street and I think hopefully the community will be safer."
During closing arguments in the trial Tuesday morning, defense attorney Norman Chirco and prosecutor Grome Antonacci delivered statements disputing whether Chavis actually lived in the Orchard Street apartment and possessed the items he was accused of having.
Police uncovered the assault rifle in a bag in an attic off the room where Chavis was living on Orchard Street. They also recovered about four-and-a-half bundles of heroin, the scale and glassine envelopes in the same room.
You have free articles remaining.
Grome Antonacci argued that the evidence constituted constructive possession, which does not require the items to be on the defendant's person. "There's no doubt that was his bedroom and he had dominion and control over everything in that room," Grome Antonacci said.
During her closing argument, she also drew attention to what she called the most "damning" piece of evidence: Chavis was the main contributor of DNA on the pistol grip and carrying handle of the rifle.
Chirco made the case to jurors that there was not enough evidence to link Chavis to the items, which were not found physically on him. He also said there was not "one shred of evidence" that Chavis knew the rifle was stolen. 
Chavis is "disappointed" with the verdict, Chirco said after the verdict. "He believes and continues to maintain that the gun and drugs were not his. That's been his position since the very beginning, and that's why he went to trial on this," he said.
Over the course of the trial, jurors heard testimonies from the owner of the stolen rifle and the Onondaga County Sheriff's Office about an investigation into 12 firearms stolen from the same person, Grome Antonacci said.
They also heard from members of the emergency response team and members of the task force about the execution of the search warrant, collection of evidence and an investigation into the Orchard Street bedroom for sales of the MDMA or Molly drug.
Chavis was convicted Tuesday of third-degree criminal possession of a narcotic drug, third-degree criminal possession of a weapon and fourth-degree criminal possession of stolen property, all felonies. He was also found guilty on two counts of second-degree criminal use of drug paraphernalia, which are misdemeanors.
Chavis was remanded to jail, after being previously held in custody in lieu of bail in the amount of $50,000 cash or $100,000 bond. His sentencing is scheduled for April 7, at which time Fandrich will revisit possibly issuing permanent orders of protection for the witnesses who testified during the trial.
Chavis could be sentenced up to 12 years in prison on the top count of possessing heroin and seven years for criminally possessing the rifle. The sentences would likely be served concurrently.
Staff writer Mary Catalfamo can be reached at (315) 282-2244 or mary.catalfamo@lee.net. Find her on Twitter @mrycatalfamo.