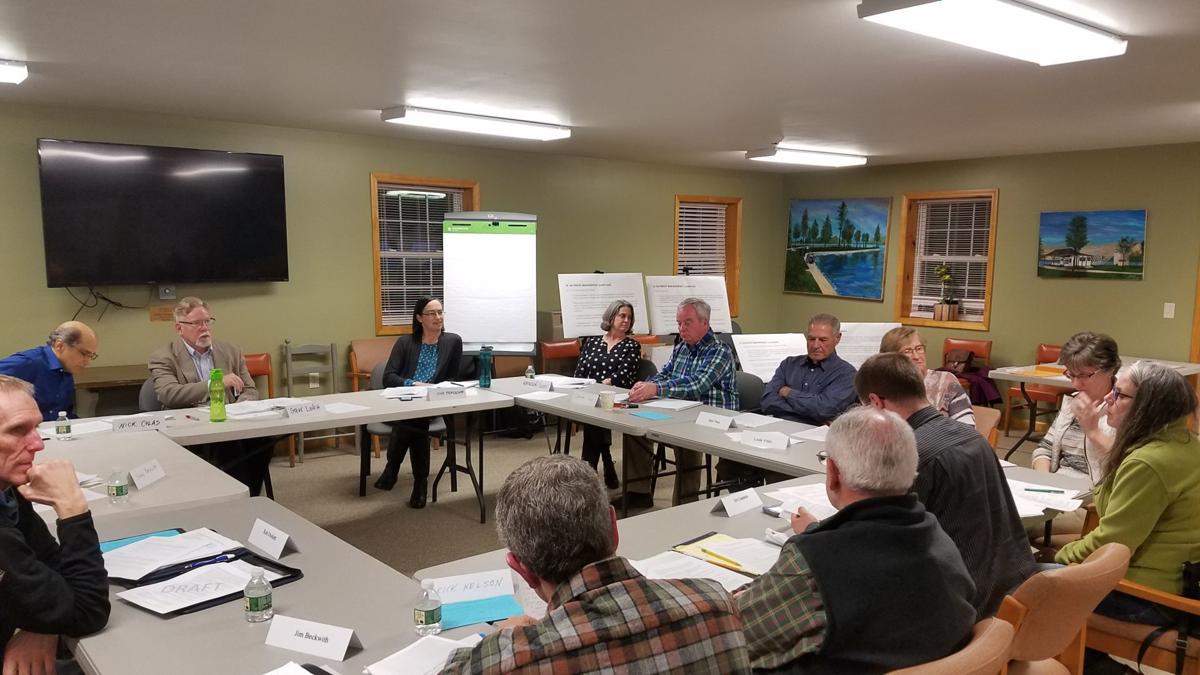 OWASCO — Reactions to the first draft of updated rules and regulations governing Owasco Lake watershed were mostly positive Monday night at the first meeting in the rollout process for the first revision since 1984.
Lake association members and lakeshore property owners met Monday in the first stakeholder meeting for the revision process of the project that's been underway since 2017 to create new enforceable rules surrounding activity in the watershed to protect Owasco Lake.
The stakeholder meetings are intended to provide the staff behind the new regulations — made up of a working group from an array of county, state and municipal agencies — input and feedback from key constituencies.
A second meeting with members of the agricultural community is scheduled for Tuesday night, with general public meetings planned for May.
Staff members and a neutral facilitator Monday walked stakeholders through some of what they described as some of the most significant provisions of the rules in areas such as septic systems, sediment control and nutrient management.
The "golden rule," according to Cayuga County Director of Planning and Economic Development Steve Lynch, whose department has been heavily involved in the process, is the provision stating that no pollutant of any kind can be discharged, deposited, or allowed to flow into Owasco Lake.
The thinking behind that, Lynch said, is that if some specific practice is not addressed by any other provision but still results in pollution it can still be deemed a violation and stopped. The emphasis during the rewrite process was also on creating rules that are protective, not punitive, Lynch said.
"The idea of the rules and regulations is not to start going out and start getting fines and fining things," Lynch said.
For septic systems, some of the new provisions include strict limitations on repair, replacement, or installation of holding tanks, a requirement that drain fields must be at least 100 feet from the lake's highwater mark and all watercourses, and a five-year sunset on drain fields within 100 feet of the lake.
For systems currently within 100 feet of the lake, the five-year timeline hopefully allows for phosphorous removal systems that would allow the systems to remain in place to become commercially available, according to county Director of Environmental Health Eileen O'Connor.
While many of the provisions of the new rules would be monitored and enforced by the county's Watershed Inspection Program, the bulk of septic-related issues would be the responsibility of the county Health Department, as is currently the case, O'Connor said.
Other provisions govern construction within the watershed. For example, projects that involve construction or reconstruction of one acre or more of five acres or less of impervious area would be required to use storm water management practices to maintain pre-construction levels of runoff and other factors.
A significant amount of the new rules deal with nutrient management, including a rule that will require farms with seven or more acres of land in production — excluding already-regulated concentrated animal feeding operations — to have a farm management plan within five years of the rules' adoption.
Stakeholder committee member and lakeshore property owner Ellen Cotter questioned the wording of that provision that said such plans must be developed by "appropriately credentialed individuals," wondering if that standard was too lax.
Lynch responded that the capacity to develop the required number of plans for all the watershed's farms simply does not exist, so the intent was not to require only Agricultural Environmental Management planners, for example.
County Soil and Water Conservation District Executive Director Doug Kierst said there are fewer than 100 such state-certified planners in New York, but lower levels, such as a certified crop adviser, still require significant training and certification.
Lynch said its hoped that a training program can be established to help train planners in order to cultivate the necessary staff. A number of local water advocacy groups included a request for state funding to develop such plans in a recent lobbying push.
General comments from the stakeholder committee were primarily positive, with members thanking the staff group for their hard work, but also noting points of concern.
"There are of course things here we're not very enamored with, but overall this is a very good document," Owasco Watershed Lake Association Past President Jim Beckwith said.
Other concerns included the question of funding — particularly when it came to staffing the Watershed Inspection Program which would be responsible for most enforcement — as well as problems with permitting and how to educate the public, all things Lynch and county Public Health Director Kathleen Cuddy said they were already considering.
"Everybody has to chip in and everybody has to work at this," Lynch said.
Staff writer Ryan Franklin can be reached at (315) 282-2252 or ryan.franklin@lee.net. Follow him on Twitter @RyanNYFranklin
Get local news delivered to your inbox!
Subscribe to our Daily Headlines newsletter.