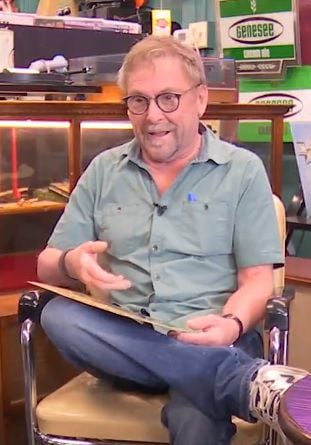 A woman who grew up in Auburn is suing a longtime downtown business owner, alleging that he sexually abused her during her childhood.
Patricia Rabinovich, 52, who now lives in Florida, is using the one-year window provided by the New York State Child Victims Act to file a lawsuit in state Supreme Court in Cayuga County against Michael Speno, who operates instrument retailer and repair shop Speno Music in Auburn. Rabinovich said in her complaint filed last month that Speno first abused her when she was 9 years old and the conduct continued until she was 16.
The lawsuit was filed on Rabinovich's behalf by Hillary M. Nappi of the New York City law firm of Hach Rose Schirripa & Cheverie LLP. The Child Victims Act, which Gov. Andrew Cuomo signed into law on Feb. 14, extended the statute of limitations so people can file civil claims of child sexual abuse until they turn 55 years old. The statute of limitations for felony child sex abuse crimes was also extended so alleged victims have until age 28 to press charges.
A provision of the act also opened up a one-year "look-back" period for people to file civil lawsuits if they could not pursue damages for alleged abuse that occurred under the old law. This is the aspect of the law Rabinovich is utilizing.
"As a result of the passage of the CVA, (Rabinovich) for the first time in her life can now pursue restorative justice," the complaint says.
Mark Whitford Jr., a partner at the Barclay Damon law firm in Syracuse, is representing Speno and sent a statement to The Citizen on behalf of Speno Tuesday afternoon denying the allegations.
"I was shocked to learn of a lawsuit recently brought against me based on events that allegedly took place 44 years ago when I was in high school. I have retained counsel to fully investigate and to vigorously defend against these accusations. I deny these serious allegations.
"To everyone who knows me — either personally or through our family-owned business in Auburn — I appreciate the support that you have offered. On the advice of my attorneys, I will not comment further at this time regarding this pending matter," the statement reads.
The lawsuit details Rabinovich's allegations that she was "cruelly and repeatedly molested, raped, and traumatized" by Speno, beginning when she was 9 years old in the summer of 1976 until 1983.
The complaint alleges that Speno, 18 at the time, first "forcefully inserted his tongue" into Rabinovich's mouth in the backroom of her home when she was 9 and threatened to have her killed by the mafia if she told anyone.
According to the lawsuit, Speno was dating Rabinovich's sister, Cindy, at the time. Rabinovich is one of six children of the late Casimir and Ethel Maciulewicz.
The lawsuit alleges escalating abuse from that first incident in 1976, claiming Speno would sneak into Rabinovich's room to force oral sex that summer. The complaint says Speno did this repeatedly and told Rabinovich each time that she would be killed if she told anyone.
Speno is also accused of molesting Rabinovich in his parents' pool and in his parents' bathroom, after he married her sister in 1979.
The lawsuit says Rabinovich began babysitting her niece at the couple's house in 1982 and felt pressured into staying the night afterward, when Speno allegedly continue his sexual abuse.
The lawsuit claims that "upon information and belief, Defendant Speno had sex with other underage girls in and around the same time he assaulted Plaintiff and in the years thereafter," but does not elaborate further.
In a phone interview, Nappi declined to provide specifics on the allegations that there are other victims, but said "we've done our homework. We think discovery will bring some things out."
The lawsuit lists six causes of action against Speno: assault, battery, sexual abuse, false imprisonment, intentional infliction of emotional distress and negligent infliction of emotional distress.
Rabinovich is seeking unspecified punitive and compensatory damages as a result of the alleged abuse, which she says caused her to suffer humiliation and "severe and potentially permanent personal injuries" to her emotional and psychological well-being, according to the lawsuit.
Staff writer Mary Catalfamo can be reached at (315) 282-2244 or mary.catalfamo@lee.net. Find her on Twitter @mrycatalfamo.
Get local news delivered to your inbox!
Subscribe to our Daily Headlines newsletter.