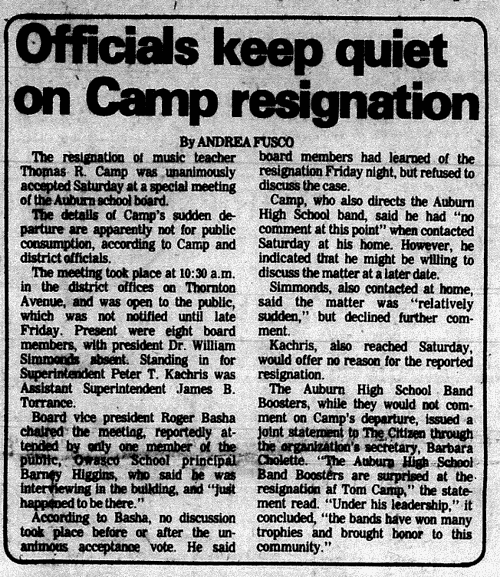 A lawsuit filed Thursday accuses the Auburn Enlarged City School District and its board of education of failing to stop a former teacher's sexual abuse of a student that started in 1978.
The lawsuit filed in state Supreme Court in Cayuga County by Colorado resident Pamela Deacon O'Grady alleges the district and the board at the time failed to prevent, stop or report her sexual abuse at the hands of former music teacher and marching band director Thomas R. Camp.
The filing comes amid the one-year window for time-barred cases provided by the New York State Child Victims Act, signed into law this year. The law extended the statute of limitations for civil claims of child sexual abuse until victims turn 55 years old, or until 28 years old for felony child sex abuse charges.
In addition to the district and the board, O'Grady's lawsuit names one to 30 John and Jane Does "whose identities are presently unknown" to O'Grady as plaintiff but who were teachers, supervisors or employees at the district at the time.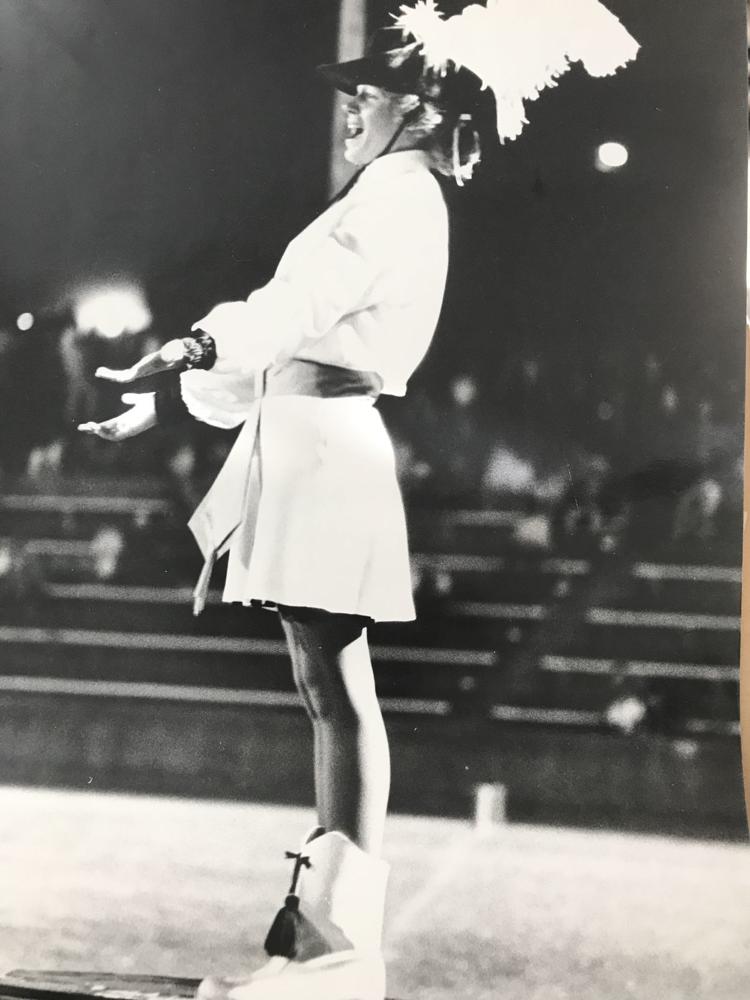 Camp, who has publicly denied the allegations, is not named as a defendant. Laura Ahearn, one of O'Grady's attorneys, said that is because the case is about holding the people who should have been ensuring the abuses didn't occur accountable.
"Basically, we're going after the people that are responsible for hiring and supervising Camp. So the case is about institutional responsibility for those that are in positions that have access to children and vulnerable individuals," Ahearn said.
Ahearn also said the John and Jane Doe names are left open in case any other individuals are found to be responsible for the abuse through the case's discovery process.
Auburn Superintendent Jeff Pirozzolo said Friday that the district had not yet been served a copy of the lawsuit, and that he could not comment on its allegations.
Right now, he said, the district is working with its attorneys to determine who was the district's insurance carrier during the time frame of the allegations.
According to the lawsuit, after meeting O'Grady when she was 14 in his capacity as band director, Camp began grooming her with the goal of sexually abusing her.
You have free articles remaining.
The lawsuit says the sexual abuse itself began in 1978 and lasted until O'Grady was in college in 1983. The suit says Camp abused O'Grady on at least 630 occasions between 1978 and his June 1980 employment termination from the district, and a further 350 occasions from then until her graduation in 1981.
The abuse is said to have occurred at the Auburn High School campus, in Camp and O'Grady's homes, and while traveling with the school band, among other locations.
The case names five causes of action against the defendants, claiming that they failed to failed to provide proper supervision, failed to take steps to stop or prevent the abuse, did not provide training to teachers, administrators or students regarding sexual abuse, failed to provide a safe environment, and failed to report the abuse to authorities upon discovery.
At that time, O'Grady said Camp engaged in a "textbook grooming process," giving her hugs, placing his hand on her leg, telling her she was special before eventually turning the relationship sexual.
On June 13, 1980, O'Grady said, two district administrators found Camp dropping her off at the school where they then confronted her as she hid in the bushes, saying they knew what was going on between them.
The next day, at an emergency Saturday meeting, the board accepted Camp's resignation but did not provide any reasons to the public. O'Grady said not only did the abuse continue, but administrators never spoke with her, her parents or law enforcement about the abuse.
Reached by The Citizen in 2017, Camp denied O'Grady's claims of abuse. He said his resignation was a result of administrative hassles caused by the district's focus on sports rather than music, and that her accusations of sexual assault were the result of bitterness at the end of their relationship when she was in college.
Roger Basha, then-vice president of the board of education, and former Superintendent Peter Kachris both told The Citizen in 2017 that Camp's resignation did not involve sports.
"I remember the circumstances very, very clearly and it had nothing to do with sports. Any notion that sports were being over-emphasized would had to have been in Tom Camp's mind," Kachris said in a phone call.
When asked if the board had had concerns about Camp's relationship with O'Grady, Basha said their "serious concerns" were not limited to one student, "but it was the one so-called 'provable incident.'"
Ahearn said the passage of the Child Victims Act was a "tremendous movement forward" for victims in the state, and said O'Grady served as a model to encourage other victims of child sexual abuse to come forward.
"Pamela is extremely courageous. It's never easy for anybody to talk about their sexual victimization but even more difficult when it happened so many years ago," Ahearn said.
Staff writer Ryan Franklin can be reached at (315) 282-2252 or ryan.franklin@lee.net. Follow him on Twitter @RyanNYFranklin.
Get local news delivered to your inbox!
Subscribe to our Daily Headlines newsletter.