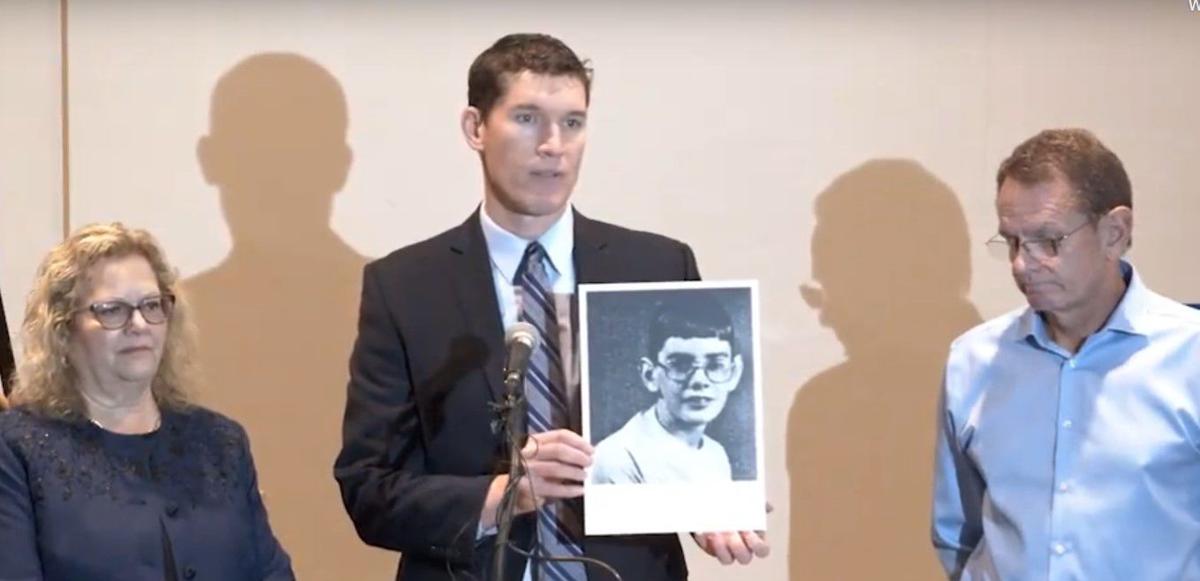 A former Weedsport Central School District student and Boy Scout filed a lawsuit last week accusing the school district and Boys Scouts of America of failing to stop sexual abuse he alleged was committed against him in the 1970s.
A Child Victims Act lawsuit filed Jan. 22 by Scott Gregory Coats in state Supreme Court in Cayuga County alleges the school district and the district board of education at the time, Boy Scouts of America and the regional scouting council were negligent in overseeing and employing Victor L. Sine, who was a Weedsport scouting leader and ran the school district audio-visual club. Coats said Sine sexually abused him from roughly 1976 to 1977.
Sine, who died in 2018, had also been the district's business manager and Weedsport village mayor, according to his obituary.
Coats' lawsuit came within the one-year window for time-barred cases under the Child Victims Act, which was signed into law in 2019. The law extended the statute of limitations for civil claims of child sexual abuse until victims turn 55 years old, or until they are 28 years old for felony child sex abuse charges.
The lawsuit said Sine sexually abused Coats when he was approximately 13 to 14 years old while Sine was an adult leader for Boy Scout Troop No. 59 and ran the district's AV club.
Coats spoke about his alleged abuse for the first time publicly at a press conference in Syracuse held the same day as the court filing, according to a news release from the website of LaFave, Wein & Frament, one of the law firms representing Coats in the lawsuit along with the firm Jeff Anderson & Associates.
In a video of the conference posted on LaFave, Wein & Frament's website, Coats said while he was the young son of a single mother in Weedsport, Sine "targeted me, profiled me and worked diligently to turn me into one of his victims."
Coats also believes there were more victims.
"The one thing I've learned over trying to deal with this over the past 40 years, of trying to bury it, trying to go to therapy, trying to get it out, trying to do anything I could to put it behind me, is that these guys don't quit," Coats said. "There's no way I was his first and there's no way I was his last."
Cynthia LaFave, a partner with LaFave, Wein & Frament, said Wednesday it was "very difficult" for Coats to speak about his experiences publicly. 
"It is very clear that our world has hidden sexual abuse in many categories and against many children for many years, " LaFave said. "It is time for the public to speak out to protect the children. Only coming out and speaking is going to protect the children and that is something that we all have to do."
The Boy Scouts of America responded to the allegations with a written statement to the news media.
"First and foremost, we care deeply about all victims of child abuse and sincerely apologize to anyone who was harmed during their time in Scouting. We are outraged that there have been times when individuals took advantage of our program to abuse innocent children. We believe victims, we support them, we pay for counseling by a provider of their choice and we encourage them to come forward. It is the Boy Scouts of America (BSA) policy that all incidents of suspected abuse are reported to law enforcement," the organization said.
LaFave said Coats reported his alleged abuse by Sine to the Boy Scouts in 1999 but never received a response.
"They can say that now, but where were they in 1999 when he was reaching out and talking to the Boy Scouts about this? Why did they not respond to him?" LaFave said.
The Boy Scouts also said its records indicate Sine was added to the Volunteer Screening Database on May 12, 1999, after the receipt of a fax from Coats on May 5 of that year notifying the organization of reported abuse.
"Inclusion in the VSD would have removed Mr. Sine from Scouting and barred him from further participation in our programs. We deeply apologize if we did not properly inform Mr. Coats of the actions taken against Mr. Sine at that time," the statement said.
LaFave said the Boy Scouts "absolutely had an obligation to inform Mr. Coats of what they were doing." 
She also talked about why child abuse victims may share their stories decades later.
"Someone who is abused as a child still carries that around, and they realize that at this point if they come forward, they can help other children not have to go through the horrors that they've been going through in their life," she said. "And the people who do come forward are finding that they are getting some peace from knowing that they now will have some justice and they will have a voice and that they will have been helping other children as they are growing up in this world by coming forward."
Current Weedsport schools Superintendent Shaun O'Connor said in an email Wednesday that the district has not yet been served a copy of the lawsuit. 
"The matter is currently being investigated by the School District's legal counsel. At this juncture, the School District does not wish to comment on this potential or pending litigation matter," he said.
Staff writer Kelly Rocheleau can be reached at (315) 282-2243 or kelly.rocheleau@lee.net. Follow him on Twitter @KellyRocheleau.