AUBURN — Jeff Dygert said Friday will mark 22 years he has worked for the city of Auburn. It will also mark his first day as Auburn's newest full-time city manager.
The Auburn City Council voted unanimously Thursday to give the position to Dygert, a longtime veteran of the Auburn Fire Department who had served as fire chief since 2011.
Dygert replaces Doug Selby, who resigned from the position in April after about 4.5 years as Auburn's city manager. He was appointed by Selby in March to act as interim city manager and was later identified as the top candidate for the full-time job by the council.
With his appointment, Dygert's base salary will be set at $115,000. The figure is higher than Dygert's total pay in 2016, $95,436, as well as Selby's most recent annual pay of $109,836, according to SeeThroughNY data.
The contract also requires Dygert to maintain a city residence. Following the council vote, Dygert said he expects to sign the paperwork on Friday.
In his new capacity, Dygert said he hopes to address several issues the city is currently facing, including the blue-green algae toxins infesting Auburn's drinking water supply from Owasco Lake as well as the city's landfill's diminishing lifespan.
In taking on these projects, the new city manager said he looks forward to working with his department staff, all of whom he described as excellent and very community-minded.
"Obviously we have some significant issues that we've got to deal with in the next coming months or the foreseeable future," Dygert said. "We've got great city staff to deal with that. I look at it as my job to just kind of guide all that, ask the questions."
You have free articles remaining.
Before making their decision Thursday, councilors lauded Dygert for his leadership abilities and the respect he has commanded by other city employees in his career.
Earlier in the day, Mayor Michael Quill said he believes Dygert will be "one of our best city managers ever." The council's initial search for a city manager netted more than 40 applications, but the candidates were ultimately found wanting.
The mayor requested a formal swearing-in ceremony for Dygert, with invites out to members of a community focus group that was involved in the hiring process. The group interviewed Dygert in September to provide input to council from a community perspective.
"He's always an honest and upright guy," Quill said. "He's looking out for the community and I think — I know — that's what all of us want."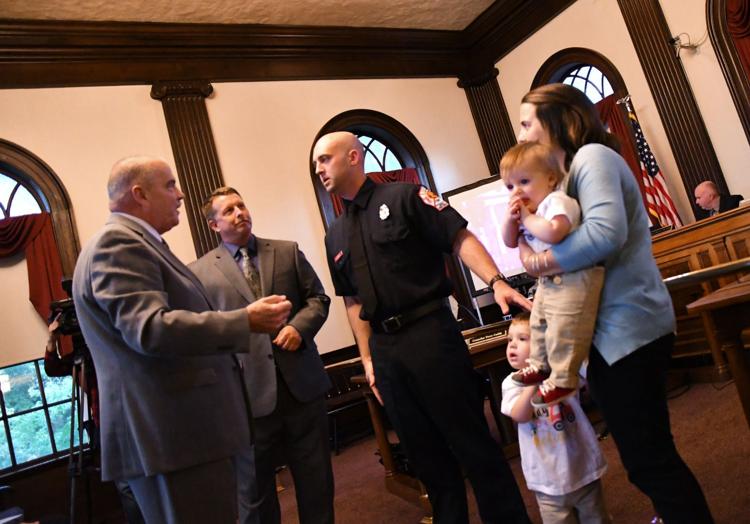 A swearing-in ceremony during Thursday's council meeting saw Dygert, 46, pin a badge onto a new recruit, firefighter Thomas Swartz, for what will be the last time in his current capacity as fire chief.
With his appointment to Dygert said he intends to meet with the fire department's leadership staff about addressing the immediate leadership void. It is likely, he said, that someone will be appointed acting chief.
The city manager said he expects the search for a new fire chief to start internally with the three individuals who have qualified for the position through civil service testing: assistant chiefs Mike Grady and Jeff Morabito as well as Capt. Brian Scanlan.
He said he also would like to continue to work closely with Jennifer Haines, the city's director of Planning and Economic Development. Haines was appointed acting assistant city manager by Selby, though whether she will continue to serve in that role is unclear.
Staff writer Greg Mason can be reached at (315) 282-2239 or greg.mason@lee.net. Follow him on Twitter @CitizenMason.