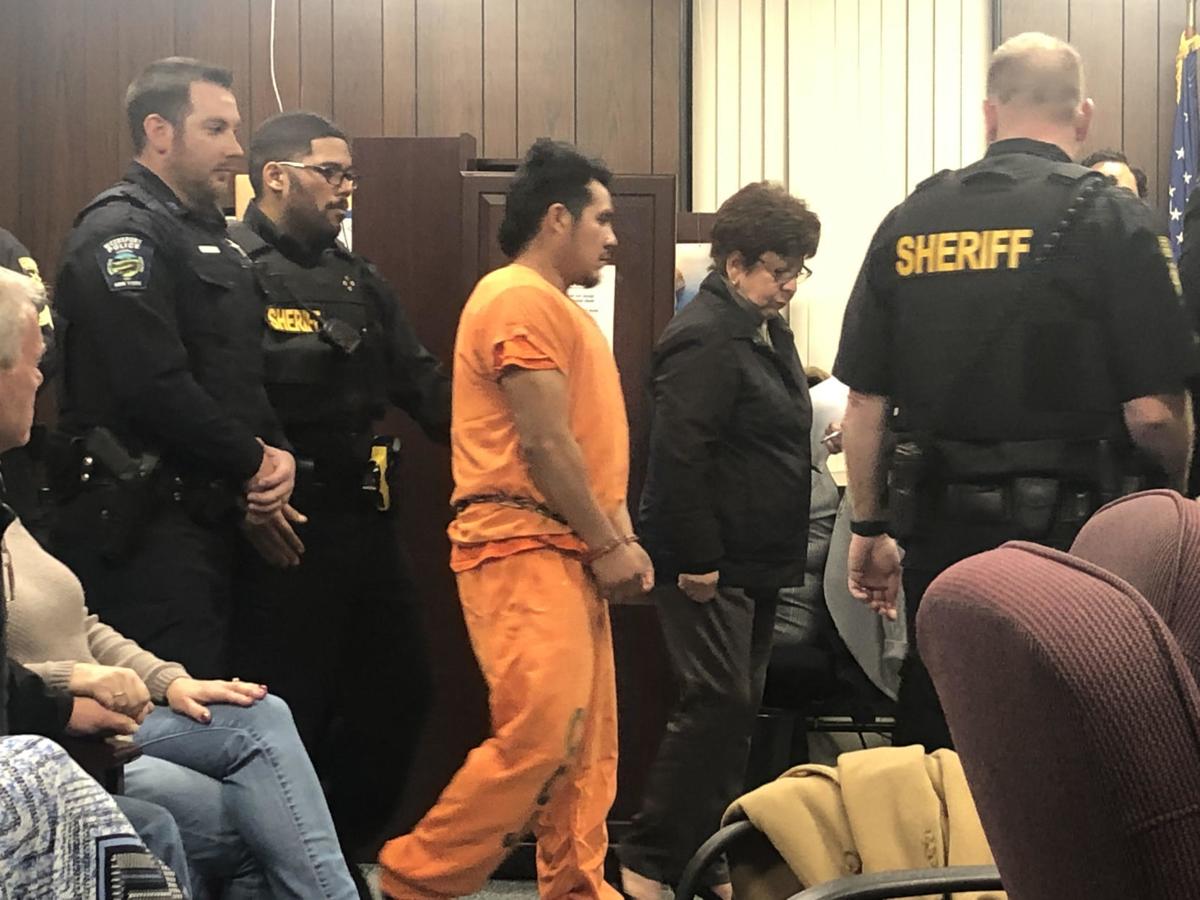 WEEDSPORT — An undocumented immigrant is facing upgraded charges for his role in a fatal Weedsport crash after tests revealed his blood alcohol content was more than twice the legal limit. 
Heriberto Perez-Velasquez, 31, of Savannah, was arraigned Monday evening in Weedsport Village Court on charges of aggravated vehicular homicide and leaving the scene of a fatal accident, both felonies. If convicted of the former, he could face between 8 1/3 to 25 years in prison. 
Perez-Velasquez is also charged with aggravated driving while intoxicated, a misdemeanor. The reason for the increased charges is Perez-Velasquez had a 0.21% blood alcohol content at the time of the crash. The legal limit in New York is 0.08%. 
He was represented during arraignment by attorneys Rome Canzano and Mario Gutierrez. Aided throughout the proceeding by a translator, Perez-Velasquez pleaded not guilty to all of the charges. He also waived his right to a speedy trial and a preliminary hearing.
Weedsport Village Court Judge Geoffrey Fritsch set bail at $250,000 cash and $500,000 bond, at the recommendation of Senior Assistant District Attorney Diane Adsit.
"Your driving privileges have been suspended in the state of New York," Fritsch said to Perez-Velasquez. "Or your lack of privileges, anyway."
All charges against Perez-Velasquez were waived to Cayuga County Court.
Perez-Velasquez has charges pending for aggravated DWI and resisting arrest in Wayne County. He was arrested Oct. 19 after driving with a blood alcohol content of 0.22%, according to Cayuga County District Attorney Jon Budelmann. 
The latest charges stem from a fatal accident that occurred on Route 31 in the village of Weedsport Sunday, Nov. 10. Perez-Velasquez, who was driving a 2010 Chevy Cobalt, veered off the road and struck a tractor from behind. 
The operator of the tractor, Mark Knapp, 59, of Weedsport, was ejected from the vehicle. Knapp died at the scene. Perez-Velasquez fled from the scene on foot. A nearby homeowner chased after him and a Cayuga County sheriff's deputy took Perez-Velasquez into custody. 
Budelmann also revealed that U.S. Marshals transported Perez-Velasquez to federal court in Rochester to be arraigned on a federal charge of illegal re-entry to the United States. 
Perez-Velasquez, who is originally from Guatemala, is in the country illegally. He was deported in 2007, according to Immigration and Customs Enforcement. It's unknown when he returned to the U.S. 
Because of the federal immigration-related charge, Perez-Velasquez will be held at Cayuga County Jail without bail. Budelmann noted that the federal charge ensures Perez-Velasquez won't be able to leave jail when the state's bail reform measures take effect in January. 
Staff writer Mary Catalfamo can be reached at (315) 282-2244 or mary.catalfamo@lee.net. Find her on Twitter @mrycatalfamo.
Get local news delivered to your inbox!
Subscribe to our Daily Headlines newsletter.