The Auburn Police Department is investigating a deadly shooting that occurred Friday morning on the city's west side. 
According to a news release, the shooting occurred at 2:10 a.m. at 8 Delevan St. A man wounded in the shooting was transported to Auburn Community Hospital, where he was later pronounced dead. 
The victim's name hadn't been released as of Friday night.
Auburn police on Friday morning said it was working with state police and the Cayuga County Sheriff's Office to investigate the shooting and that no suspects were in custody. The agency described it as a "very fluid and active investigation."
Later Friday morning, several law enforcement officers from the multiple agencies responded to Holley Street, where a car that had been the subject of a "be on the lookout" alert was stopped. At least one person was taken into custody, but police declined to provide specifics on that situation other than to say it was "related on the peripheral of the (shooting) investigation."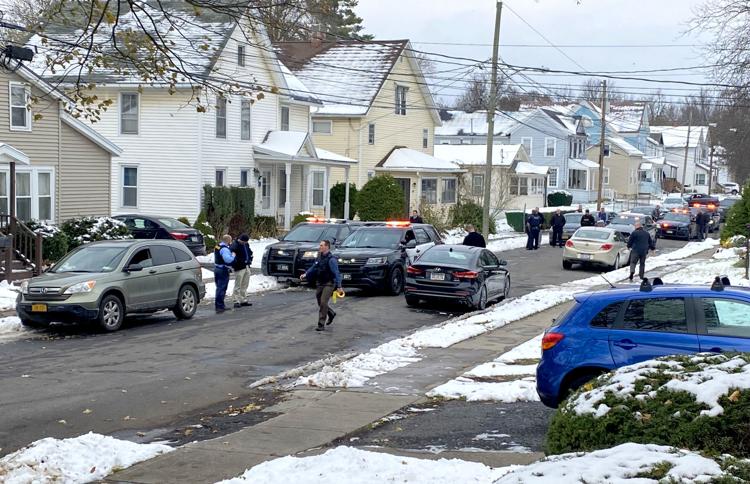 The scene of the shooting is located 0.2 miles away from Genesee Elementary School. Police said parents were calling early Friday morning with concerns about sending their children, but police said they did not "perceive any imminent threat to the nearby (school).
"However, school district administration officials were notified early this morning of the incident as well as our school resource supervisor who will coordinate additional school safety procedures they deem necessary," Auburn Police Chief Shawn Butler wrote in a press release. 
Auburn police asked for the public's help in the murder investigation. Anyone with information should call (315) 255-4726, email tips to communitywatch@auburnny.gov or send tips to the department through its Facebook page, facebook.com/auburnnypd. Tipsters may remain anonymous.
Get local news delivered to your inbox!
Subscribe to our Daily Headlines newsletter.