A man is wanted for his alleged role in the armed robbery at Generations Bank in Auburn, police said Thursday.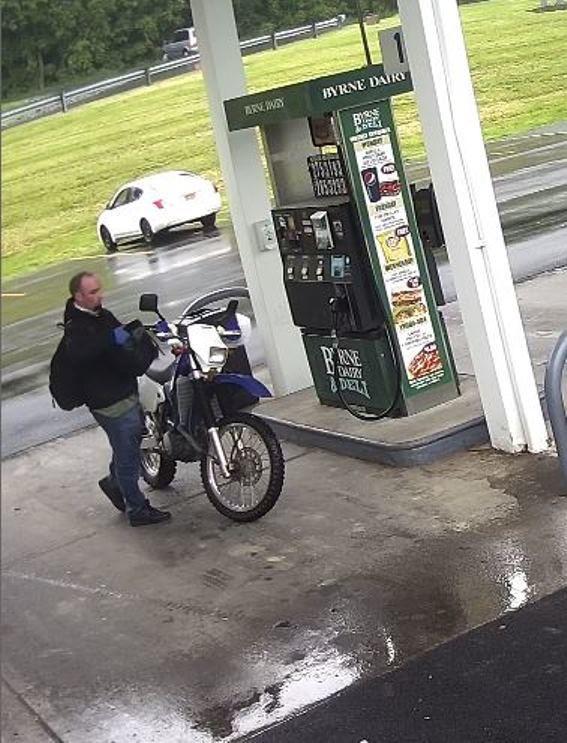 The suspect has been identified as Dustin W. Hall, 31. The Auburn Police Department provided a security camera image taken from a Byrne Dairy gas station showing Hall with the same motorcycle seen near the bank June 5 — the day of the robbery. 
The motorcycle has been recovered, police said. 
Hall is wanted for first-degree robbery. The robbery occurred at approximately 4:25 p.m. Wednesday, June 5, at the Generations Bank branch on North Seward Avenue. 
A man with a pistol and a bandana covering his face entered the bank and demanded cash. He left the bank with an undisclosed amount of money in an orange Kinney Drugs bag. 
Police haven't recovered the gun used in the robbery. 
Hall is considered armed and dangerous. Police said he is 5 feet 8 inches tall, weighs 160 pounds and has brown hair. His last known location was North Syracuse. He has ties to Auburn and Syracuse. 
The department advises the public to not approach or attempt to apprehend a wanted subject. 
If you know Hall's location, call the Auburn Police Department at (315) 253-3231. Tips can be submitted on the department's website. Calls and tips can remain anonymous.