AUBURN — It's an increasingly common sight weekend mornings at the intersection of Dill and State streets: lines of people, mostly young adult men, grinning with anticipation.
They'll be back this Saturday. And there will probably be more of them than ever.
At 11:30 that morning, Prison City Pub & Brewery will release its Mass Riot India pale ale in 16-ounce cans for the first time. It's the same beer Paste Magazine named No. 1 in a August 2016 blind tasting of almost 250 IPAs from across America. Since its profile exploded that summer, Mass Riot has been released a few times in Crowlers (32-ounce cans). But customers could only get one or two. Saturday, they'll be able to get up to four four-packs — a reward more worth long drives and longer waits in line.
Saturday's release will therefore see Prison City deliver Mass Riot into the most hands ever, doing the most to meet demand for a product that was effectively named the best of its kind. And the IPA style is far and away the most popular in craft beer today, with flavors ranging from bitter pine resin to sweet fruit juice. So after Paste singled out Prison City's for perfecting the latter extreme, beer enthusiasts from across the country descended on the Auburn brewpub, desperate to get a taste of brewer Ben Maeso's creation.
But Prison City, which opened in December 2014, has been forced to turn most of those customers away because of its size. Making a batch of Mass Riot on the brewpub's modest 5-barrel system takes Maeso about 28 days. The eight or so kegs that result are gone in just a couple, and any Crowlers are claimed within minutes of their release.
Maeso could make Mass Riot more often — but it would come at the expense of the stouts, sours and other award-winning beers that have helped craft Prison City's adventurous reputation. For Maeso and the brewpub's owners, Dawn and Marc Schulz, it's been an identity crisis since Paste published its list. That day in 2016, they could have started making nothing but their No. 1 IPA and become "the Mass Riot brewery." But instead, they continued making it alongside English bitters and dunkelweizens and remained Prison City.
Gallery: Crowd lines up for release of Prison City Pub & Brewery's Mass Riot IPA
On Sept. 11, 2016, Prison City Pub & Brewery in Auburn re-released its Mass Riot, the India pale ale that took No. 1 in Paste Magazine's 2016 American IPA blind tasting. The brewpub previously announced that only 120 Crowlers (32-ounce cans) of Mass Riot would be available at noon, and a line formed outside Prison City's State Street doors in anticipation of the release.
Marc Schulz said Friday that most of the people who unsuccessfully ask for Mass Riot understand the brewpub's situation. But some don't, Schulz continued, like one caller who used "very vulgar language" to tell a 17-year-old hostess that Prison City's business model is terrible and the owners don't know what they're doing.
"(To them) we have this one beer, and if we don't have it we're stupid," Schulz said. "But any brewery at its core is artistic and crafty, and doesn't want to be the (blank) brewery."
Maeso brewed Mass Riot as a tribute to the sought-after hazy IPAs of New England breweries Trillium and Treehouse, he said Friday. The beer was originally called Riot in Massachusetts, he continued, but the name was condensed because no one wanted to write that on a Crowler. Regardless, the beer was Maeso's first stab at a style he and Schulz had traded or waited in line to obtain. That made it all the more surreal to see Mass Riot beat those same breweries on Paste's list, Maeso said.
You have free articles remaining.
Register for more free articles
Stay logged in to skip the surveys
Maeso always brews Mass Riot with the same malt bill and the same hops — Citra, Simcoe and Mosaic — though he dry-hopped one batch with Galaxy. He tweaks the percentages, he said, but what distinguishes each batch the most is where the hops come from. Like any agricultural product, one farm's Citra can differ wildly from another's. That mercurial quality is why Maeso wants to continue playing with hops via Prison City's other IPAs. Neither he nor Schulz thinks Mass Riot is even the brewpub's best.
"People flock to it based on the name. It influences their judgment," Maeso said. "Given a blind taste test, I think people would prefer the other IPAs we make."
Someday, it'll be easier for customers to take that test. Prison City is planning a new facility that will raise its production from about 1,000 barrels a year to more than 10,000. Schulz said a few sites in and out of downtown Auburn are being considered, and the facility will have $900,000 in state funding available to support it. Contract brewing at other facilities and opening more Prison City brewpubs — which have been courted from as far as Buffalo and Schenectady — are also options, Schulz said. Distribution is a less appealing one.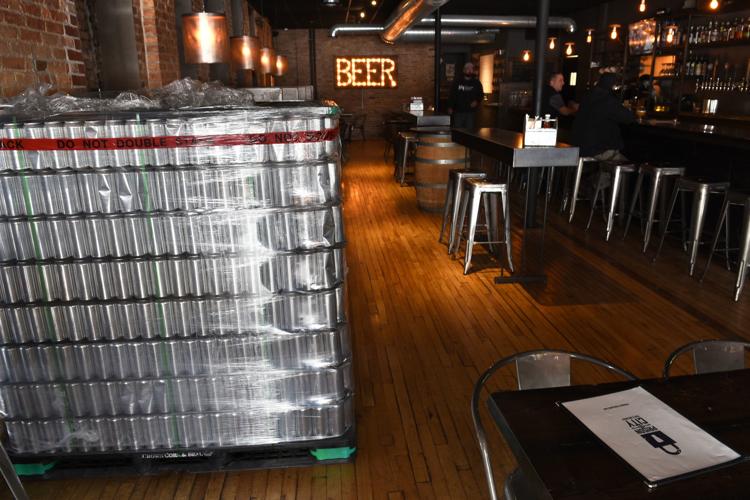 "If you're making these beers, you have to count on people coming through your doors," Schulz said. "I only ever really want to sell Mass Riot out of the brewery so that it's as fresh as it possibly can be going out the door, and we know we've done everything we can that you get the best possible representation of that style."
However Prison City expands, Schulz said its purpose will be to make all of Maeso's IPAs constantly and conveniently available, from Mass Riot to The Shawdank Redemption and Go Ahead Punk, Make My Haze. Citing Trillium's Canton facility as a model, Schulz said he doesn't want customers to have to wait hours by the brewpub's door to buy a case of Mass Riot. And that steadiness of supply, Schulz believes, will do more to lift Prison City's other IPAs to Mass Riot's level among beer fans than another No. 1 ranking.
Schulz and Maeso are also wary of another consequence of Mass Riot's hype: "line culture." At breweries where customers do have to wait for coveted beer, like Other Half in Brooklyn or Equilibrium in Middletown, lines often form before the sun rises. Though the mood is communal and friendships form through shared enthusiasm, sometimes garbage is strewn across sidewalks and neighbors gripe. Schulz said it's flattering that Prison City has drawn "line culture" to downtown Auburn, but it's not something the brewpub intends to chase.
That's why Prison City has yet to make plans for any additional can releases, Schulz said, be they 16 or 32 ounces. The brewpub is also waiting to see how Saturday's unfolds. Schulz said the demand for Mass Riot has gone down since August 2016, due to both the passage of time and the emergence of more great New England-style IPAs from upstate New York breweries. But that demand still exceeds Prison City's supply so much that Schulz estimates the brewpub could be doing at least 25 to 30 percent more business if it could guarantee cans to all customers.
The length of the line Saturday morning will say for sure.
"I don't know if the slipper is falling off or there's just a lot more Cinderellas out there right now," Schulz said. "This is a real test for us."