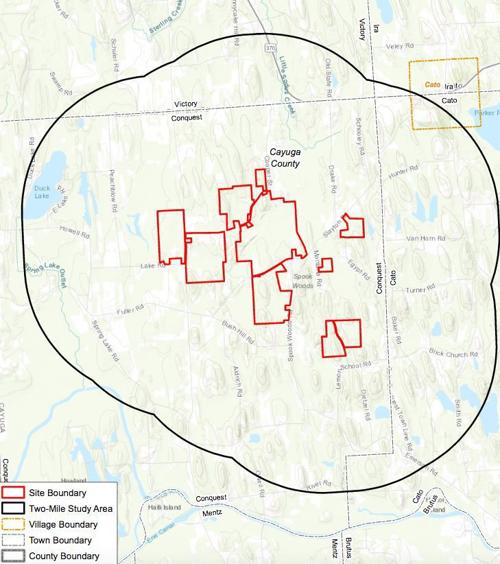 A proposed solar array that would cover up to 1,400 acres of land in Conquest was among 21 renewable energy projects selected by the state to receive a share of $1 billion in funding.
New York Energy Research and Development Authority earlier this month announced that the Garnet Energy Center project proposed by Florida-based NextEra Energy Resources was among the selected recipients of its latest round of winners in an effort to increase the state's renewable energy production.
NextEra, a sister company of Florida Power & Light Co., has submitted a proposal with the state Department of Public Services to build a 200-megawatt solar array on privately owned land it would lease for 30 years in Conquest. The project would also establish a 20-megawatt storage facility that would feed an existing New York Power Authority transmission line.
In addition to the land used for the solar panels, about 600 acres would be under lease to use for buffer areas.
The Conquest project, which currently has a 2023 completion target, is by far the largest of three large-scale commercial solar projects in development in Cayuga County. Two 20-megawatt arrays have been proposed in the southern end of the county, one in Ledyard and the other in Scipio.
How much funding the Conquest project will receive under the NYSERDA grant program isn't clear. The agency refused to disclose project specific funding details.
"The specific award amount for the Garnet Energy Center in Conquest will be disclosed once the agreement is executed," the agency said in response to questions from The Citizen.
This marked the third round of NYSERDA grants dating back three years, and the agency noted that this year's award winners will be paid an average weighted price per megawatt-hour of $18.59, down 23 percent from three years ago.
"With these projects we will build on our aggressive strategy to combat climate change and lay a foundation for a more sustainable future for all New Yorkers," Gov. Andrew Cuomo said in a press release.
The NYSERDA program is aimed at helping the state achieve clean energy goals included in recently signed state legislation. This includes an 85% cut in greenhouse gas emissions by 2050, net-zero emissions from the state's grid by 2040 and 70% of New York's electricity coming from renewal sources by 2030.
Unlike the Ledyard and Scipio projects, which are under town-level reviews and oversight, the Conquest project will be handled by a siting board under the auspices of the state Department of Public Services, which reviews power generation facility proposals that are 25 MW or greater.
Cuomo's 2020-21 budget proposal is seeking to streamline that review process by shifting large-scale project oversight to the state's economic development arm. If the governor's proposal becomes law, developers of the Conquest project could opt out of the more lengthy Department of Public Service that it just began and opt in to the new process.
Get local news delivered to your inbox!
Subscribe to our Daily Headlines newsletter.