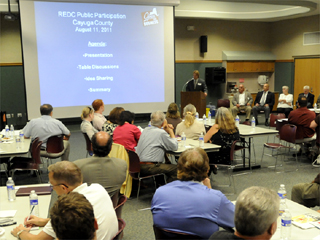 AURELIUS — The conference room at the Cayuga-Onondaga BOCES was buzzing Thursday with discussions on tourism, agriculture, entrepreneurship, manufacturing and education in Cayuga County during the first meeting of local members of the Central New York Regional Economic Development Council.
A group of about 100 county residents talked about opportunity in the county and the resources needed to take advantage of it.
They were invited to offer ideas for an economic development plan the Central New York Regional Economic Development Council will use to try to win a state contest where the prize is $40 million.
Andrew Fish, executive director of the county Chamber of Commerce, Margaret Morin, president of Auburn manufacturer 4M Precision Industries, Cayuga County Legislative Chairman Peter Tortorici and Auburn Mayor Michael Quill are the four Cayuga County members of the regional council.
The council, one of 10 in the state, is made up of members from five counties: Cayuga, Onondaga, Oswego, Madison and Cortland. The 10 councils are each developing a five-year economic development plan and competing for five $40 million prizes — the fifth to be split among the six regions that do not win the top four prizes.
"This is really designed to be a bottom-up process," Fish said. "It's really a new model for economic development."
Cayuga Community College business and communications professor Christopher Fama, who attended the meeting, recently relocated to the area after living in Orlando for 25 years. He was interested to hear the ideas that came out of the meeting and said manufacturing is the key to revitalizing the area.
"This, years ago, was a booming manufacturing town and we lost that," he said. "We have a lot of high-tech things we can do here … wind power — we have a lot of empty buildings here and we can manufacture that technology (windmills) here."
James Casasanta, an engineer with Carrier Corporation, said all of the ideas would work, but the state's taxes are often the underlying problem.
"If you want to change anything, you need to change it at the state, not just the local level," he said. "We can do everything we said here today, but if the taxes are high, it's going to make it very challenging to bring businesses back and keep people here."
Hilary Ford, who moved to the county from Kentucky in 2006, said the issue is the local attitude. She's heard people complaining about life in Cayuga County.
"If people can't speak positively about where they live, why would other people want to come here?" she said. "I choose to live here. My family is 1,000 miles away. I like it here."
Another idea was tourism -- such as taking tourists on tours of dairy farms and showing them how cows are milked.
Fish is confident central New York will win one of the $40 million prizes, but warned participants the plan must be ongoing beyond the victory of winning the contest.
"This is not designed to be a one-time shot where we come up with a five-year plan, roll it out and all go home patting ourselves on the back," he said.
The plans are due to Gov. Andrew Cuomo by Nov. 14. The next step in which the public can participate is a regional meeting from 6 to 8 p.m. Tuesday, Aug. 23 at LeMoyne College in Syracuse. The vision statement created from Thursday's discussions will be presented.
Staff writer Kelly Voll can be reached at 282-2239 or kelly.voll@lee.net. Follow her on Twitter at CitizenVoll.