The Citizen's top 10 most-read stories during the month of February. 
Owasco farm under investigation for worker living conditions
OWASCO — Nicole Catalfano said she wanted to cry.
Four adults and five children have been living in squalor on a dairy farm in Owasco since December, and Catalfano helped them pack up their belongings Friday and leave.
With temperatures dropping and a light sprinkle falling, young women and children carried out hampers and trash bags filled with food and clothes through the mud and to a van. A few baby calves looked out from their hutches at a nearby fenced-in area, while Melrose Farm owner Joe Tidd and his wife looked on, shaking their heads in disbelief. 
The house for migrant workers on Melrose Road looks like a barn structure turned into living quarters. The bedroom ceilings are so low that most people can't stand up straight, and stained mattresses without bedding lay plopped on a dirty floor. The upstairs bedroom is a converted attic with sloping ceilings to an apex. Walls, ceilings and floors are made mostly from particle board, and mold and dirt cake the floors, carpet and cabinets. A sickly sweet manure and urine smell permeates the rooms, which have sheets covering the windows.
Tidd was issued a cease and desist order by the town of Owasco for housing workers, and the Workers Center of Central New York is helping the families file wage complaints with the state Department of Labor. The center, along with volunteers like Catalfano and others from local churches, assisted the families in moving out Friday.
They will be housed in a hotel for the short-term, but volunteers have found an apartment for the nine people, which they will move into soon. 
Owasco Town Supervisor Ed Wagner said the Cayuga County Health Department, the state Department of Environmental Conservation, town code enforcement and other agencies are all investigating the farm. Wagner has seen photos of the migrant workers' living conditions and said they were horrible.
The town of Owasco has issued a cease-and-desist order to an Owasco farm regarding conditions inside a building where workers live.
"I think it will put an emphasis on other farms who are hiring this type of employment that they need to treat people fairly, and I wouldn't let my dog live in a situation like that," he said.
Meanwhile two workers are still living in a trailer adjacent to the house that the families were living in, said Rebecca Fuentes, lead organizer for the workers center. She said the trailer does not have hot water or septic.
Wagner said the cease and desist orders were filed around Feb. 10, and Tidd has 30 days to vacate the structures. Every day there are occupants, however, Tidd could be fined or receive jail time, Wagner added. 
"He needs to close this and provide dignified housing for employees," Fuentes said. "Even if they don't charge rent, it's their responsibility to provide good housing."
Lady Mazariegos, one of the workers, spoke with The Citizen with Fuentes translating from Spanish to English. The 23-year-old said Tidd had not paid her all of her wages over the last couple of weeks. When she and her family arrived in December, she said the house was in terrible condition with lots of cockroaches, mice and rats running around, and a bad smell in the water. 
The family was concerned about electrical wiring, too. It was not underground, and many light fixtures and sockets were exposed throughout the house. With young children living in the home, Fuentes said it was a very dangerous situation.
"Right now it's a little bit better, but when we came in it took about two days and two nights to clean it," Mazariegos said. 
Tidd did not charge rent, but Mazariegos said if they had earned more, she would have been willing to pay.
Fuentes said there were other incidents with other workers prior, who had been fired at the farm for complaining about living conditions. 
"Many times when they're working at the farm, they're very concerned about retaliation so they decide to just do it later or when they leave, put in complaints," she said. "In general it's very difficult for them, because they depend on housing for their jobs."
Marty Fefer, of Fleming, stood outside the farm to protest the conditions. He said he's been bringing food and clothing to workers on the farm for the past eight months. 
Fefer said Tidd has also been discharging human waste into his farm's manure pit and spreading it on fields in the watershed, which Wagner confirmed. County Environmental Health Director Eileen O'Connor said her department was aware that the workers' housing did not have a septic system, and it issued a letter to Tidd requesting he install one.
Tidd said it was untrue that he was transferring human waste to his manure pit, and said he did have a septic system. O'Connor said she did not believe the health department had received a response from Tidd as of Friday. 
Standing in the mud and watching the families move out Friday, Tidd appeared incredulous at the effort underway. Then he pointed up to the house with a gloved hand at an open window. 
"The heat is on," he told a reporter from The Citizen. "That is constant. Constant."
He said there had been issues with this particular group of workers. On Wednesday, he said, he told them they could work until Friday, but they'd have to move out over the weekend. The families say they were told to get out right away. 
Tidd said he has had multiple contacts with Owasco Code Enforcement Officer J. Patrick Doyle, and planned to address whatever needs to be addressed inside the house. 
"I never ever deny we have to do something to the house," he said. "I get it. However, there are cows here, 350 cows that have to be milked three times a day."
Tidd said Dairy Farmers of America had conducted an animal welfare meeting at the farm earlier in the week and found the cows healthy and clean. 
As far as the workers' wages, Tidd said they would come to the farm with the idea that "you got paid X." This group, he said, complained that they weren't getting enough hours. Finally, he said, he'd had enough and told them to leave by the weekend.
"They didn't like what we said, so here we are with all this demonstration," Tidd said. 
Auburn hockey captures second Section III, Division II title with win over Clinton
SYRACUSE — The Maroons had the two most dangerous players on the ice and a goaltender to back them up.
That was the difference between winning a section title and losing it.
Auburn hockey captured the program's second Section III, Division II crown with a 5-1 win over Clinton Monday at the Onondaga County War Memorial. The Maroons last won the section title in 2014 and made two other appearances in 1983 and 1989.
"It's great for the group of guys we have," Auburn coach Mike Lowe said. "These guys weren't there the last time we won it. It's a special group and we have some special talents. They're special individuals that are working real hard. I know Clinton worked real hard too but I'm just really proud of the guys we have.
"It's great for the community. There was great community support here today and it's going to be fun back home."
Jake Morin scored three goals for Auburn while Johnny Malandruccolo posted a pair of goals, including a shorthanded tally that ended up as the eventual game-winner. Malandruccolo also contributed one assist, while Austin Black and Aidan Hastings both added helpers.
Goalie Jack Kalabanka extended his stretch of strong play between the pipes. Kalabanka allowed the game's first goal on a breakaway 3:54 into the game, but shut out Clinton the rest of the way.
He finished with 38 saves.
Auburn trailed 1-0 in the opening four minutes and nearly coughed up a second goal when the Warriors threw a shot on net from the corner that bounced off a Maroons defenseman and in the net, but the play was waved off by the referee as the net had come off its moorings.
The Maroons' best chance came midway through the first when Malandruccolo slid a pass to a wide-open Morin beside the Clinton goal, but his shot was snared by the glove of Warriors goalie Brian Saunders.
"We weren't worried after the first. We may have been down 1-0, but we had the offensive opportunities that we were looking to get," Lowe said. "The goalie made a couple nice saves, but after the first period the kids knew it was only a matter of time. With the kids we have on our team, we can kind of play rope-a-dope a little bit."
Morin wasn't denied on his next great chance — with 5:21 left in the second period, the hulking center sped through open ice inside the Clinton blue line and wired a shot off the post and in to tie the score 1-1.
Less than four minutes later, Malandruccolo put Auburn ahead for the first time. With the Maroons killing a penalty, a bouncing puck eluded a Clinton defenseman in the Auburn zone, freeing up Malandruccolo for a breakaway and his five-hole shot was enough for a 2-1 advantage.
The Maroons came in waves in the third, starting with Malandruccolo's second of the game on another breakaway 1:12 into the period.
"I'm just doing everything I can, looking everywhere and trying to score," Malandruccolo said. "The first one I kind of lost (the puck) so I just did whatever at the end, but the second one I knew what I was doing."
Auburn added two more goals in the next four minutes, both from Morin, to take a commanding 5-1 lead. Clinton peppered the Auburn net with 14 shots over the final 15 minutes, but Kalabanka was up to the task.
"Kalabanka played great," Lowe said. "Clinton is a real hard team to play against. They'll shoot from everywhere and anywhere, and then they come crashing in. … Very physical down low. Kalabanka knew that he had to focus 100 percent of the time. We just wanted to make sure our forwards and defense kept them to the outside. As long as we could limit them to that first shot from the outside and clear the front of the net, we thought we'd be in good shape."
It helped the Maroons that they have Section III's two leading scorers in Morin and Malandruccolo. The pair, who are linemates, combined for all five goals and an assist.
"It's mainly him. He gets me the puck," Morin said of Malandruccolo. "He's doing the dirty work and I'm just in front ready to bury pucks. It's a total team effort though, not just me and Johnny. It's the defense, it's all the forwards, it's the whole team getting pumped up."
Now the Maroons (15-6-2) move on to the New York State Public High School Athletic Association regionals, where they will take on Section X champion Ogdensburg Free Academy.
"They have some high-end forwards. I think the top two or three forwards in Section X play for OFA," Lowe said. "We have to play our best game of the year Saturday to advance."
Auburn Clinton Hockey 13.JPG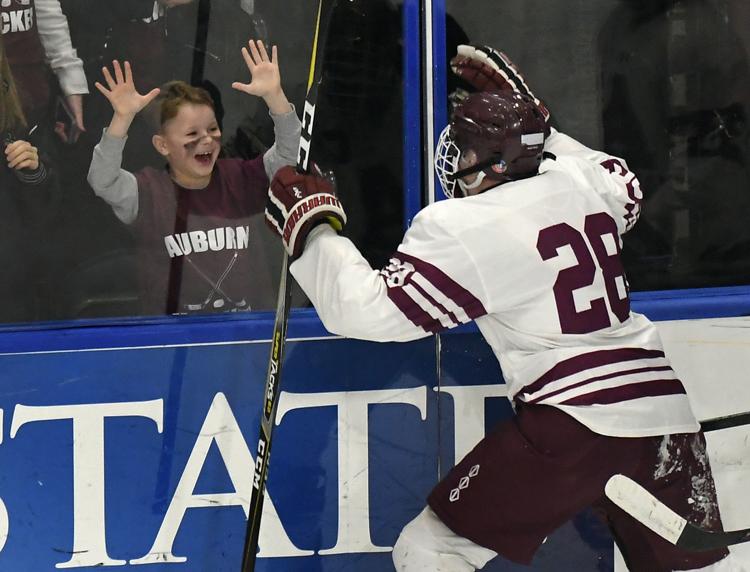 Auburn Clinton Hockey 12.JPG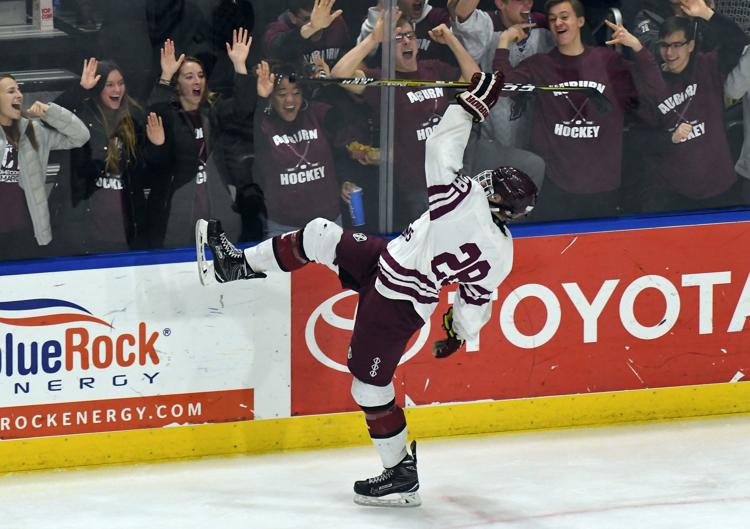 Auburn Clinton Hockey 1.JPG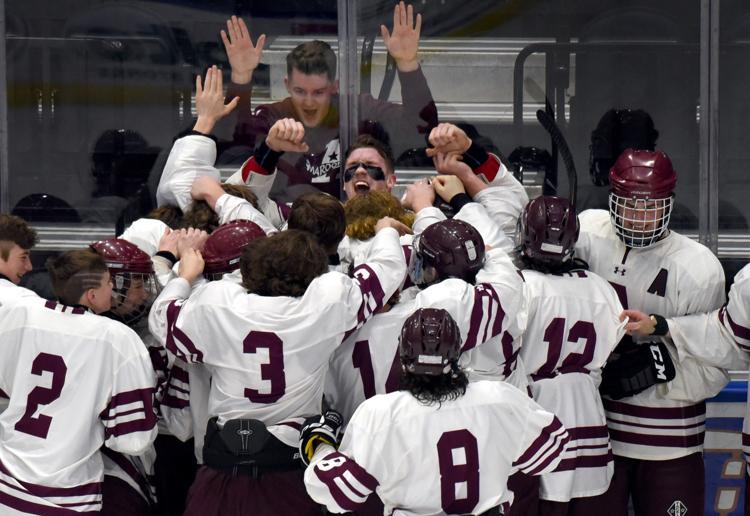 Auburn Clinton Hockey 2.JPG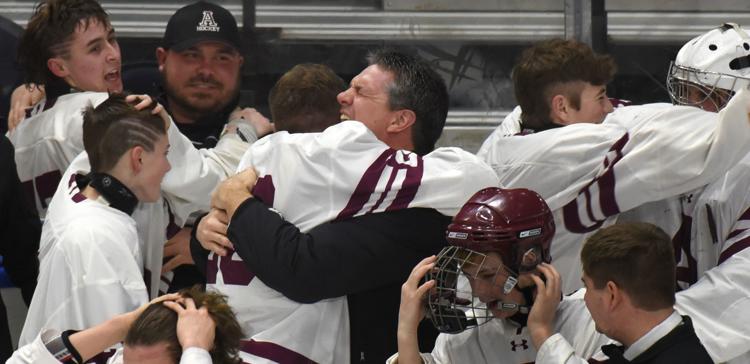 Auburn Clinton Hockey 3.JPG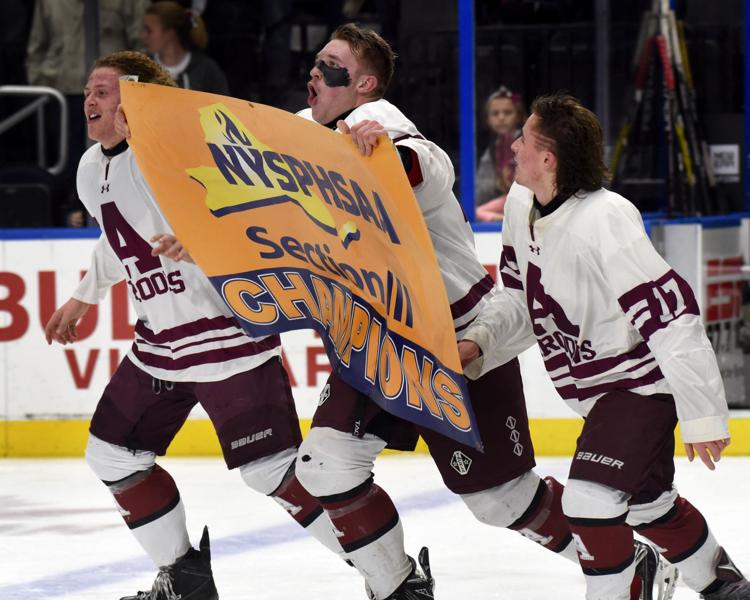 Auburn Clinton Hockey 18.JPG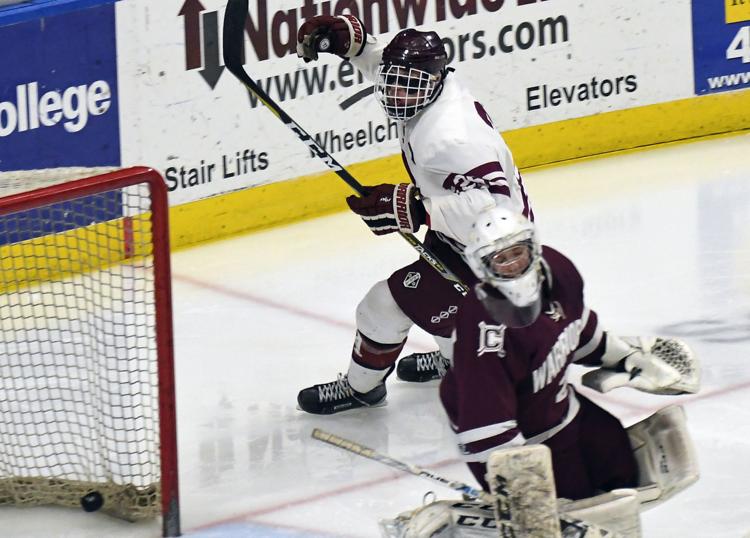 Auburn Clinton Hockey 11.JPG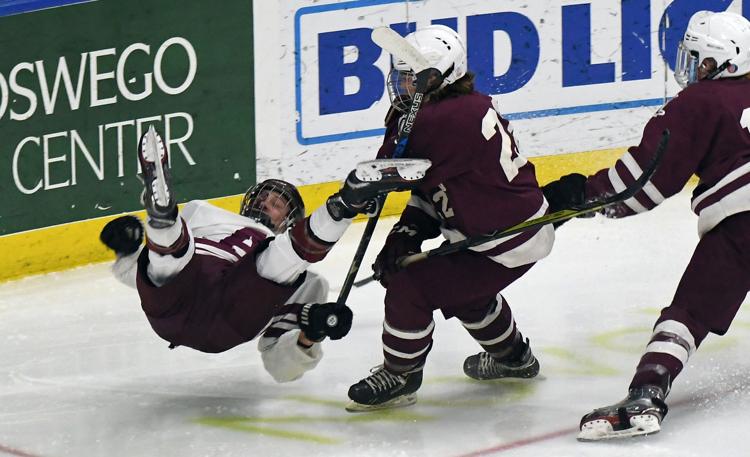 Auburn Clinton Hockey 14.JPG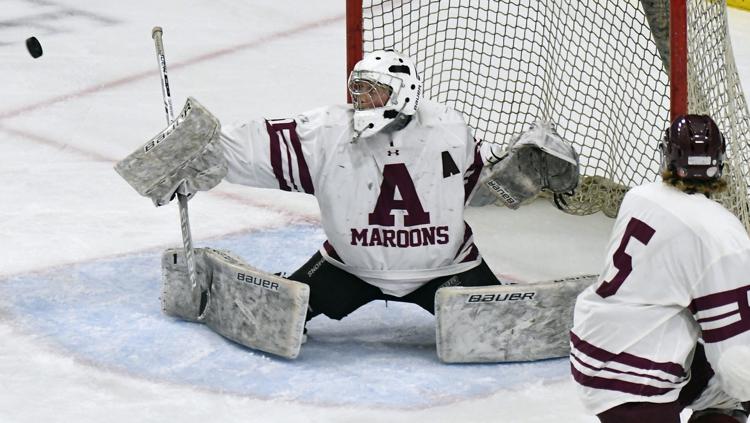 Auburn Clinton Hockey 15.JPG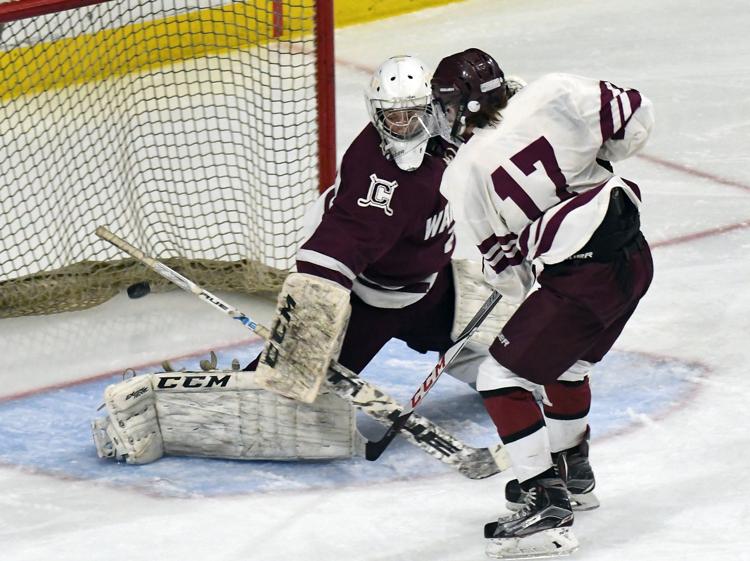 Auburn Clinton Hockey 16.JPG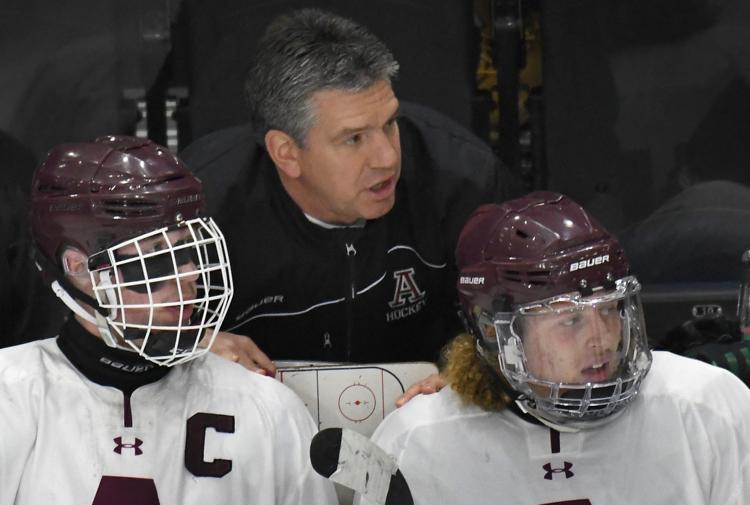 Auburn Clinton Hockey 17.JPG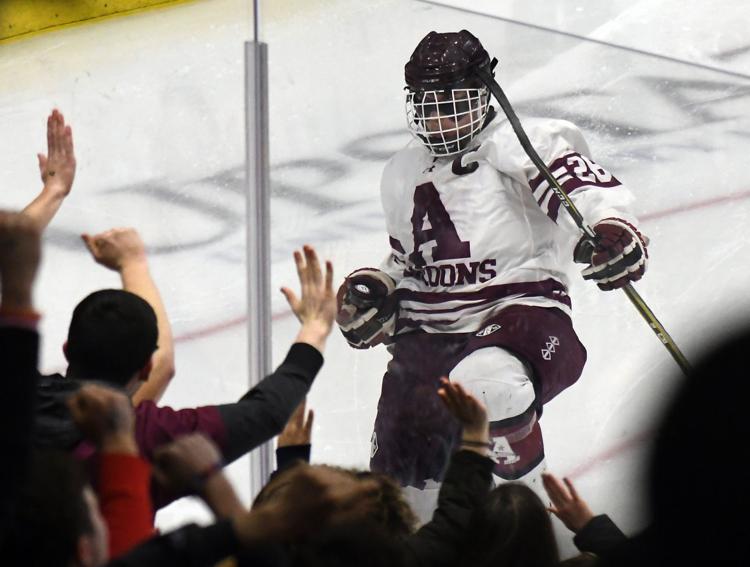 Auburn Clinton Hockey 19.JPG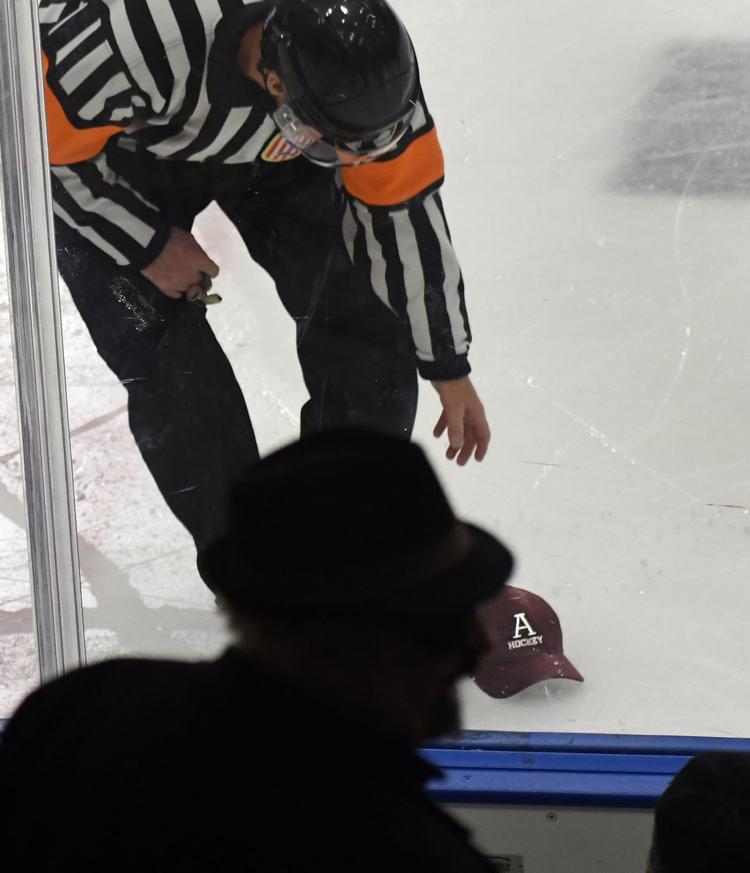 Auburn Clinton Hockey 20.JPG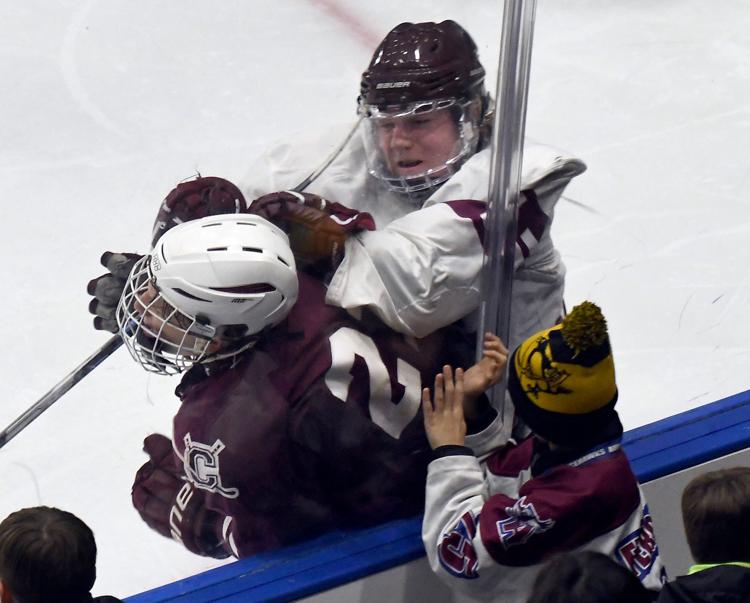 Auburn Clinton Hockey 4.JPG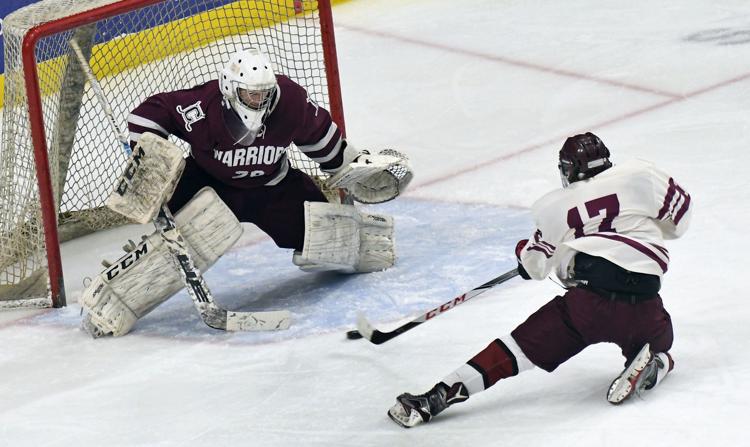 Auburn Clinton Hockey 5.JPG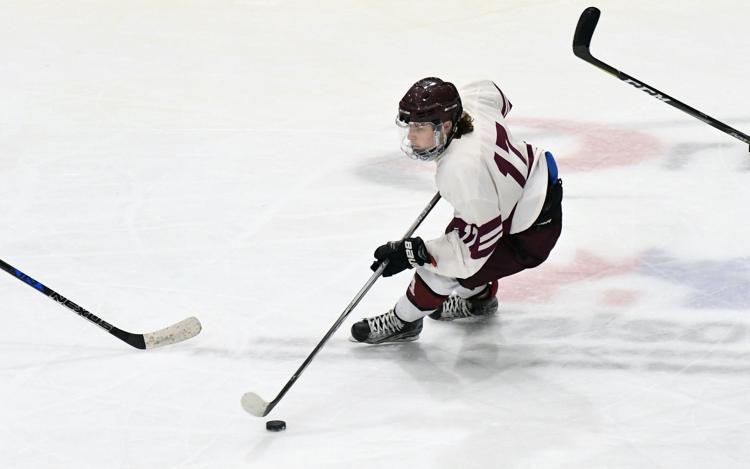 Auburn Clinton Hockey 6.JPG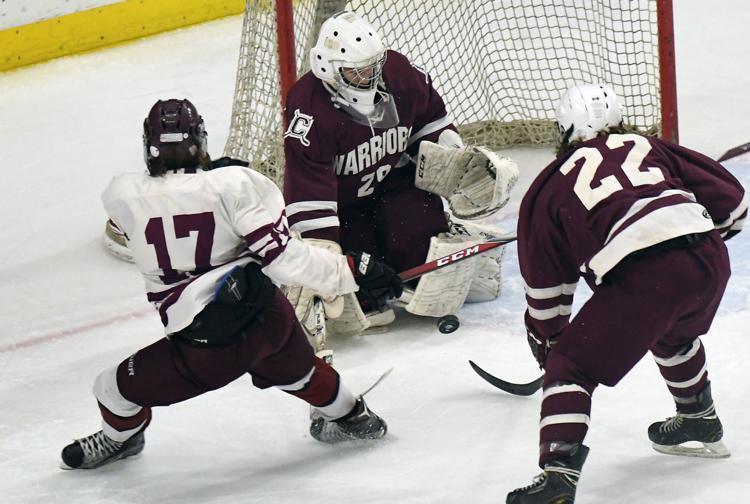 Auburn Clinton Hockey 7.JPG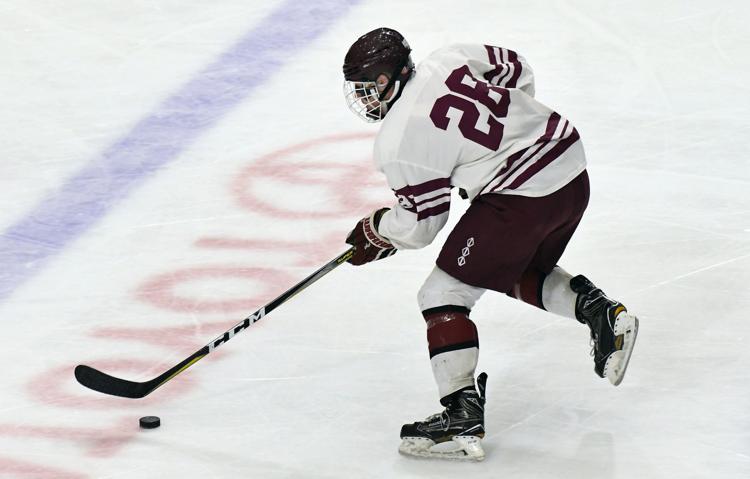 Auburn Clinton Hockey 8.JPG
Auburn Clinton Hockey 9.JPG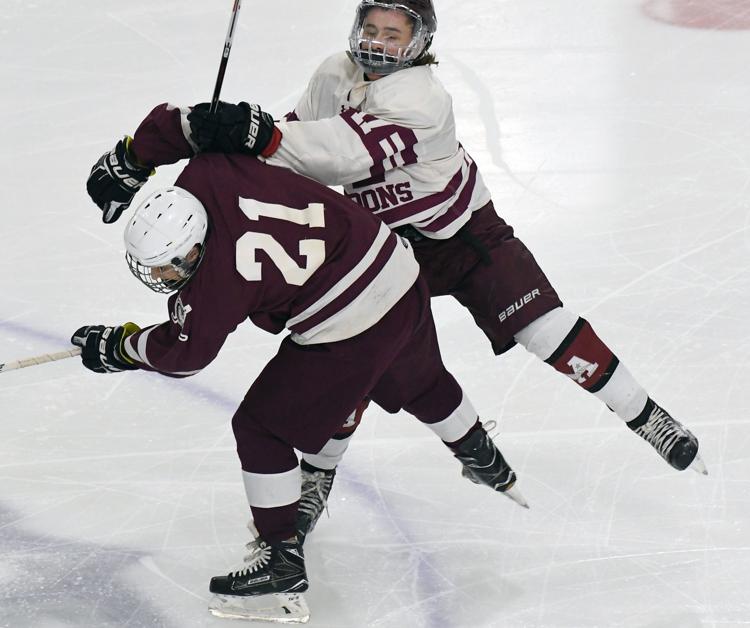 Auburn Clinton Hockey 10.JPG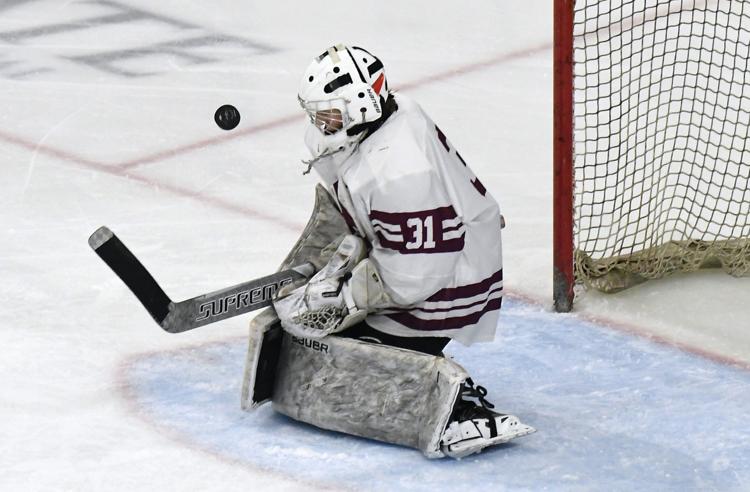 Auburn Clinton Hockey 21.JPG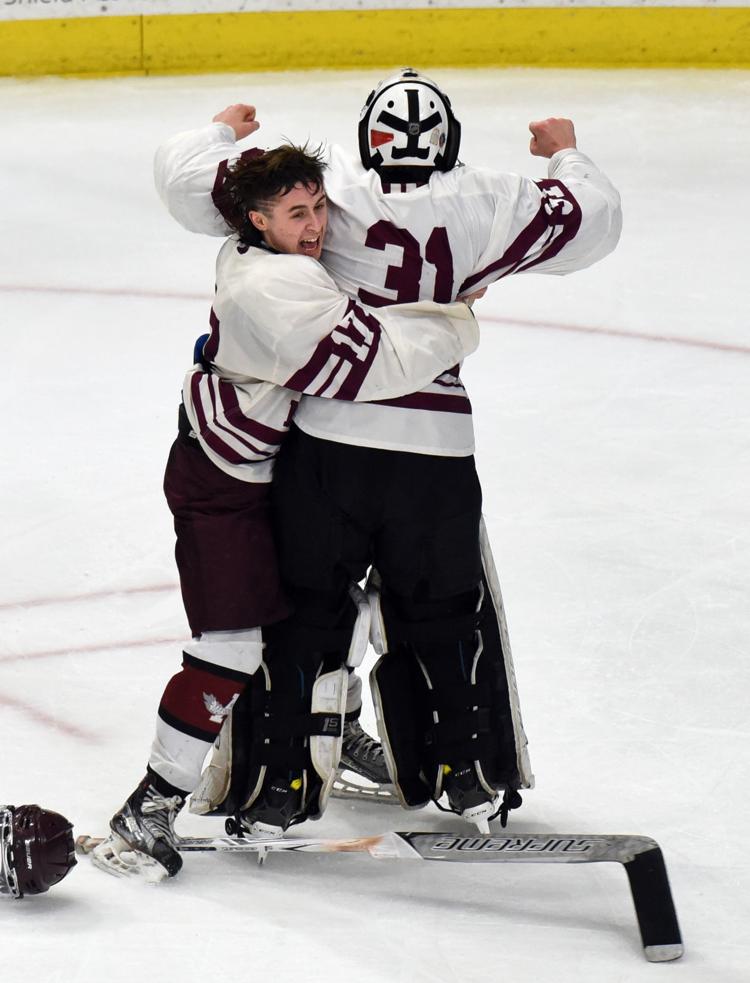 Auburn Clinton Hockey 22.JPG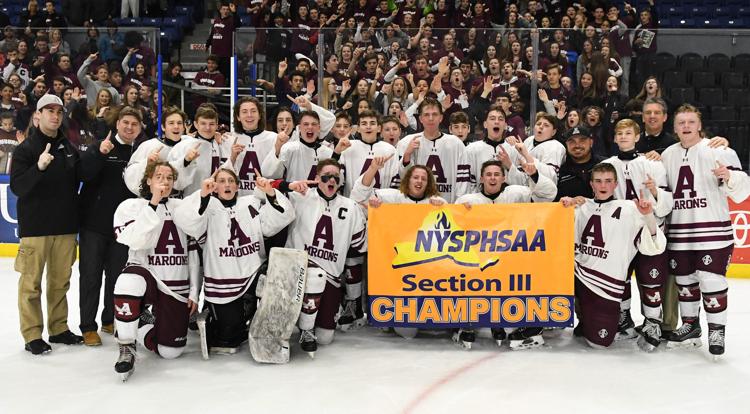 Inside the Schine: How the Auburn theater's prospective new owner will restore it
Newest NY casino: Resorts World Catskills opens in Sullivan County
The newest casino in New York, a $1.2 billion project in the Catskills, opened its doors Thursday. 
Resorts World Casino & Resort is the fourth state-approved casino to open since December 2016. There are three other commercial, non-Indian casinos in New York: del Lago Resort & Casino in Tyre, Seneca County; Rivers Casino & Resort in Schenectady; and Tioga Downs Casino in Nichols, Tioga County. 
The project was spearheaded by Empire Resorts, which also operates Monticello Casino & Raceway in Sullivan County. 
"Today marks an exciting new era for us," said Ryan Eller, president and CEO of Empire Resorts. 
The casino's 100,000-square-foot gaming floor has 2,151 slot machines, 150 table games and a poker room. There is 27,000 square feet of entertainment and meeting space at the venue. 
There are a handful of dining options for customers. Cellaio, a restaurant operated by celebrity chef Scott Conant, will offer an Italian-style steakhouse menu. Two Asian restaurants are located within the casino: Good Friends Market, which will offer Asian "grab-and-go" cuisine, and Lotus, a more upscale restaurant. 
Bar 360, Empire Lounge and The Doubletop Bar and Grill round out the casino's restaurant lineup. 
Resorts World Catskills has a hotel with 336 all-suite rooms. Another hotel with 324 rooms, an indoor water park and spa will open next year. A renovated golf course will be part of the final project.
The casino has 1,500 employees and will add 600 more when the entertainment venue, golf course and water park open next year. 
"Resorts World Casino will be a destination with a variety of gaming, entertainment and dining options for tourists near and far that will boost the region and the entire state," said Lt. Gov. Kathy Hochul, who attended the grand opening ceremony Thursday. 
Resorts World opens as there are questions about the long-term viability of the non-Indian casinos in New York. Del Lago, which opened in the Finger Lakes region last year, fell $100 million short of its revenue projections. Rivers and Tioga Downs also didn't meet revenue projections outlined in their gaming license applications. 
But officials are optimistic about the fate of Resorts World. State Sen. John Bonacic, who represents the Catskills, called the opening of the casino "an exciting new chapter" for the region. 
"Resorts World Catskills' casino resort campus is a true destination that will deliver untold opportunities for the Catskills and we're incredibly optimistic for its future," he said. 
Driver arrested after car crashes into Famous Footwear store in Auburn
An Auburn man was arrested Tuesday night after crashing his car into the Famous Footwear store in Auburn, police said.
Joshua LaClair, 31, of 19 Frazee St., was charged with second-degree unlicensed operation of a motor vehicle, a misdemeanor, and leaving the scene of an accident, a violation. 
Auburn Deputy Police Chief Roger Anthony said police responded to the accident at 9:13 p.m. Upon arrival, officers discovered LaClair had crashed his four-door Pontiac sedan into the store at 217 Grant Ave. No one was injured. 
The Auburn Fire Department, Auburn City Ambulance and Auburn Code Enforcement Office were also called to the scene. Assistant Fire Chief Bill DiFabio said approximately 30 feet of the storefront was taken out in the crash. However, he said there did not appear to be any structural damage to the building.
Following the crash, Anthony said LaClair fled the scene on foot, leaving an adult female passenger in the car. LaClair was located a short time later and taken to Cayuga County Jail on a violation of probation bench warrant out of Auburn City Court. 
LaClair was issued an appearance ticket and told to appear in court Feb. 23. 
Inside the Schine: Auburn theater's sustainability is a $6 million question
Sheriff: Auburn woman struck by car, killed in Onondaga County
A 26-year-old Auburn woman was struck by a car and killed in the town of Cicero, the Onondaga County Sheriff's Office said. 
According to a press release, Heather Lardeo had been driving north on Route 298 Thursday evening when her 1994 Ford Ranger pickup truck crashed into a ditch. After walking to a nearby business to seek help, Lardeo was struck by multiple vehicles as she returned to her truck on Route 298. 
The sheriff's office said members of the Cicero Police Department and sheriff's deputies initially responded to the area of Route 298 near East Taft Road at around 5:23 p.m. for a disabled motor vehicle complaint. However, first responders found that Lardeo had exited the disabled vehicle and had been struck. 
Lardeo was pronounced dead at the scene.
Deputies said it was not clear why Lardeo's truck ended up in the ditch. The cause of the accident remained under investigation Friday, and no tickets had been issued. 
Cayuga Centers to cut 120 jobs in Auburn, close residential treatment program
Cayuga Centers is closing its residential treatment program in Auburn and cutting about 120 staff members, according to a press release issued Thursday.
The organization's board of trustees made the decision to end its residential services on Wednesday. The program has lost more than $2 million since July, President and CEO Edward Hayes said.
Records show the program served 147 children from July 1, 2016, to June 30, 2017, but as of Thursday, just 14 were left in the program, Hayes said.
Hayes said he is working with the respective counties where the children are from to get them placed in other housing. They will have 90 days to get placed, and staff will have 90 days before the program officially closes. 
Auburn Enlarged City School District operates a school on the Cayuga Centers campus for those children, but Superintendent Jeff Pirozzolo said Cayuga Centers had not notified him of the closure. He had found out through a district staff member at 9:30 a.m. Thursday, he said, and he emailed Hayes to confirm that the news was true. Hayes responded that it was, and Pirozzolo said he is planning to meet with staff and the school board early next week.
The district employs 19 people in the school, and Pirozzolo said he does not see being able to save all of those positions. The positions include teachers, aids and administrative staff.
About two weeks ago the school was serving about 24 children, Pirozzolo said, adding that Cayuga Centers had told him it was hoping to have 30 children in the school by March 1. He did not know that only 14 remained. 
"It's very unfortunate with the closure and the impact and the effect that it has had not only at Cayuga Centers, but the school district and the community as well," he said. "We've been in partnerships with Cayuga Centers for over 20 years, and it's unfortunate to hear this information third-hand, and not directly from Cayuga Centers leadership and board."
The positions Cayuga Centers is cutting include group care workers, unit managers, assistant managers, clinicians, case planners, maintenance and kitchen staff, Hayes said. There are also some cuts in human resources and in the administration that had supported the residential treatment center in different ways.
"Trustees and senior staff members deeply regret having to lay off so many excellent people," said David Connelly, chair of the board, in a release. "They have been working extraordinarily hard, heart and soul, trying to make our residential program work under increasingly difficult circumstances. It grieves us to have to let them go."
Because of the program's residential neighborhood location, "it experienced increasing difficulty attracting youths appropriate for the setting. It has declined to accept sexual offenders, for instance," the release said.
Tax records show that the residential treatment program, which has been part of Cayuga Centers since the 1950s, has 53 beds in four housing units licensed by the state Office of Children and Family Services. Three homes are located on Hamilton Avenue. Two can serve 15 people each, and can be single-gender or co-ed. The third housing unit is a 10-bed facility for girls. The fourth home is located on Franklin Street and can serve 13 youth. It is a co-ed facility. 
The girls-only unit received children referred from OCFS and the other three units accepted children from various counties' social services departments. Hayes said children came from all over the state.
When asked about the future of the houses the center owns, Hayes said "no future decisions or announcements are pending at this point."
Hayes added that changes to youth services also instigated the closure decision. The agency is focusing on foster care services that he said "produce wonderful outcomes at much lower cost than congregate care placement."
Cayuga Centers continues to operate all its other programs in its nine locations in upstate New York, in addition to New York City, Palm Beach County, Florida, and Delaware, according to the release. About 734 positions remain in the agency, of which Hayes said between 150 and 200 are in Auburn.
OCFS said it was notified of the organization's decision to shut down the residential treatment center. 
"The program closure was a business decision made by Cayuga Center's board and was not prompted by an OCFS corrective action plan," the office said in a statement to The Citizen. "Youth in their care who are ready to leave the program will be discharged to their homes. The remaining youth will be transferred to other residential programs with OCFS oversight of the placements."
Auburn Plaza welcoming new tenant from down Grant Avenue, relocating another
Auburn Plaza will be the sight of some movement in the coming months as it welcomes a tenant from Grant Avenue and relocates another.
LZ Army Navy will move to the plaza from its current location at 393 Grant Ave. in Sennett. The new store will be located where GJP Italian Eatery was, and its grand reopening is scheduled for May 1.
Store manager Dawn Baker said Thursday that LZ is moving because it has outgrown its current location. Opened by veteran Ed King more than 25 years ago, the store sells military replicas and artifacts, as well as tactical and camping gear, boots, emergency supplies and more. Baker said the new store will be at least twice the size of the current one.
"It's like I'm in a little mouse maze right now," she said. "It's going to be easier for everyone all the way around."
Meanwhile, current Auburn Plaza tenant Rent-A-Center is moving from its current location in the middle of the plaza to the former site of Hong Kong Buffet.
Michael Wachs, of plaza owner Auburn Associates, said Thursday that the rent-to-own business will go from a 3,600-square-foot space to a 5,000-square-foot one. Wachs added that the new Rent-A-Center will be "the most current prototype" location for the Plano, Texas-based company, which also has a downtown Auburn location at 85-89 Genesee St. 
Rent-A-Center has been in Auburn Plaza since before Auburn Associates purchased it in 1999, Wachs said.
"It's a real upgrade, a real recommitment," he said.
Wachs said Auburn Associates does not currently have anything to announce regarding the space Rent-A-Center will be vacating. In November, the Auburn Code Enforcement Office issued a permit for an illuminated sign for Harbor Freight Tools, a California-based discount tool and equipment retailer, at Auburn Plaza. Wachs declined comment on the permit.
Wachs said the former Rent-A-Center will be the only empty space at the plaza and Grant Avenue Plaza, which Auburn Associates also owns. He also revealed that Metro Mattress, located in an Auburn Plaza outparcel across from McDonald's, extended its lease for 10 years this week and will remodel the space. The mattress retailer is based in Syracuse.
State police: Stranger attempted to pick up 9-year-old girl in Moravia
New York State Police have opened an investigation in Moravia after a 9-year-old girl reported that a man she didn't know offered her a ride. 
Police said the girl was walking in front of Moravia High School on South Main Street at about 11:45 a.m. Monday when a man stopped his car and asked if she wanted a ride. The girl was reportedly walking to a babysitter's house nearby. 
Troopers said the man was in a light gray car and did not attempt to make physical contact with the girl. The girl was not harmed and continued walking to her babysitter's house where she reported what happened. 
Police are still investigating, but said it seemed to be an isolated incident. In a statement Thursday, troopers reminded parents to "educate children on personal safety and stranger danger."
Anyone with information on the incident is asked to contact state police in Auburn at (315) 255-2767.