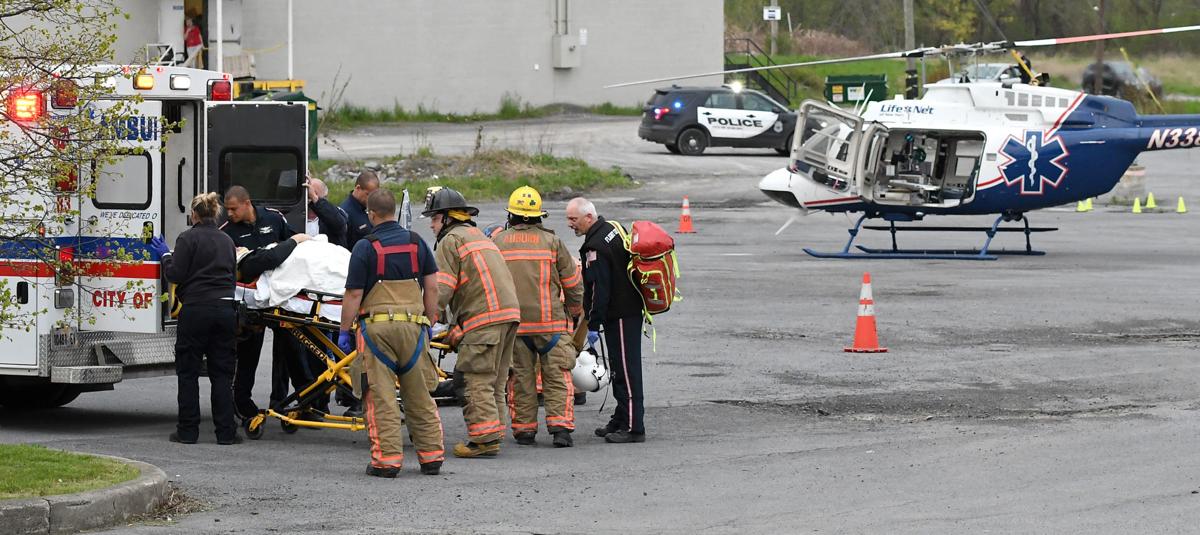 The driver of a motorcycle was airlifted to Upstate University Hospital Thursday evening after a collision with a car in Auburn.
Emergency personnel responded to the scene near the railroad tracks near North Division and Columbus streets and Arterial West after receiving the call at approximately 6:40 p.m.
Police on Friday said a 2013 Chevrolet sedan was traveling north on Columbus Street and the 1998 Honda motorcycle was following behind when it struck the rear of the Chevy sedan.
The motorcyclist was taken to Upstate approximately 10 to 15 minutes after the accident by a LifeNet helicopter, according to the Auburn Police Department. The extent of the motorcyclist's injuries was not yet know as of early Friday afternoon. No injuries were reported for any of the car's occupants.
Originally, the motorcyclist was to be airlifted out of the Holiday Inn parking lot, but was instead taken to the former Mustad building parking lot on Grant Avenue to better accommodate the helicopter.
Members of the Auburn Fire and Police Departments, as well as TLC Ambulance, responded to the scene.
Additional details, including names of the drivers, were not available as of Friday afternoon. Police said the investigation into the crash is continuing.
Get local news delivered to your inbox!
Subscribe to our Daily Headlines newsletter.