Schools closed, trees fell, a church's stained glass window was blown out and hundreds lost power as a powerful windstorm swept through Cayuga County Monday. 
As of mid-day Monday, no major property damage had been reported, although there were numerous cases of downed power lines and trees in parts of the county.
And the high-powered winds were strong enough to blow a window out of its fram at a Union Springs church. Some time Monday morning, wind tore through a circular stained-glass window located high above the main entrance at St. Michael's Church.
Church officials said no one was hurt and that scheduled services will still be held this week. Until further repair is done, a piece of plywood will be installed in the window's place.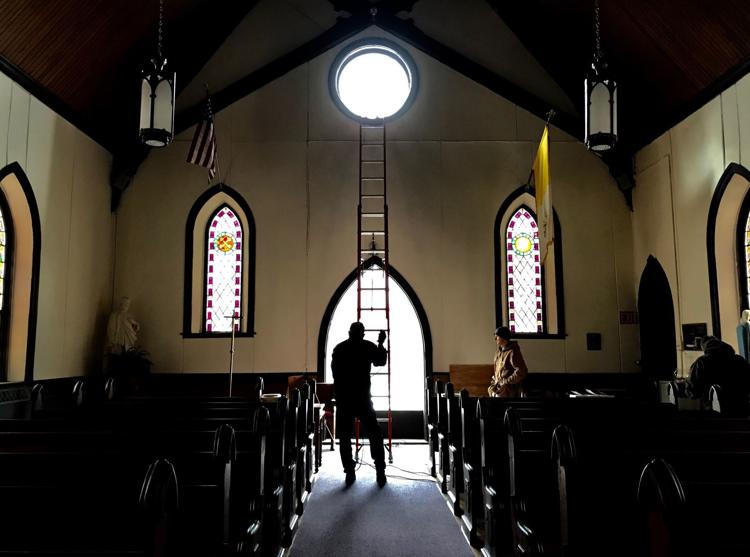 According to Cayuga County real property records, the church's building had been constructed in 1920. The window is believed to have been part of the original building. ​
The most widespread impact of the storm was power outages, which peaked at nearly 3,000 customers in Cayuga County in Monday's early morning hours.
As of 5 p.m. Monday, there were still nearly 800 NYSEG and RG&E customers without power in Cayuga County. Most of the affected NYSEG customers were in the towns of Ledyard, Sempronius and Summerhill. RG&E's outages affected more than 320 residents in the town of Sterling. 
The windstorm began Sunday with increased wind speeds and higher gusts. It was more intense Monday. A gust of 64 mph was reported in Venice Center, according to the National Weather Service. 
A wind gust of 56 mph was observed at Syracuse Hancock International Airport. 
Several Cayuga County-area schools closed due to the windstorm. Auburn, Cato-Meridian, Jordan-Elbridge, Southern Cayuga, Union Springs and Weedsport were closed Monday. Moravia, Port Byron and Skaneateles opened later than the scheduled time. 
A high wind warning that began Sunday was in effect until 7 p.m. Monday.