COMMUNITY
'New chapter': Gavras Center in Auburn celebrates $1.8M expansion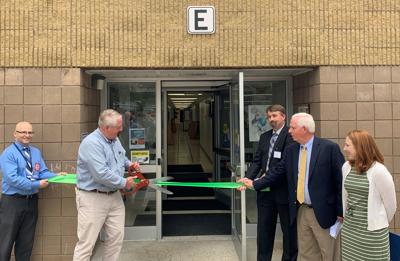 AUBURN — Nearly three years and $1.8 million later, the E. John Gavras Center celebrated the progress of its expansion project. 
The Auburn facility, which has programs for children with and without disabilities, held a ribbon-cutting ceremony Wednesday. The event highlighted the improvements, including a larger motor skills area, additional classrooms and a new playground. 
Some aspects of the project were cosmetic. The front of the building has new signage, and landscaping work improved the South Street property's appearance. 
AUBURN — Until late last year, it was easy to drive past the E. John Gavras Center on North …
"Today, we are much more than our founding fathers could've ever imagined," said Bob Padula, chairman of the Gavras Center's board of directors. "The growth we've experienced in the last 20 years has established the Gavras Center as the premier provider of preschool and adult programs for disabled and not disabled consumers." 
Gavras' original expansion plan wasn't as large as the final product. When it applied for state funding in 2016, the center planned for an $880,000 project. The state awarded $176,249 to support the improvements. 
"It was apparent the need was going to be greater than we originally anticipated," said Kenneth Ward, principal of education services at Gavras. "Suddenly, the project grew in scope."
After reaching the fundraising goal — Gavras covered 20 percent of the costs, according to Ward — the project began in spring 2018. The facility expanded from four to seven classrooms, including two for full-day programming, and now has capacity for 128 preschool children. The center also offers child care for working families. 
The project will be officially completed over the summer. 
Ward acknowledged that it was challenging for the center to raise the necessary funds to finance the expansion. Without revealing a dollar amount, he said more money is needed to "complete a vision that addresses community needs and leaves the Gavras Center at the forefront of programming in our community." 
The ribbon-cutting ceremony also served as a way for Gavras to thank businesses and community leaders that supported the expansion. The center's leadership lauded Bouley Associates, which was the contractor for the project, Beardsley Architects + Engineers and the Cayuga Economic Development Agency. 
Online producer Robert Harding can be reached at (315) 282-2220 or robert.harding@lee.net. Follow him on Twitter @robertharding.