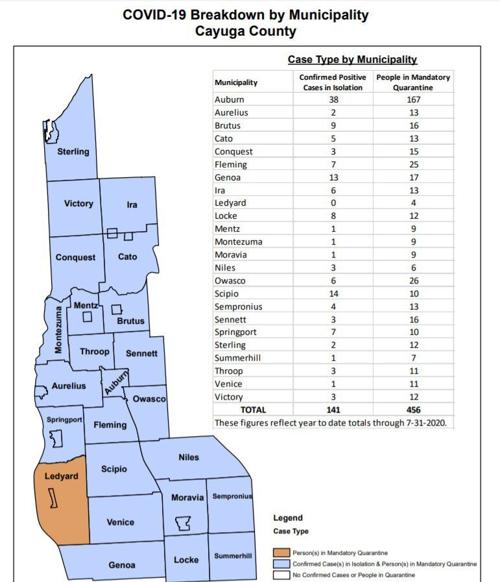 The latest data released by the Cayuga County Health Department shows that Ledyard is the only town without a confirmed COVID-19 case. 
Before the new map and chart were released on Friday, the towns of Ledyard and Summerhill didn't have a positive case. But the new data shows that Summerhill has one case. While there have been four Ledyard residents quarantined due to contact with a positive case, there hasn't been a confirmed case in the town. 
Auburn has the most cases (38) of any Cayuga County municipality. Scipio remains the town with the most cases (14), followed by Genoa (13), Brutus (9), Locke (8), Fleming and Springport (7 each), Ira and Owasco (each with 6) and Cato (5). 
Sempronius has four cases and five towns — Conquest, Niles, Sennett, Throop and Victory — have three apiece. Aurelius and Sterling each have two cases, while Mentz, Montezuma, Moravia, Summerhill and Venice each have one. 
There are 141 confirmed COVID-19 cases in Cayuga County, according to the health department's latest situational update. Three new cases were reported this week — a woman in her 80s who lives outside of Auburn, a man in his 30s who lives outside the city and a woman in her 30s who is an Auburn resident. 
The department said there is one person hospitalized with COVID-19. 
The number of people discharged from mandatory isolation is up to 134, which means there are four active COVID-19 cases in the county. Three deaths have been reported since early April. 
As the town-level data confirms, most of the cases (102) are outside of Auburn. There is a nearly even gender split, with 73 women and 68 men contracting the virus. 
A majority of the cases (76) are under age 40, including 31 people in their 20s and 30 in their 30s. Fifteen cases are under age 20. There has been a growing number of cases among older age groups. So far, there have been 21 cases in their 50s, 17 in their 40s, 16 in their 60s, seven in their 70s, three in their 80s and one in their 100s. 
The health department reminded residents to continue social distancing and limit trips to stores. People should wear face coverings when they can't maintain social distancing in public settings. 
Politics reporter Robert Harding can be reached at (315) 282-2220 or robert.harding@lee.net. Follow him on Twitter @robertharding.
Concerned about COVID-19?
Sign up now to get the most recent coronavirus headlines and other important local and national news sent to your email inbox daily.