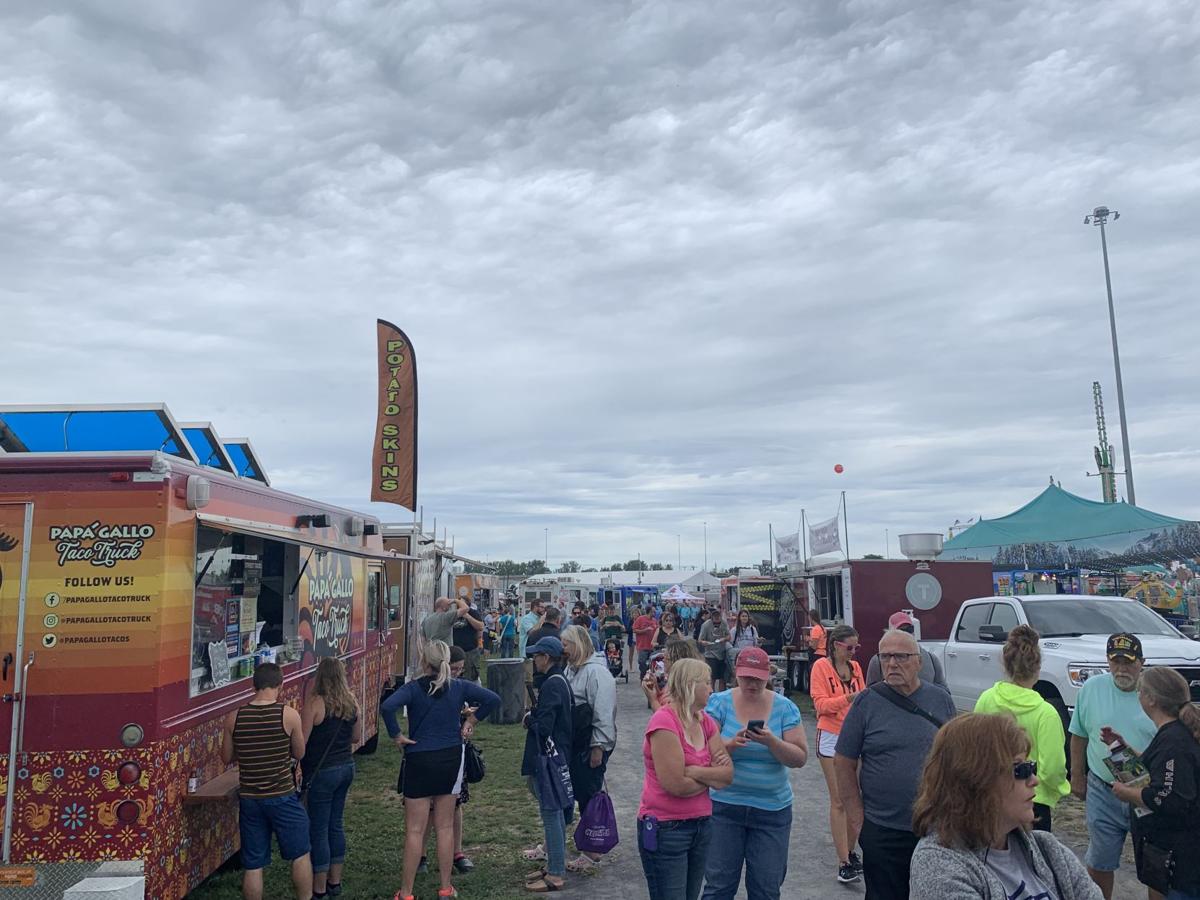 The 2019 installment of the New York State Fair's Taste NY Food Truck Competition kicked off Sunday in a new location. 
The fair moved the annual food truck competition from Chevy Court to the Experience Festival grounds on the west end of the fair. The 17 food trucks that participated in the first day of the competition parked along a trail near the large pond. 
There were some returning competitors, including Tonzi's Catering Company of Auburn. There were a few newcomers, too. 
Here are the 2019 New York State Fair Taste NY Food Truck Competition Day 1 entries, ranked: 
17. The Baked Potato Express (Liverpool): Mac and Cheese Baked Potato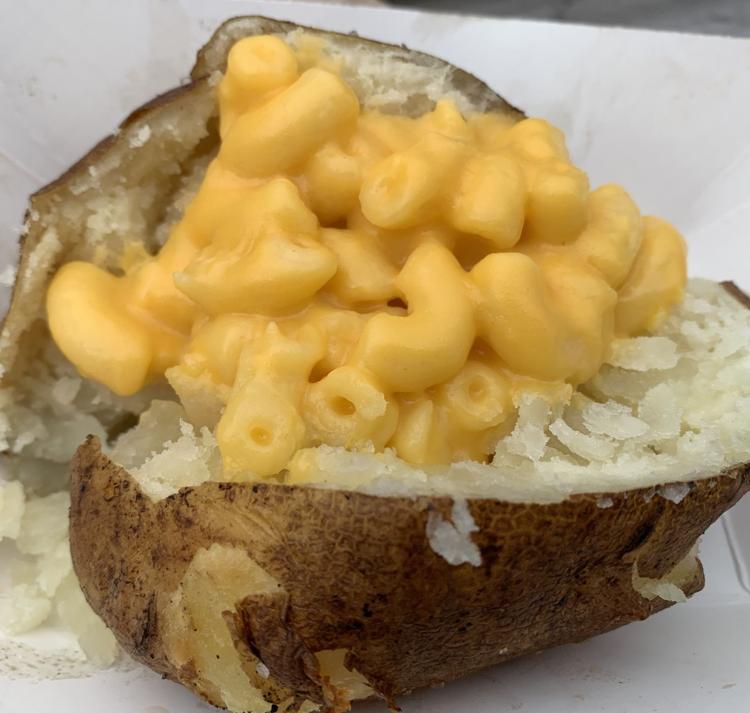 Let me preface this: There weren't any bad entries on Day 1 this year. But in continuing this tradition I started a few years ago, there is going to be an entry that finishes "last." 
The baked potato topped with macaroni and cheese was tasty. It's a good twist on the traditional baked potato — one of the most popular food items at the state fair.
My only criticisms: The presentation of the baked potato and the macaroni and cheese tasted like it was store bought. Add homemade mac and cheese to the baked potato and it would rise up the rankings. 
16. Abbott's Frozen Custard (Rochester): Chocolate Almond Custard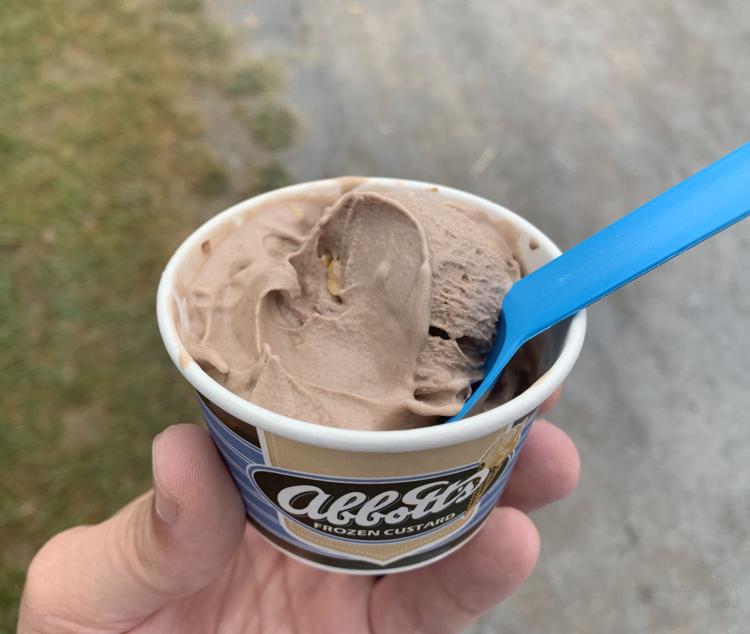 I started my food truck sampling off with the chocolate almond custard. Who doesn't love ice cream at 9:45 a.m.? 
Usually you put nuts on ice cream. Abbott's put the almonds inside the ice cream. It was a delicious combination. 
15. Chef's Catering (Rochester): Fried New York Apple Turnover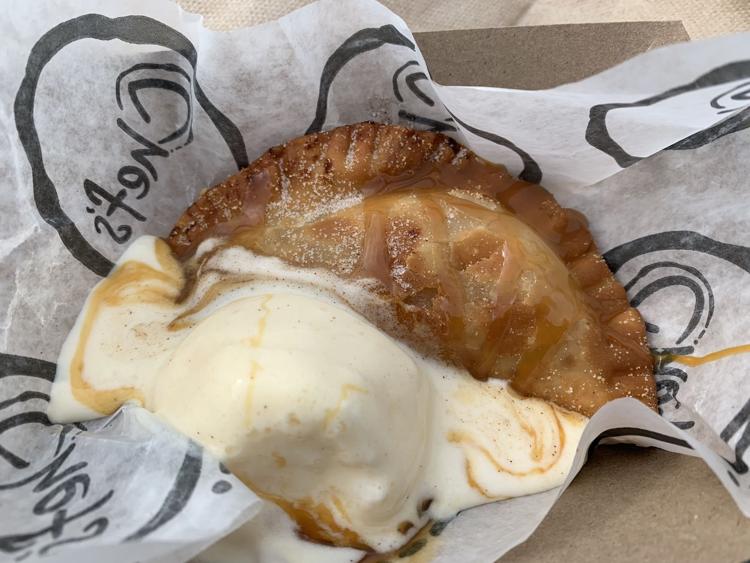 Chef's delivered with a solid dessert entry. The fried turnover with New York apples and topped with vanilla ice cream was a treat. 
My only disappointment: The state fair's website listed Chef's entry was "garbage plate roll ups." I would've loved to see (and eat) those, but clearly the Rochester food truck called an audible. 
14. Bob Barker's (Syracuse): Cheddar Bacon Hot Dog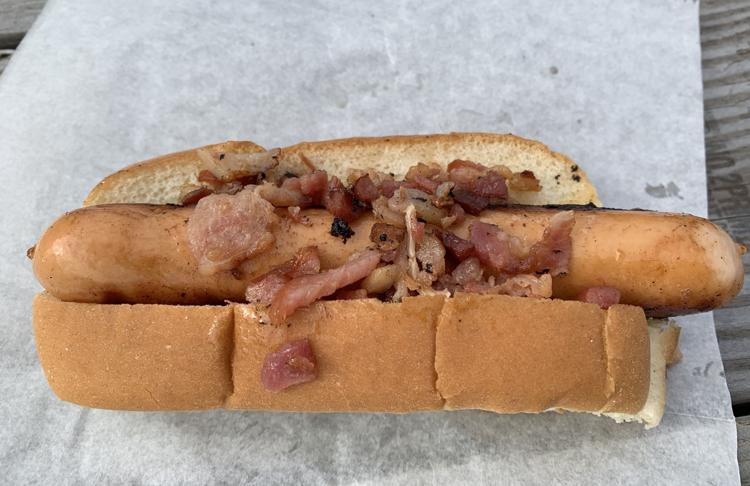 The cheddar bacon hot dog doesn't disappoint. The Hofmann hot dog is topped with cheese and chopped bacon. Central New Yorkers love the hot dog. Foodies will love the addition of cheesy and bacon goodness. 
The only knock on the hot dog is this is repeat entry for Bob Barker's. It is a bit challenging, though, for hot dog stands to be as innovative as some of these other food trucks that have bigger menus. 
13. Roc City Sammich (Rochester): Cheesy Bacon Chicken Bowl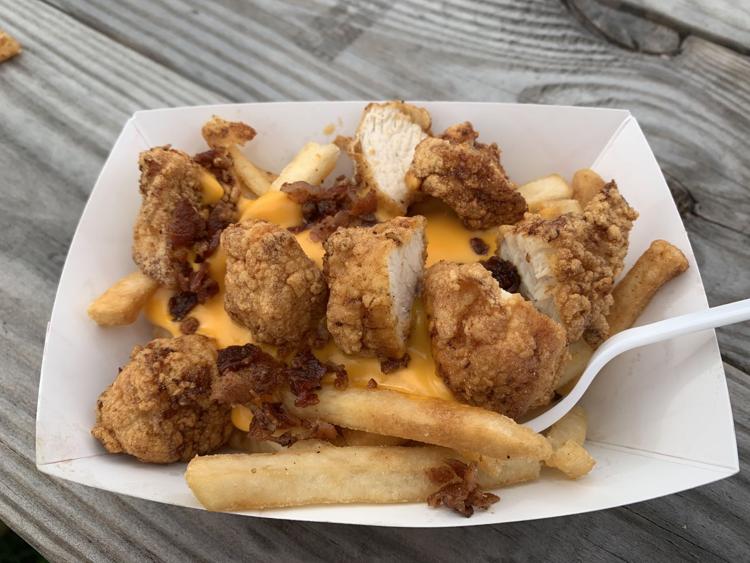 Roc City Sammich gets points for creativity. The bowl contained buttermilk fried chicken breast pieces on a bed of french fries and topped with melted cheddar cheese and chopped bacon. 
The chicken in my bowl was too crunchy and a bit dry. The remaining ingredients were fine, but the chicken was the main draw. 
I've had Roc City Sammich's buttermilk fried chicken before. The Rochester-based food truck had a buttermilk fried chicken slider at the fair last year. Let's just chalk this up to me getting a bad batch. I saw someone else get this and their chicken looked better. I hope that's the case. 
12. Smoothies Plus (Rochester): Mango Pineapple Smoothie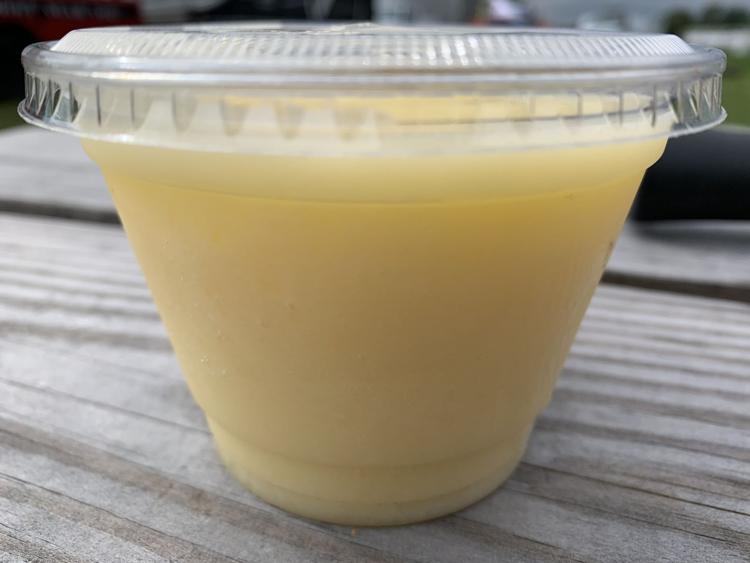 Smoothies Plus offers a nice change of pace from the usual food truck fare. The mango pineapple smoothie was a refreshing beverage. I thought this was better than last year's raspberry mango smoothie the Rochester food truck served during the fair competition. 
11. Skippy's Ice Cream (Liverpool): Truck Trash Sundae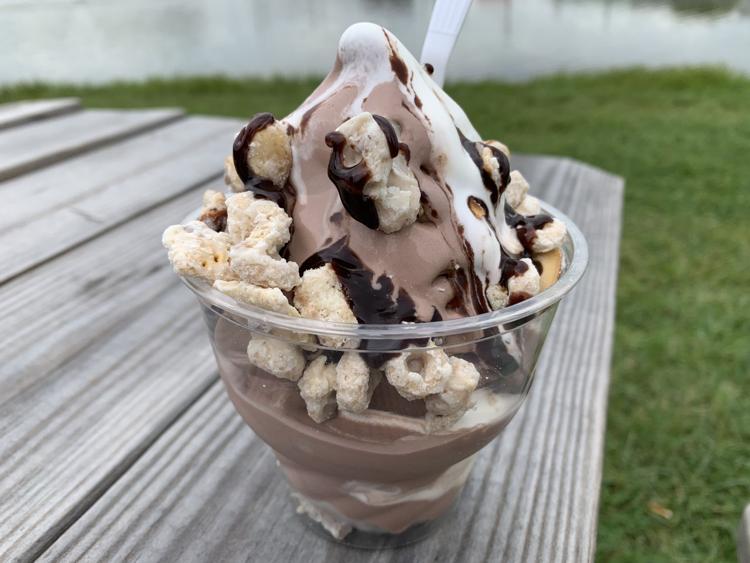 I really like what Skippy's did here. It was ice cream with chocolate drizzle and the snack food commonly referred to as "trash." Some folks have different names for it, but trash is trash. And on a sundae, it added more flavor to the chocolate-vanilla twist in the dish. 
This was the last entry I sampled Sunday morning. It was the perfect dessert after consuming 16 other dishes. Kudos to Skippy's for the creativity. 
10. The Chef & The Sea (Syracuse): New England Clam Chowder Poutine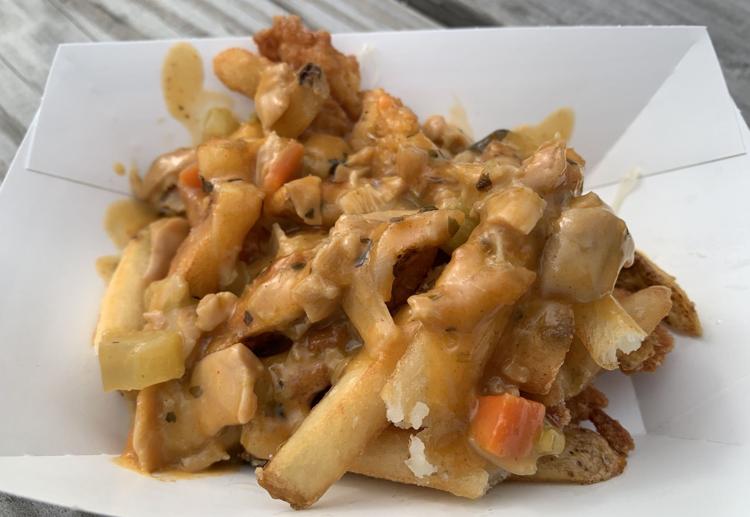 This is probably the toughest top 10 list I've compiled yet. The Chef & The Sea is a newcomer to the state fair food truck competition and they impressed me with the New England Clam Chowder Poutine. Poutine is a popular dish and it can come in many forms. I didn't know what to expect when I saw this listed on the entry sheet. It was flavorful. 
9. Roll'n Deep (Rochester): Crab Rangoon Nachos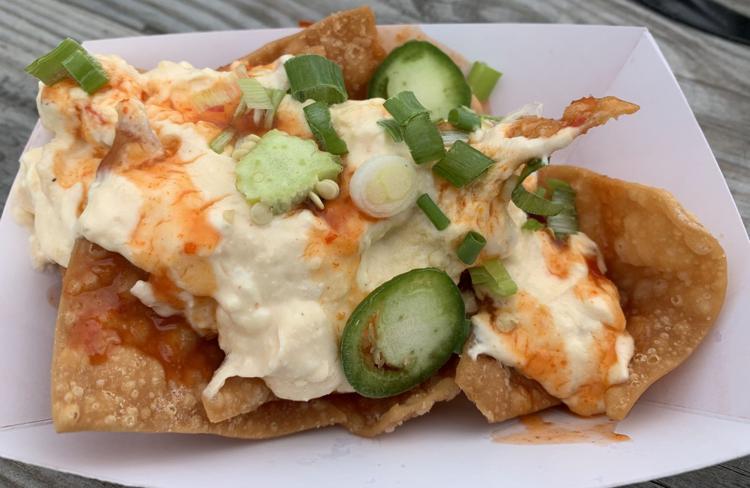 I'm not a crab eater, but Roll'n Deep brought its A-game with this dish. For those that don't know what Crab Rangoon Nachos are, this is what Roll'n Deep posted outside its truck: "Freshly fried wonton chips smothered in a special blend of melted cheeses and crab. Topped with fresh jalapenos, scallions and sweet sriracha." 
I enjoyed the crab and cheese combination. The jalapenos and sriracha added just the right amount of heat. The scallions added flavor. I loved the wonton chips. You could tell the chips were fresh, as advertised. Nice job, Roll'n Deep. 
8. Glazed & Confused (Syracuse): The Dizzy Pig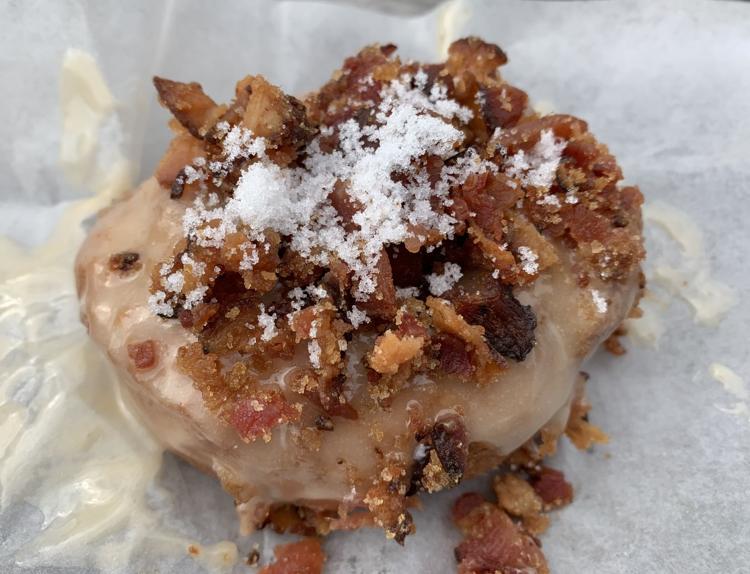 Of the 17 entries, this is the only one I had before Sunday. There is a lot to love about this doughnut from Glazed & Confused. 
The Dizzy Pig is a doughnut topped with maple glaze, a bourbon-sugar combination and candied bacon. There's so much flavor in this doughnut and it was easily the best dessert served on Day 1. 
7. Via Napoli Express (Liverpool): CBGB Pizza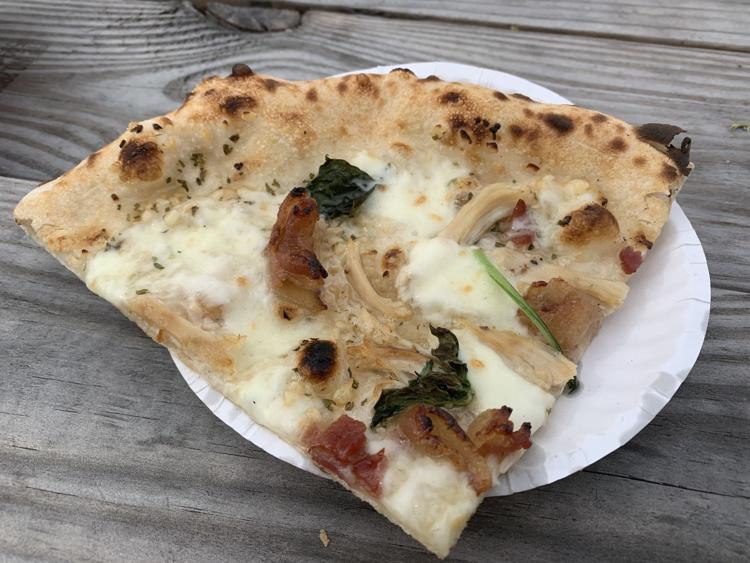 What is CBGB pizza you ask? It's wood-fired pizza with garlic sauce, mozzarella, candied bacon, pulled chicken and basil. 
This was an upgrade over Via Napoli's Sugo pizza that was an entry in the 2018 food truck competition. The garlic sauce was delicious and the combination of the pulled chicken, basil, candied bacon and mozzarella packed a nice flavor punch. 
6. Over the Moon Grilled Cheeserie (Alpine): Little Piggy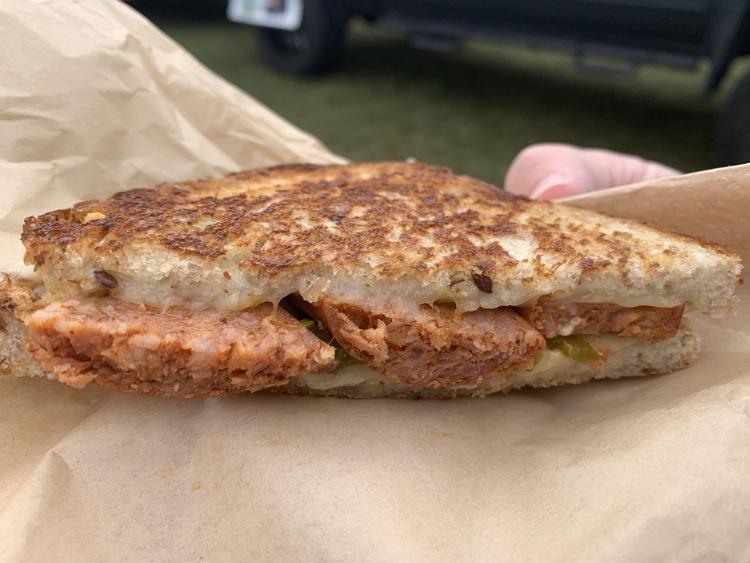 Kudos to Over the Moon for a creative dish name. Here's what was in the Little Piggy: A grilled cheese sandwich with smoked sausage, cheddar and jack cheeses, chipotle mayo topped with "cowboy candy" (jalapenos) and served on Heidelburg multigrain bread. 
Talk about packing a punch. A lot of flavor in this sandwich and a nice kick to it. This is one of the more innovative grilled sandwich options I've seen. It's worth noting that Over the Moon made sure to highlight they sourced many of the ingredients from upstate New York locations. If there was a Judges' Choice competition this year, that would earn them extra points. 
5. Tonzi's Catering Company (Auburn): Deep-Fried Chicken Riggies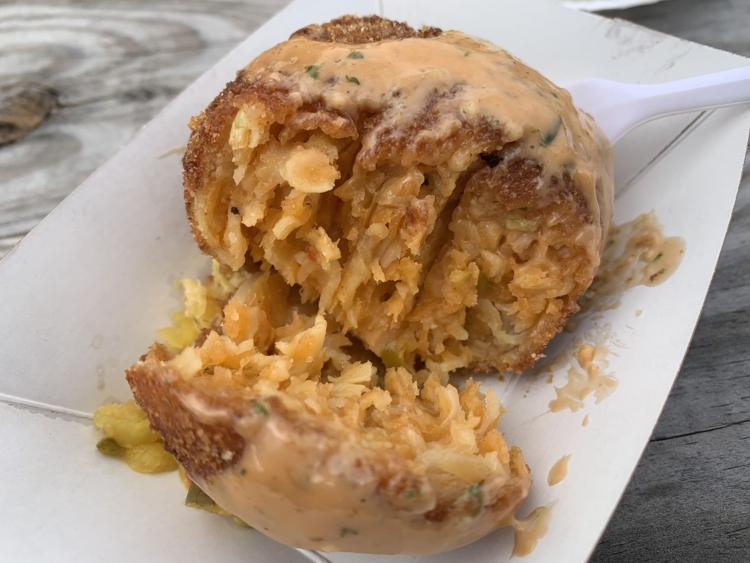 What do you get when you combine the state fair with a Utica favorite? Deep-fried chicken riggies.
Tonzi's, which swept the Judges' and People's Choice awards in 2017, never disappoints. The outer shell of this dish was identical to the bacon jalapeno macaroni and cheese fritter the Auburn food truck submitted two years ago. The inside of the fried ball was much different, though. 
The chicken riggies were tasty. One thing you worry about pasta in that form is whether it dries out or it won't be flavorful. That wasn't the case here. Tonzi's gets points for creativity and upstate New York pride. 
4. Potato Skins Express (East Syracuse): Thai Sesame Crunch Potato Skin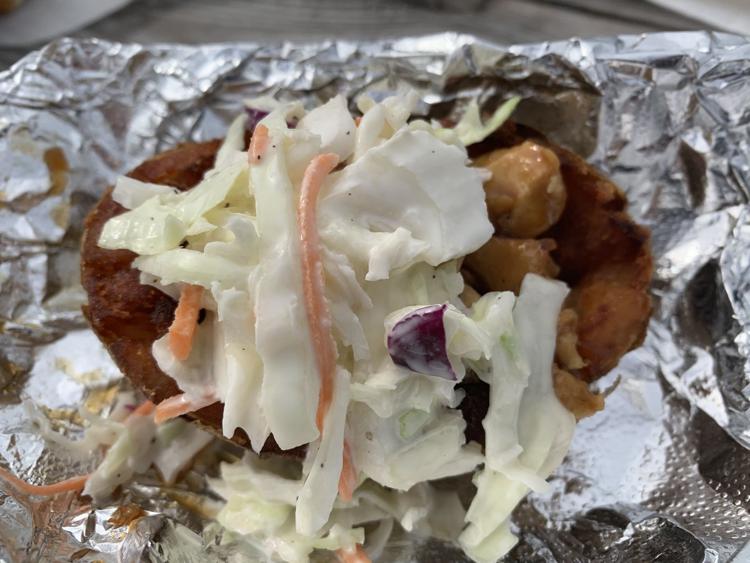 A great entry by Potato Skins Express. There was a lot happening in this skin. 
The potato skin boat was baked and deep-fried, then seasoned with kosher salt. On the inside of the skin was chicken tossed in sesame dressing and topped with homemade coleslaw. 
Everything was good with this mouthwatering dish. How good was it? I almost ate the whole thing before my wife could get a bite. 
3. Pinkies BBQ (Binghamton): BBQ Chicken with Strawberry Spinach Salad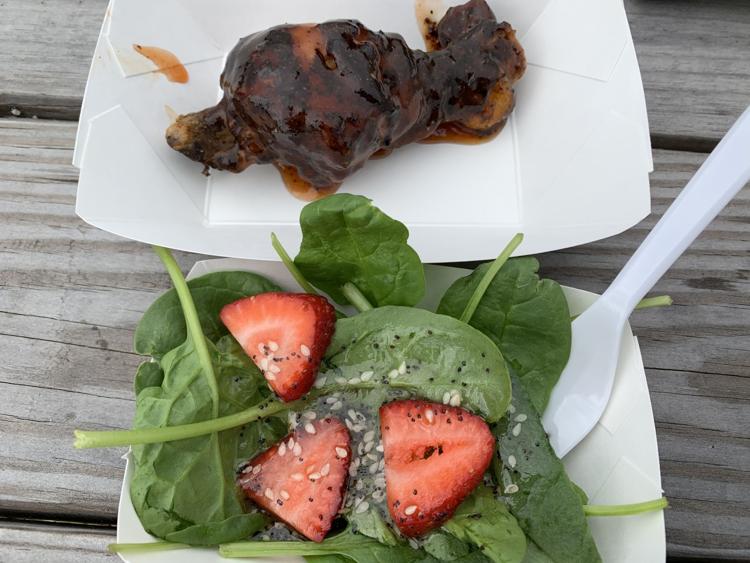 Last year, Pinkies had one of the best dishes with its jerk pork taco. The Binghamton food truck topped that this year. 
The BBQ chicken was awesome. It was fall-off-the-bone good. The sauce had a smokey hint to it that made me love the chicken even more. 
The addition of the strawberry spinach salad was a nice complement to the chicken. Great job by Pinkies. 
2. Papa Gallo Taco Truck (Fayetteville): Al Pastor Taco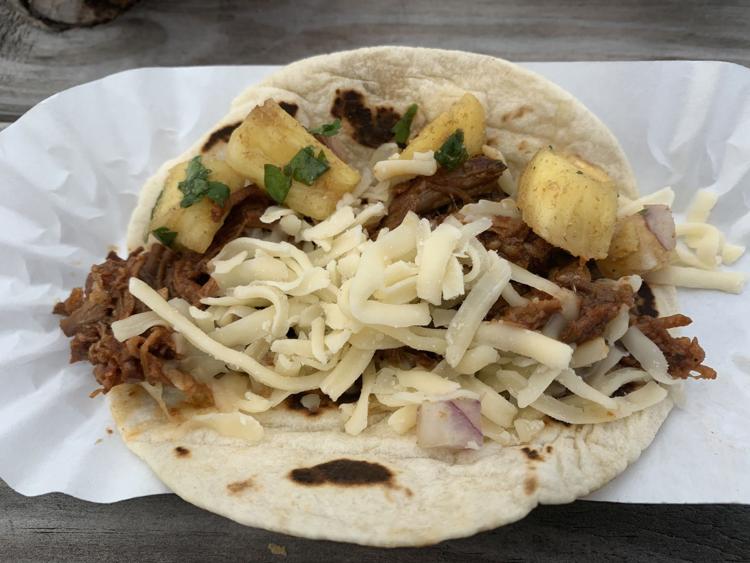 This is probably the best taco I've ever had. The Al Pastor includes braised adobo pork, roasted pineapple and onion salsa and a blend of cheeses. There wasn't one ingredient that was better than the rest. It was a magical combination. 
I mentioned on Twitter that I'm not a guy who wants pineapple in (or on) his food. There was something different about this, though. It seemed to belong. Without it? The whole taco probably doesn't work. The pork was cooked to perfection and the cheeses added the right amount of flavor. 
Hopefully a lot of people grabbed the Al Pastor taco while they were at the fairgrounds Sunday. If so, they didn't leave hungry. They left happy. 
1. Rapidz (Massena): Buffalo chicken slider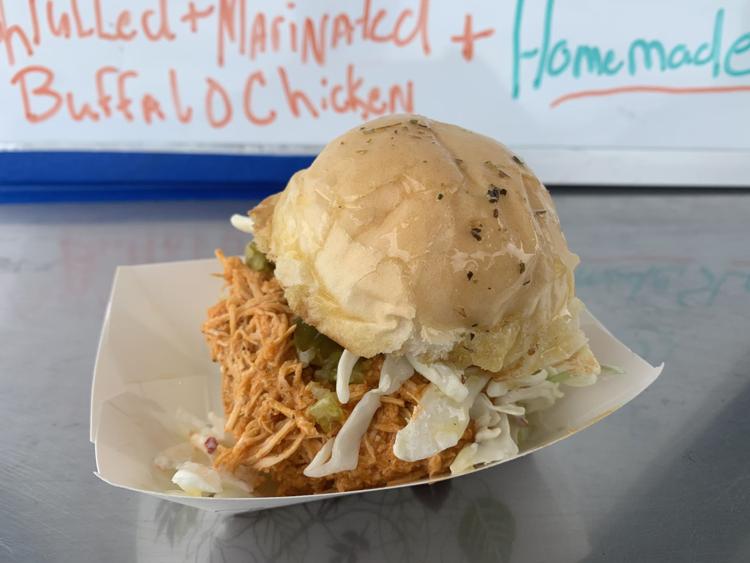 The word of the day is "fresh." That's what the Massena-based Rapidz food trailer promised on a dry-erase board promoting its Buffalo chicken slider. Other food trucks offered sliders in past years and they were good. But this is the cream of the crop. 
The chicken was marinated and pulled, then placed on "bakery fresh" rolls. Homemade coleslaw was added as a topping. 
It was excellent. Everything about this sandwich was tasty. The rolls were, as promised, fresh. You could tell these weren't some generic brand rolls from the grocery store. The chicken was flavorful. Being Buffalo chicken, it had the right amount of heat. It wasn't overpowering. And the homemade coleslaw was a great topper. There were other dishes with coleslaw Saturday. This coleslaw was the best. 
Rapidz seemed confident that we would like their sample this year. They were right. Out of 17 entries on Sunday, Rapidz had the best of the bunch.