OWASCO — Tim Fessenden and Jason Burroughs looked out onto about 100 people Monday night inside the Ward W. O'Hara Agricultural Museum in Owasco.
"We're good at what we do," Burroughs said. "We're good at being farmers. We're not very good at getting our story out, our message out. Public education, I think, is one challenge I think we have."
To respond to that challenge, members from the American Dairy Association North East, the Cayuga County Farm Bureau, the New York Animal Agriculture Coalition and the North East Dairy Producers Association, formed their own watershed group. Many area farmers came to the meeting and several outside constituents appeared as well including representatives from Cayuga County, the city of Auburn, the county Soil and Water Conservation District, the state Department of Environmental Conservation, the Owasco Watershed Lake Association, Save Owasco Now and others.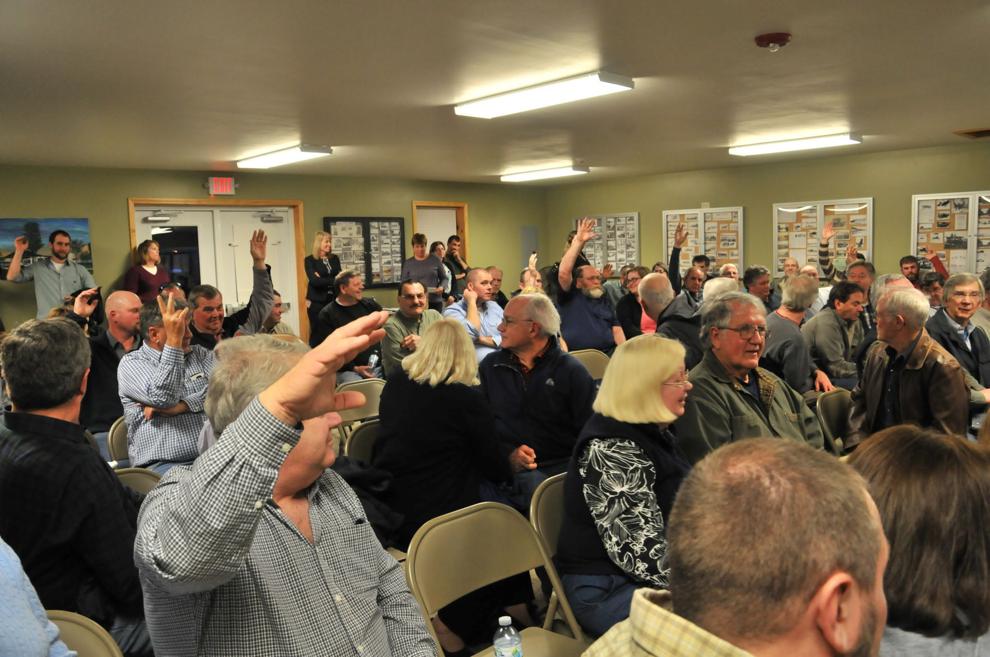 "We got a chance to tell our side of the story a little bit," said Dirk Young, who operates Twin Birch Dairy, after the meeting. "It's been hard to be the target all of the time."
Brian Boerman, a nutrient management planner for farms with Agricultural Consulting Services, also presented and answered questions before the crowd. He went into detail about the changes to the DEC's Concentrated Animal Feeding Operation permits. Often called CAFOs, the permits generally refer to a farm that has 200 or more cows that are kept in a confined area for 45 days or more per year. To Boerman, the updates to the latest permits are significant.
For example, farms are banned from spreading manure on frozen or snow-covered soils. Nutrient plans now have to have preparations for hurricane amounts of rain. He also believes the CAFO permits process is now more open to the public, something many watershed advocates have felt was lacking.
"Don't tell me nothing is new, because this is a lot of work," Boerman said. "It's a lot of work to the planners, and I think the public is going to get a lot of access to information they hadn't had before."
Another thing Boerman pointed out is that farms with less than 200 cows are not required to follow nutrient management plans. That means, he said, they are not banned from spreading manure on snow or from allowing their cows to wade through streams, among other regulations that CAFO farms are subject. But, he added, that doesn't mean the smaller farms called Animal Feeding Operations, are doing those things.
"I'm an AFO," yelled Slade Cox, who owns a farm in the Cato area. He waved his hand in the air as the crowd laughed.
Cox said his farm has a nutrient management plan, which Boerman said many small farms can get with the help of soil and water conservation districts or other organizations. 
But what frustrates Boerman is what he believes the public's perception is of where phosphorous comes from in watersheds. 
"Phosphorous in the environment — here's a little reality check," he said. "Agriculture is not the only source of phosphorous in the environment."
Citing wastewater treatment overflows and his belief in a lack of data around septic systems testing, Boerman said more studies have to be done not just on agriculture, but on other sources of phosphorous. Bob Brower, president of the Owasco Watershed Lake Association, expressed his organization's view that more testing needs to be done on water, especially the water draining out of farms.
Boerman countered that many farms are testing their water, but he'd like to see that same level of effort go into other phosphorous sources such as septic systems. 
When asked about farmers who may not follow best management practices and ruin the perception of farms in the watershed, Fessenden said he did not feel any farmers purposefully choose to bend the rules. Burroughs acknowledged that there are times he's driven around and seen some practices that shouldn't happen.
"There are probably some people there, their passion and focus isn't as stringent as probably most or all of the farms in this room," he said. "But I think that's the minority."
Staff writer Gwendolyn Craig can be reached at (315) 282-2237 or gwendolyn.craig@lee.net. Follow her on Twitter @gwendolynnn1.