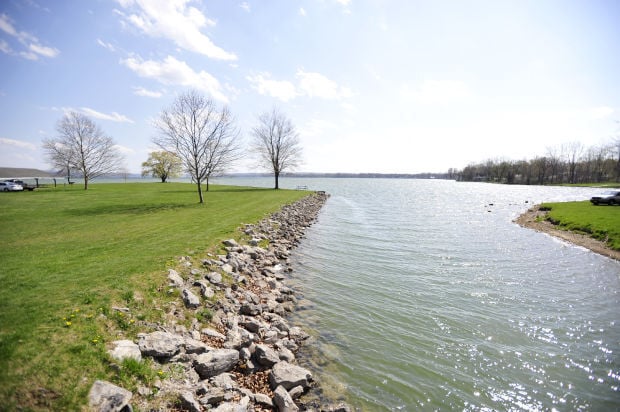 AUBURN — A Nine Element Watershed Plan is slowly taking shape as part of Cayuga County's efforts to identify sources of pollution and stop blue-green algae from blooming in Owasco Lake.
Michele Wunderlich, associate planner with the county's Department of Planning & Economic Development, updated members of the Owasco Lake Watershed Management Council at its meeting on Tuesday.
Wunderlich outlined the newly formed advisory committee, which includes representatives from the council, the New York State Department of State, the New York State Department of Environmental Conservation, Cayuga County, the city of Auburn, Tompkins County, the Central New York Regional Planning and Development Board, the Finger Lakes Institute and the Owasco Watershed Lake Association.
Wunderlich said requests for proposals to carry out studies and mapping of the watershed have been approved by the state Department of State and the county attorney, and she expects them to be released by the end of this week.
Both a Nine Element Plan and a Total Maximum Daily Load aim to reduce pollution in a watershed. Both, if implemented, provide funding opportunities for state and federal grants, and both cover specific sources of pollution like a pipe feeding into a lake, and non-point sources like agricultural runoff. But there are some significant differences between the two strategies.
According to the DEC, a Nine Element Plan is typically better for addressing non-point sources of pollution, requires an implementation plan, and through that plan schedules public participation at various stages. Bruce Natale, environmental engineer for the county, said multiple sources of pollution can be targeted in the plan, and overall, it would take between two and two-and-a-half years.
A Total Maximum Daily Load, according to the DEC, addresses one kind of pollution, and is better for addressing a specific source called a point source. Terry Cuddy, Auburn city councilor and member of Save Owasco Now, said at the Save Owasco Now meeting Monday night that there's more teeth to a Total Maximum Daily load than a Nine Element Plan, because consent orders can be issued.
Wunderlich said that's because point sources are easier to regulate than non-point sources because you can see exactly where the pollution is coming from. 
Besides that, Total Maximum Daily Loads historically take a long time to implement. Cornell University, for example, has been working to get a Total Maximum Daily Load on phosphorous at the southern end of Cayuga Lake. John Halfman, a research scientist and professor of geolimnology and hydrogeochemistry at the Finger Lakes Institute at Hobart and William Smith Colleges, said Cornell is in its third year of working to get it and has spent millions of dollars trying to do so. 
But those advocating for a Total Maximum Daily Load have not communicated with those working on the Nine Element Plan. Cuddy said the county and city are working together, but Wunderlich said she has not been approached by city officials about the two initiatives. Cuddy has also not specified what pollution source the Total Maximum Daily Load would limit, saying at Monday night's meeting that the city would leave that up to "the powers that be."
Staff writer Gwendolyn Craig can be reached at (315) 282-2237 or gwendolyn.craig@lee.net. Follow her on Twitter @gwendolynnn1.