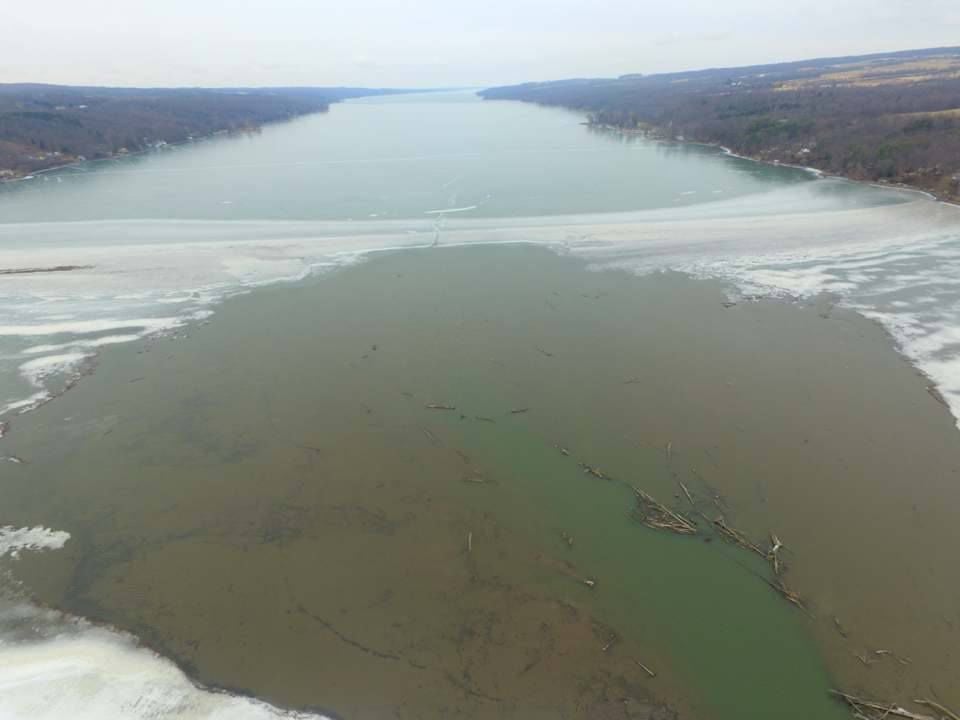 AUBURN — The Owasco Lake Watershed Nine Element Plan has hit a couple of milestones this year, paving the way to its first round of public feedback set for this fall. 
A 9E Plan outlines ways to improve water quality by identifying where different pollutants are coming from and how to reduce them. Owasco Lake's began at the end of 2016, following the summer when toxins from harmful algal blooms were detected in the drinking water from Auburn and Owasco's treatment plants. The town of Skaneateles is also moving forward with a 9E Plan on Skaneateles Lake. The plans make municipalities eligible for more grants that would implement projects to clean up the watershed.
The state grant funding for the 9E Plan — $35,000 with a county-matched $35,000 — ends Aug. 31, 2019. Cayuga County, which is spearheading the project, hopes to have everything finished by July 2019. 
Michele Wunderlich, senior planner at the Cayuga County Department of Planning and Economic Development, gave an update to members of the Owasco Lake Watershed Management Council on March 20. One issue staff had been dealing with was data collection. Water quality measurements used to form models in the 9E Plan have to be certified through the state's Environmental Laboratory Approval Program. Not all of the data that has been collected on Owasco Lake over the years has been vetted through that program. 
In order to make sure sample collections and analysis are done properly, Wunderlich and others have been working on Owasco Lake Watershed Tributary Monitoring and Model Quality Assurance Project Plans. Quality Assurance Project Plans, often referred to as QAPPs, include the procedures for collecting data and how it will be analyzed. Those needed to be completed before the modeling could begin, Wunderlich said. They were approved by the DEC at the end of February.
At the March 20 meeting, Scott Cook, a research scientist with the Finger Lakes Water Hub, said DEC staff were collecting winter samples in Owasco Lake tributaries, and more will be collected in early spring. Traditionally there's been very little sampling done during the colder months on Owasco Lake, so officials hope to close gaps. 
Students and staff from Cornell University are helping with additional sampling, as are members of the Owasco Watershed Lake Association. James Knighton, a PhD candidate in the biological and environmental engineering department at Cornell, is leading the modeling effort. Wunderlich said he will be using a soil and water assessment tool.
In a phone interview Friday, Knighton said he's looking at where the landscape is generating the most nutrients that end up in the lake. Knighton is no stranger to this kind of work. He's created a similar model for Cayuga Lake, which is getting a different pollution diet plan called a Total Maximum Daily Load. For both water bodies, he takes information about the watershed — topography, land use, vegetation types and more — and overlays them all in a computer model. He also uses data from stream gauges and historical data from different storm events. 
"We're building a big database of everybody's measurements that then comes to me, and I'm using everyone's measurements to calibrate," he said. "The next phase of the project, which we haven't started yet, is once you've got a model with high confidence, the water and nutrient loads into the lake, then you can start evaluating hypotheticals."
It's a complicated recipe where officials can mix up the ingredients to see what the best finished soup will be. For example, scientists can see what would happen if there was a large rainstorm with so many inches of rain, what would happen if a specific area was forested, or what a stream buffer might do, Knighton said. 
Although the 9E Plan is taking longer than expected, Wunderlich said the county is still on schedule to hold a public meeting by October at the latest. Recommendations to achieve the plan's goals are tentatively set to come out by December with another public meeting possibly in February. 
Staff writer Gwendolyn Craig can be reached at (315) 282-2237 or gwendolyn.craig@lee.net. Follow her on Twitter @gwendolynnn1.