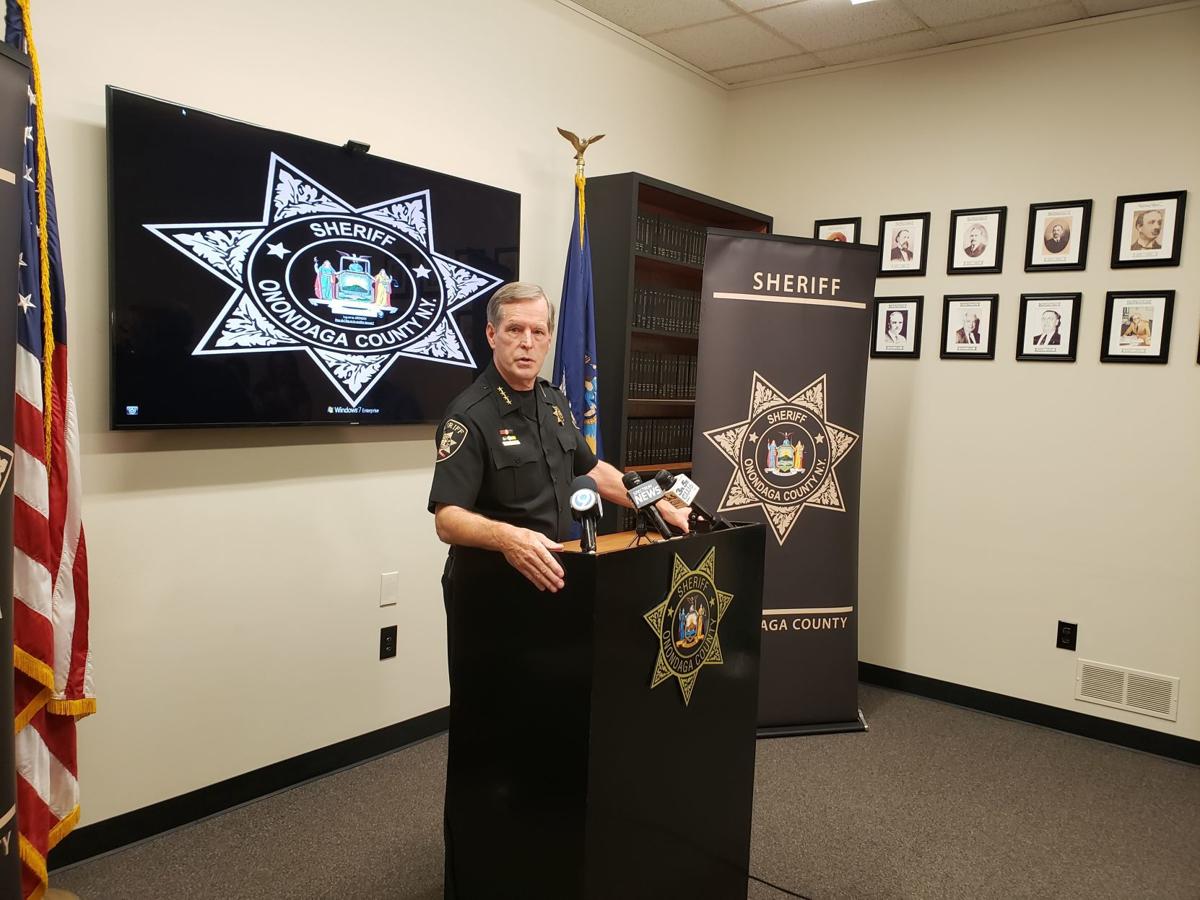 SYRACUSE — The convicted rapist who triggered a regional manhunt when he removed a parole monitoring device in Skaneateles last month has pleaded guilty to violating his parole.
According to an emailed statement from Department of Corrections and Community Supervision spokesman Thomas Mailey, Christopher Block entered a guilty plea during a parole revocation hearing held at the Onondaga County Justice Center on Tuesday. The plea came in exchange for "a period of incarceration," Mailey said, but he did not provide details on the terms of the incarceration.
"The disposition is not final until a written decision is issued by the Administrative Law Judge. The parolee remains in the custody of the Onondaga County Sheriff," Mailey said.
When The Citizen replied to Mailey asking if the length of Block's incarceration term has been decided or promised, Mailey referred back to his three-sentence written statement and reiterated "the disposition is not yet final."
Onondaga County Sheriff Gene Conway held a press conference on the case in Syracuse on Tuesday afternoon in order to inform the public of what occurred during the revocation hearing, he said.
The hearing, held at the Onondaga County Jail, was not open to the media or public over concerns of maintaining safety standards, according to the sheriff.
Conway said the meeting, which had been moved from its scheduled time of 1 p.m. to approximately 10 a.m., lasted "all of five to six minutes."
Although Conway declined to share the length of Block's additional incarceration time, saying he would "stay in my lane" and defer to DOCCS, he did repeat some of Block's comments during the hearing.
According to Conway, Block told the administrative judge that his escape had nothing to do with any intention of harming anyone. Rather, Block was attempting to evade a gang from Syracuse, where he was living, that he said was wrongfully targeting him for something involving his roommate, another parolee, Conway said.
Conway declined to name the gang, saying he prefers not to give them added notoriety, but said it was one familiar to him, which added credibility to Block's claim.
You have free articles remaining.
Block was captured on July 12 near Skaneateles Country Club after he had removed his monitoring bracelet the night of July 10 not far from where he was found.
According to Conway, Block said he fled to Skaneateles because he is from the Camillus area and is familiar with the wooded surroundings.
A convicted rapist who removed a parole monitoring device was captured in Skaneateles Friday. 
DOCCS came under fire from some in the central New York law enforcement community for waiting almost a full day before issuing any statement to the public about the search for Block, whom the agency described as "dangerous." DOCCS defended its communication strategy, saying it did not want to cause panic or drive Block into deeper hiding.
Shortly after Block was recaptured, Conway expressed disappointment with the lack of communication from DOCCS during the search, both with the public and his department. Cayuga County Sheriff Brian Schenck expressed a sentiment similar to Conway in a Facebook post that day.
At the conference, Conway reiterated that feeling, pointing out the unusual fact the he was holding a press conference to discuss another agency's work.
Conway added that he did not wish to continue to stir the situation up, saying it was not conducive to public safety, but said he hoped there would be better cooperation should a similar situation arise in the future.
"The good thing is he's in custody and will be going back to prison for some time," Conway said.
Block was convicted in 1984 on numerous charges, including two counts of first-degree rape and two counts of second-degree kidnapping. He was sentenced to 25 to 50 years in prison, according to DOCCS.
Block will be returning to prison for the second time since his initial release.
Block was denied parole before being conditionally released by statute in May 2017. He returned to prison in November 2017 for an unspecified violation of his conditional parole and was ordered to remain in prison until his December 2018 release.