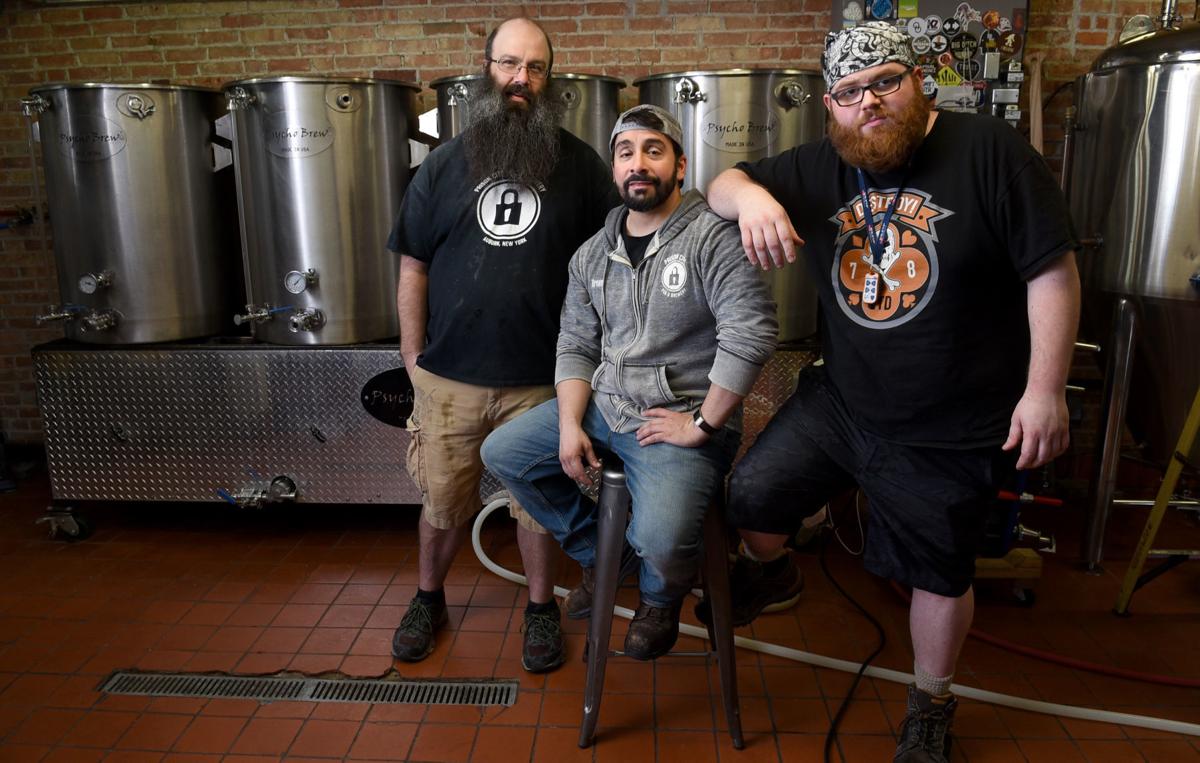 Prison City Pub & Brewery's India pale ale placed No. 6 in a blind tasting and ranking of 324 IPAs published Tuesday by Paste Magazine. The publication named Mass Riot No. 1 in a ranking of 247 IPAs in August 2016, raising the downtown Auburn brewpub's profile and prompting regional beer enthusiasts to line up on State and Dill streets to buy cans of the beer at its select releases.
Mass Riot once again placed ahead of several well-known and sought-after IPAs from across America, such as Treehouse's Green, Maine's Another One and Trillium's Scaled. 
"It does feel good to have been able to shine a spotlight on what was (at the time) the most incredible under-the-radar NE-IPA in America," Paste's Jim Vorel wrote. "The fact that Mass Riot is still here in the top 10 is just about the ultimate mark of quality, but this beer earns it with sheer vivaciousness. On the nose this one is big and complex, hitting hard with sweet tropical fruit notes."
AUBURN — It's an increasingly common sight weekend mornings at the intersection of Dill and …
The new No. 1 is Ripe IPA by Great Notion, of Portland, Oregon. The only other New York state brewery to place in the top 50 was Threes, of Brooklyn, with its Logical Conclusion IPA.
Another Prison City beer, pineapple IPA Hawaiian Trainwreck, placed No. 76 on Paste's list. The only other Cayuga County entry, Aurora Ale & Lager's So Damn Thirsty sour IPA, did not place.
Paste's IPA list is the third this year to feature a Prison City beer in its ranked portion: The brewpub's Chin Check barleywine placed No. 25 out of 62 entries in January, and its Illusion of Knowledge pale ale placed No. 7 out of 151 entries in April. 
Mass Riot has the hazy appearance and juicy hop character pioneered by Massachusetts breweries like Treehouse and Trillium — hence its name. The 6.5-percent ABV beer was last released at Prison City on Friday, but it's already sold out. Hawaiian Trainwreck is also not currently on tap there. 
To meet that demand, Prison City is planning a new facility that will raise its production from 1,000 barrels a year to about 10,000. It will also include a line to can beers like Mass Riot.
Brewer Ben Maeso, along with assistant brewer Robert Bowen and cellarman Joe Rusch, make Prison City's beer on a 5-barrel system, resulting in about eight kegs a batch. But even when they can make more Mass Riot, and even as its name value continues to rise among craft beer fans, Prison City owners Dawn and Marc Schulz plan to keep the IPA in Auburn.
"I only ever really want to sell Mass Riot out of the brewery so that it's as fresh as it possibly can be going out the door," Marc previously told The Citizen. "And we know we've done everything we can that you get the best possible representation of that style."
Get local news delivered to your inbox!
Subscribe to our Daily Headlines newsletter.