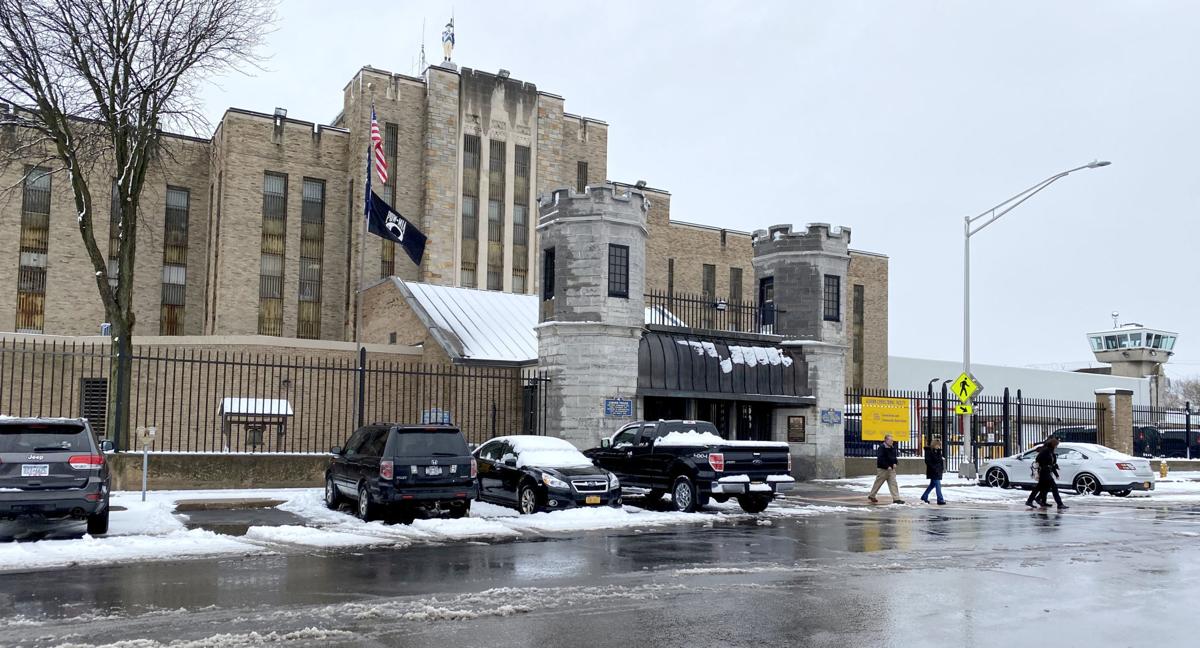 A state prison oversight organization is supporting inmates' calls for changes in communication programs and policies in order to allow for more social distancing behind correctional facility walls without losing all contact with the outside world.
The Correctional Association of New York, a prison oversight organization based in New York City that uses on-site facility visits and communication with incarcerated people to monitor conditions in the state's prisons, says it shares concerns that were raised in a digital recording posted online last month by an inmate at Auburn Correctional Facility. The recording was made after the state Department of Corrections and Community Supervision instituted a no-visitation policy in order to limit COVID-19 spread.
Nicholas Zimmerman, 44, uploaded an audio recording making several requests to the state Department of Corrections and Community Supervision and Gov. Andrew Cuomo. Among the requests, which Zimmerman said he recorded from solitary confinement, is a request to DOCCS to expand the capacities of the inmates' personal electronic tablets to make unlimited FaceTime, phone calls and emails for those who can pay for the services. Using shared phone and computer equipment could lead to spread of the coronavirus, he said.
Zimmerman, who is in prison for a parole violation after he had previously been incarcerated on weapons, bail jumping and bribery convictions, said turning on video chat functions and allowing more communication would alleviate the stress of no visitation and also what he believes has been a suspension of mail and packages at the Auburn prison.
After reviewing Zimmerman's recording, Corrections Association Executive Director Jennifer Scaife said she was concerned that the coronavirus-related policies DOCCS is putting into place are not being uniformly implemented across the individual prisons. "Each prison has its own personality and its own set of cultural and regional issues that make implementation of a policy look a little bit different," she said.
She wasn't sure how Zimmerman's disciplinary status in the special housing unit impacts his privileges, but thought the extra tablet functions he requested could be fulfilled. Scaife has suggested that DOCCS, which she remarked has an "extraordinarily challenging role" in the crisis, create a dashboard of coronavirus cases in state prisons and where they're housed.
DOCCS said that it's continuing to evaluate "all options" as the pandemic develops.
"As the Department responds to this extraordinary circumstance, DOCCS has and continues to alter longstanding policies, as well as create new policies, to protect the health and wellbeing of staff, incarcerated individuals and parolees, while working to protect public health and public safety," the department said in a statement in response to The Citizen's questions.
Regarding inmate mail, DOCCS said nothing has changed and there are no plans to change anything in the future. But Scaife said Zimmerman's observations are not unique.
"What I'm hearing from Mr. Zimmerman at Auburn raises concerns that I already had — which is that if the commissioner says that mail should be operating as normal, I had many concerns that people are not getting mail or being able to send mail" due to staffing shortages or fears of coronavirus transmission, Scaife said.
In his recording, Zimmerman also requests that indigent inmates get one half hour of phone calls, five emails and two FaceTime calls. Zimmerman said communicating from tablets would keep people from potentially spreading the virus by using the same phones and email kiosks.
He also asks those in solitary confinement be allowed to buy $75 worth of food from the commissary and receive food packages from home to avoid potential contact with the virus through facility kitchens. He suggests general population inmates be allowed to buy $150 worth of food and the indigent given $20 a month for the commissary.
DOCCS said it follows the Center for Disease Control's food safety guidelines for limiting the spread of the coronavirus by giving mess hall workers unrestricted access to soap and water. "According to the CDC, there is currently no evidence to indicate that the transmission of COVID-19 is associated with food," the statement reads.
The last adjustment he called for was to convert all solitary confinement units to a layout called "keep lock," where Zimmerman said inmates would still be isolated in a cell but have access to their property and communicate with family, lawyers and advocates using their tablets.
Concerns about coronavirus spread in prisons have been raised by inmate advocacy organizations and corrections officers for several weeks.
Another NYC-based organization, The Osborne Association, recently released a statement calling for Cuomo and corrections officials to grant clemency, medical furloughs and vacate parole warrants, among other measures, to free the elderly and immunocompromised from jails and prisons.
The organization brings a range of education and vocational programs to about 36 correctional facilities. Since such programs were also suspended due to the pandemic, they said they're trying to use video visiting to the extent they can to decrease isolation in the facilities.
Staff writer Mary Catalfamo can be reached at (315) 282-2244 or mary.catalfamo@lee.net. Find her on Twitter @mrycatalfamo.
Concerned about COVID-19?
Sign up now to get the most recent coronavirus headlines and other important local and national news sent to your email inbox daily.