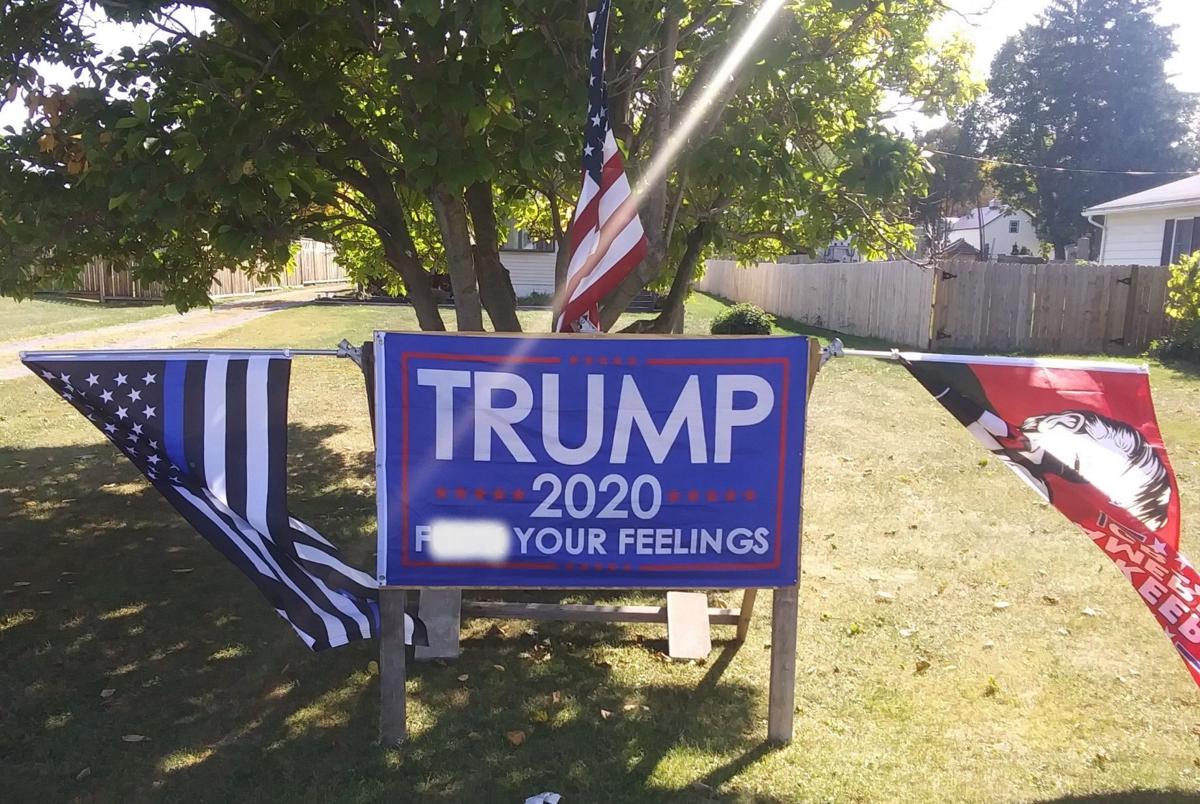 WEEDSPORT — A sign supporting U.S. President Donald Trump that includes a swear word has raised some local ire and prompted complaints to local governments.
What is actually a flag attached to a sign post on a North Seneca Street property reads "Trump 2020 F--- your feelings." Numerous other signs supporting Trump are scattered on the lawns of other properties along the street — which is a major road within the village — but no others appeared to employ the same language.
Local municipal officials have heard from the public about the sign, but have told people there's little they can do about it.
Auburn resident Ernie DeCaro, who drove by the sign recently, said Friday he spoke with the Weedsport clerk. DeCaro said the clerk told him the municipality had received calls about the sign.
Reached on Friday, Village of Weedsport Clerk Christine Spoor said the village is declining to comment on the situation.
Weedsport isn't the only local government that received correspondence on the sign, according to meeting minutes from a Sept. 14 Brutus Town Board meeting. The town clerk's report noted there had been "a lot of complaints about the political sign with swear word on North Seneca Street."
Tim Marks, the person who placed the sign in front of his residence, declined to speak about it Saturday. On Marks' public Facebook page, he said in a post that law enforcement officials reached out to him about removing a sign.
"So how many officers have stopped by your house to ask you to take down your flags?? I just had one which was personally asked by the mayor to ask me to take down my trump flag. What happened to the first amendment?" he wrote on Sept. 8, generating numerous responses in support of Marks and his right to post the sign.
In response to one of the comments, he wrote: "I can see the village of weedsport is going to do everything in there power to make me remove my sign on private property ... my taxes are paid up to date 100% why don't they do something better like fill in the potholes or fix the properties that are eyesores unlike my property."
DeCaro, who came across the sign while driving with his wife Mary recently, said he was "absolutely appalled that (a person) would embarrass his community"  by putting the sign up.
Noting that he has voted for both Republicans and Democrats in the past, DeCaro said the owner has a right to support Trump, adding that he served in the military during the Vietnam War "for everybody's right to do that." That said, DeCaro took issue with what he saw as a lack of civility and the language used.
"Whatever happened to civility?" he said.
DeCaro noted that the sign is large and prominently placed, with the street just off a state Thruway exit, so people driving by wouldn't able to miss it.
"It's just a blatant insult to people that this guy doesn't even know," he said.
Joanne O'Connor, who is from Auburn but has lived in New York City for 41 years, said she was offended by the sign when a friend brought the sign to her attention. O'Connor, who is planning to move back to Auburn, said the fall school semester has started so children can see the sign.
"I'm so sad that this is OK, for people to put a sign like that up," O'Connor said. "What has happened not only to our world, to our country, to just all those streets in our little town that this seems OK?"
Mentioning her distaste for Trump, she added "Shame on Weedsport for allowing" the sign.
"Listen, this is America, and the point is, you can put a sign up for whatever you want. You can put out 'Bozo the Clown for president,' that's fine," O'Connor said. "But you can't put out 'Bozo the Clown for president: F— your feelings.' That's different."
Staff writer Kelly Rocheleau can be reached at (315) 282-2243 or kelly.rocheleau@lee.net. Follow him on Twitter @KellyRocheleau.