AURELIUS — At the first public presentation of the draft update to the Owasco Lake watershed rules and regulations Wednesday, questions from residents focused largely on provisions regarding nutrients, waivers, and enforcement.
Prompted largely by the increase in harmful algal blooms on the lake, the Cayuga County Department of Planning and Economic Development in 2017 began working with the Owasco Lake Watershed Management Council to update enforceable rules for the lake for the first time since the 1980s.
Staff from the department as well as an array of other county, state, municipal or other agencies, a steering committee and stakeholder groups developed a draft of the rules that were publicly released this March.
Held at the Cayuga-Onondaga BOCES, the meeting Wednesday was the first open to the full public following several previous meetings with stakeholder groups and municipal leaders.
Comments from the meeting, as well as from the stakeholder meetings and those submitted online, will be collected into a separate document submitted to leaders at the town of Owasco and city of Auburn when they, as the purveyors of municipal water, are asked to vote in favor of requesting the state change public health law to reflect the new rules.
The presentation from staff was divided into several sections based on the content of the rules, after which audience members were encourage to raise questions or suggestions.
One of the most discussed topics focused on the process of approving waivers for the regulations, including who issues them, why they're used, and who will enforce them and the regulations in general.
According to Nick Colas, a certified planner with the county, waiver applications would be reviewed by an inspector from the Watershed Inspection and Protection Division and the Watershed Inspection Committee.
Auburn City Councilor Terry Cuddy questioned if waivers granted for farms in deference to their existing nutrient management plans — which contain specific guidelines on things such as fertilizer application rates and more — would become "de facto" rules and regulations.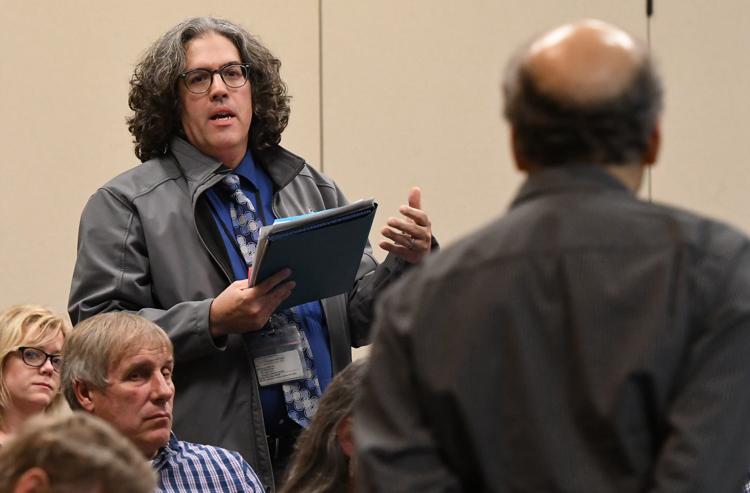 Colas noted Cuddy's suggestion, and said waivers are meant to be granted only if applicants can prove a specific rule is not necessary to protect the lake or if an existing practice accomplishes it just as well.
Regarding a question on the timeline of violation enforcement, county Director of Environmental Health Eileen O'Connor said the process would go through the county Board of Health.
You have free articles remaining.
O'Connor said that approximately 95% of violations are corrected quickly enough that they don't require a board hearing, while even more are usually corrected after that stage.
In the rare instance where violations are still not addressed, violators still have to be afforded full due process, including taking grievances to court, in order to protect their rights, O'Connor said.
Auburn resident Patty Beer asked why septic systems that didn't meet certain criteria would be given a five-year period to be addressed rather than being handled through the waivers.
"Our lake can't handle five more years of this stuff," Beer said.
Several audience members asked how the necessary communication between groups like the inspection program, towns and villages, highway departments, construction applicants and more, would be accomplished.
County Planning and Economic Development Director Steve Lynch replied by acknowledging that education and outreach would be a "major component" of the process moving forward, and one that all the groups involved would be contributing to.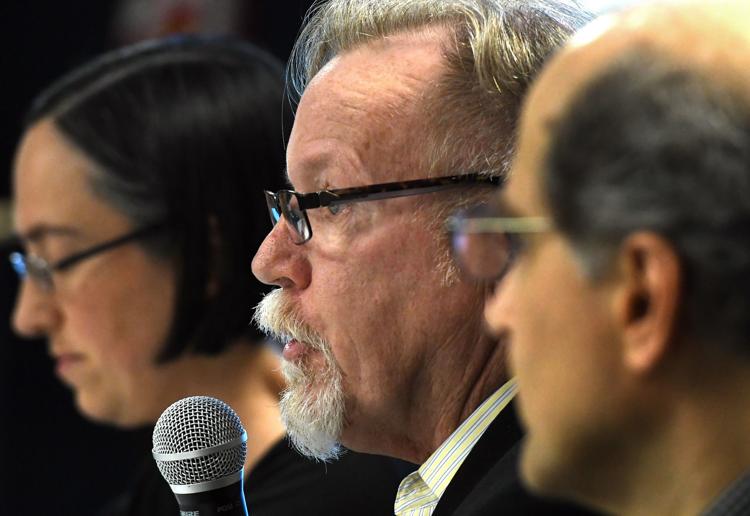 On nutrient management, given that one of the rules could limit times when farmers can apply manure during winter, Aurelius farmer Jon Patterson asked if the town of Owasco and city of Auburn would support farmers building more manure storage facilities that such a limit would necessitate.
In addition to the discussion period, all attendees were given comment cards and asked to provide detailed, concrete suggestions for changes or additions to the plan, which can also be submitted online.
A second public meeting is scheduled for 6:30 p.m. Thursday in the Moravia High School Auditorium.