Port Byron native Dale Ball spent the first half of 2019 making headlines after buying what he claims is a million-dollar Babe Ruth baseball card for $2.
Ball, who now lives in Visalia, California, said he bought the card in January at a Nevada collectibles store. It was priced so low, he continued, because the store owner thought it was fake.
But shortly after his random purchase, Ball announced that it's the real deal: a 1921 Ruth made by confectionery company Shotwell Manufacturing. Only one other copy is known to exist. So the card has drawn interest from big-ticket buyers and even Major League Baseball organizations, Ball told The Citizen, CNY Central, WSYR and dozens of other news outlets across the country.
For the last two months, however, there have been no new stories about Ball and his Ruth. Meanwhile, the collector community has responded with its own headline: The card is fake.
Additionally, after interviewing a few collectors and following up with Ball, The Citizen found several inconsistencies in his story. Those inconsistencies suggest that not only is his Ruth indeed fake, but that Ball has consciously deceived the media into reporting otherwise. Ball, for his part, rejected the accusation in a July 25 phone interview. He doesn't need publicity or money, he said.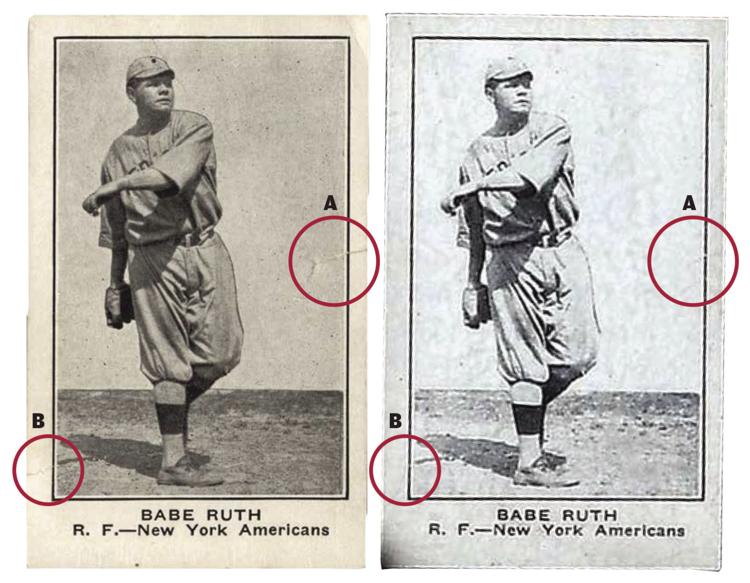 Regardless, Ball's card is fake for a few obvious reasons, said James Feagin, head writer for Huggins & Scott Auctions in Silver Spring, Maryland.
A veteran of the sports memorabilia industry for more than 30 years, Feagin also discovered the first card from the extremely scarce three-player Shotwell set in 2007. He said the other, authenticated Shotwell Ruth — which he's seen personally — has a gray tint in the background of the picture compared to the card's brighter frame. But the background of Ball's Ruth is white, Feagin noted. Furthermore, the other Shotwell Ruth has tears that interrupt the black picture outline on the card's bottom left corner and right side. And Ball's card has the exact same tears, Feagin said.
"I don't think you could get more damning proof of photocopying," he said. 
Beyond the card itself, Ball's treatment of it also warrants suspicion, Feagin said. First there's the fact that Ball hasn't had his Ruth professionally graded by one of the three major companies who do so: Professional Sports Authenticator, Beckett and Sports Card Guaranty. Their experts analyze a card's stock and compare it to already graded copies, essentially authenticating it, Feagin said.
Ball, in response, said he won't give his cards to PSA because he was part of a lawsuit against the company and doesn't trust it. He told The Sun-Gazette in central California in February that he submitted the Ruth to Beckett for grading, but told The Citizen July 25 that he only planned to submit the card, and never actually did. He now plans to bring the card to SGC for grading, he said.
But more important than grading the card, Ball believes, is scientifically dating it — which he did at the University of California, Fresno. There, anthropology professor John Pryor performed a fiber identification procedure that found the card stock could feasibly be from 1921, according to a copy of the professor's report that Ball showed to The Citizen. But Feagin said there's still plenty of room for the Shotwell Ruth to be a photocopy. For instance, scam artists have been known to affix photocopied card fronts to authentic backing, a "fairly common" practice called rebacking. 
Feagin was also alarmed Ball agreed to remove a piece of the card to perform the procedure in the first place.
"No serious collector would ever consent to do that," he said. "Vintage card hobbyists look at these pieces of cardboard as art and a piece of history."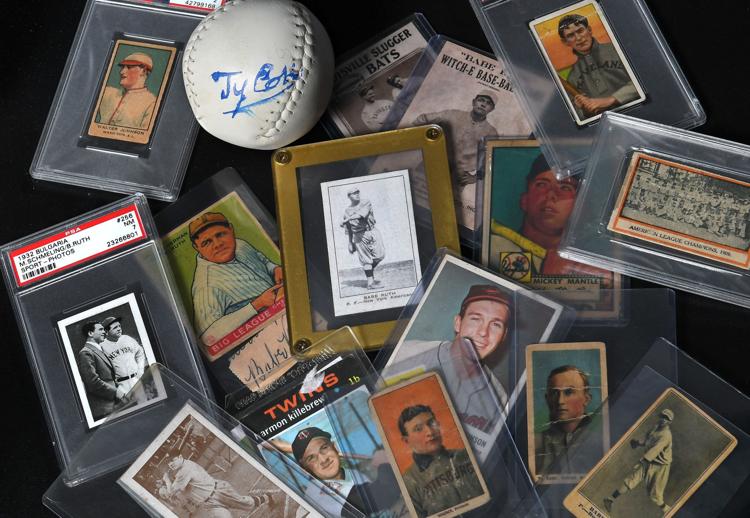 And Ball does appear to be a serious collector. He owns some graded cards, a couple of which he brought to be photographed at The Citizen in May. But another collector, Scott Russell of Birmingham Auctioneers in northeastern Pennsylvania, contends that several other cards Ball had photographed are also fakes. One of them is a T206 Honus Wagner, the card famously purchased by Wayne Gretzky for $451,000 in 1991. The font color and style of Ball's Wagner is wrong, Russell said. Besides, he continued, if that card was authentic, "the hobby would already know who Mr. Ball was."
You have free articles remaining.
"With Mr. Ball being the publicity seeker that he obviously is, the T206 Wagner would be a bigger story than the Shotwell Ruth as it is the 'Holy Grail' of the hobby," Russell said in an email.
Ball's 1952 Topps Mickey Mantle and 1933 Goudey Ruth are also obvious counterfeits, Russell concluded from the photographs. And he's skeptical of Ball's baseball sporting the signature of Ty Cobb.
"Cobb died in 1961 and that ball is screaming white," Russell said. "It literally looks like someone practicing for the first time with a fountain pen."
The authentic cards Ball had photographed by The Citizen, meanwhile, "are nice but nothing earth-shattering," Russell said. He estimates that those cards — including a 1963 Fleer Brooks Robinson, a 1932 Bulgaria Sport Ruth, a T206 Nap Lajoie and a 1971 Topps Harmon Killebrew — are worth a total of maybe $1,000. But Russell also believes that Ball's possession of graded cards makes his fakes all the more conspicuous. Ball clearly understands the value of grading, Russell said, and yet his Shotwell Ruth and T206 Wagner should have been the first cards he had graded.
In his July 25 interview with The Citizen, Ball dismissed collectors like Feagin and Russell as jealous.
"People want to be negative because they can't be happy for someone," he said. "I love it, because all it does is stir up drama and I get more publicity."
However, fellow collectors aren't the only ones contradicting Ball. In his recent interview with The Citizen, he claimed he has fielded several offers for the Ruth card. The highest was $7 million, he said. Both the Boston Red Sox and the New York Yankees expressed interest in displaying the card, Ball added, but he wasn't happy with their offers. And the National Baseball Hall of Fame and Museum in Cooperstown made a play for the card as well, he said. Ball identified a curator named "Sue" as his contact at the hall of fame, but asked The Citizen not to mention her.
Michael Margolis, director of baseball information and public communications for the Yankees, said he couldn't find anyone from the organization who spoke with Ball. But without more information, Margolis continued, he also couldn't definitively confirm or deny the claim. Ball did not respond to a request for the name of his contact with the Yankees.
Dale Ball's first baseball cards literally fell in his lap.
The Hall of Fame curator, on the other hand — Director of Collections Sue MacKay — said she did indeed speak to Ball. But it was a "quick chat" in the busy lobby of the museum, where he told her about the Ruth card and nothing more. Contrary to Ball's account, MacKay said she did not see the card, comment on its authenticity nor make an offer for it on the museum's behalf.
"That's not something that would have happened," she said.
Ball also told The Citizen that "Lee" at Heritage Auctions, the world's largest collectibles auctioneer, was the one who suggested he have his Ruth graded by SGC. "It's legit," Ball said Lee told him. Again, though, Ball's version of events was refuted — this time by Lee Iskowitz, consignment director at Heritage and a vintage sports card expert who formerly worked as a senior grader for SGC.
In a July 25 interview with The Citizen, Iskowitz said Ball showed him the Ruth at Heritage's New York offices. Ball has consigned some cards to sell through the auctioneer, Iskowitz confirmed, but "not much of value." That contradicts Ball's claims to The Citizen and other media that he was going to consign several million dollars' worth of rare Ruth, Mantle, Cobb and other cards there. 
As for the Ruth, Iskowitz did tell Ball to get the card graded by SGC — but because he, too, believes the card is "absolutely fake." Given how invested Ball was in its authenticity, though, Iskowitz didn't say so. Instead, he felt it would be more productive to have a grading company formally break the news.
"It never sounded right to begin with," Iskowitz said. "I knew, but I had to send him to the company."
SGC did not respond to requests for comment.
But if the grading company does see Ball's card — and it may already have, Iskowitz said — it will likely come to the same conclusion as him and other collectors.
In that case, the only remaining question about the Cayuga County native's incredible discovery will become whether he continues pitching its story.