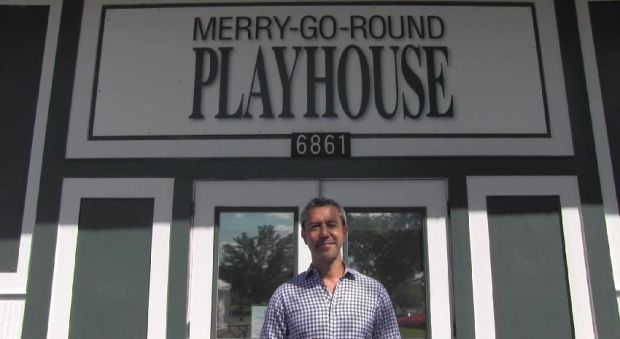 Last week Brett Smock, the producing artistic director of the Finger Lakes Musical Theatre Festival, took part in a live online discussion at auburnpub.com with readers and members of The Citizen's staff. The conversation touched on a variety of topics, from the selection of future shows to the festival's financial condition. Below is an edited recap of the live Q&A session:
Q: I would love to see the following musicals on your stage: "Jesus Christ Superstar," Footloose," "Momma Mia." Thank you for your time and I look forward to your next lineup.
A: I hear you and absolutely take your request to heart. Finding a season that appeals to everyone is practically impossible. But do our best to create theatrical experiences that engage, educate, enrich and enlighten our audiences. "Superstar" is always a show that bears heavy scrutiny in our annual selection meetings. It's a favorite in the offices here but we're unsure whether audiences at large want to see it. If you can start a movement for JCS, we'll do it! I directed and choreographed "Footloose" in '03 so I suppose we're due soon ... and the second 'Mamma Mia" becomes available for regional licensing, we will grab it!
Q: What is MGR/Finger Lakes Musical Theatre Festival hoping to do in future seasons to get a younger crowd interested in musicals?
A: Well, first of all, we're interested in hearing from more of you! Engaging in dialogue like this is invaluable for us at the theatre. We want to hear from our audiences! We are a young company here so we are all dedicated to creating seasons that are balanced and exciting. We are looking to pair our shows with experiences geared toward younger audiences so that they feel a sense of inclusion and draw. Auburn has a lot to offer in terms of restaurants and bars, galleries and museums to complement a night at the theatre — and we hope more and more young people take advantage of those opportunities.
Q: So here's a softball: could you share your vision for the FLMTF's future? Your new season takes some chances with newer material. Can your audiences expect more of that?
A: To answer your question directly — yes, they can. On the business side, my primary goal is to uphold the mission and vision for the Festival to be a catalyst for economic growth and development in Auburn and the region. Ed Sayles laid a wonderful foundation and it's my job to continue that initiative. On the artistic side, I believe that theatre has the power to change. And more than anything, I want our audiences to leave our theatre having had experiences that affect them. As I said in an earlier post — finding shows and seasons that everyone likes at all times is impossible. What is possible is creating experiences that reach out and grab you and stay with you. We offer three different experiences in three different venues — it's our hope that audiences will find themselves in one of those.
Q: Is there any possibility that the TMF will join forces with the Cayuga County Arts Council in their endeavor to renovate the Schine Theater?
A: Thanks for this question. First of all — it's important to state that we are fully supportive of the efforts to renovate The Schine Theatre. It's a landmark in Auburn with great history and as a theatre, we support any initiative that brings art into the community. However, as a business model, the venue doesn't fit into our financial structure for how shows need to earn and remain affordable for our audiences. We are dedicated to growing the market of theatre audiences and as it grows, so too will the need for larger venues such as The Schine.
You have free articles remaining.
Q: What progress has there been in the search for a location for a fourth venue? Is there still a partnership with CCC in regards to that project?
A: The Finger Lakes Musical Theatre Festival currently operates out of three venues: MGR Playhouse, Auburn Public Theater and Theatre Mack. We are thrilled to have a strategic alliance with the Auburn Public Theater that brings our companies together to present and produce theatre at APT and with the Cayuga Museum that allows us residency for our 'PiTCH' series. We are actively prospecting for a new venue at the moment as we realize the Festival's ultimate scope and reach.
Q: Brett, when you say the Schine doesn't fit into your financial structure, is it a matter of the theater being too big (having too many seats, etc.)?
A: Partly, yes — to fill a large number of seats in addition to what we currently provide is a difficult task and something that results purely from strategic market growth. We are dedicated to continuing to attract audiences and increase attendance by leveraging the incredible assets of this region. Additionally, a larger venue often demands larger production elements, cast sizes, housing needs, marketing demands etc and those can often create unwieldy budgets. Theatre is a business entirely dependent on interest and attendance. As such, its budgeting and management are an exercise in risk. Mitigating as much risk as possible results in the closest balanced budget. As I said before, the Schine project is an incredible opportunity and our entire organization wants to see this succeed. When one wins, we all win.
Q: Is there an active marketing plan in place to attract the bus loads that come in to have a package that gets them to stay over night? Do any of them currently do that? Is it travel agencies that organize these bus trips in for the matinees?
A: Group business is a critical and significant part of our operation. Funny you should ask this question — just yesterday I sat in a meeting with members of the Tourism Board and our sole topic was groups. To answer your question, yes, groups are coming from farther and farther away as their interest is peaked in this region. I believe that the Finger Lakes are fast becoming the new Hamptons. That is bringing people from Colorado, Ohio, Florida, Michigan and beyond to this area. They are visiting Auburn, eating in our restaurants, going to nearby tourist sites and experiencing great theatre in the evening. I am dedicated to continuing to work with our partners to increase this exposure and our group business, as a result. As for who organizes our matinee and evening groups — it's a combination of tour operators, bus companies and senior group leaders.
Q: I wanted to ask about the festival's financial situation. Is the festival/MGR seeing growth in terms of box office sales (how much in terms in percentage year-over-year) and is the festival/MGR making a profit from operations (in other words, operating in the black without the support from donations)?
A: Important to know: the creation and maintenance of three venues over the course of a season that lasts from May to October is a very expensive venture. Theatre is not cheap. We are a professional theatre with high standards and we work tirelessly to uphold and improve upon those each year. We are a not-for-profit organization with emphasis on the first three words. We do not make a profit. Our considerable and invaluable support from our audiences, public and private donors and corporations all help to make this operation possible. In 2008, when the financial world fell apart, every theatre in this country was faced with a new reality — how to stay alive. Many did not. Because we are a seasonal event, our attendance largely depends on the region's tourism strength and local engagement levels. As this region grows its visitors and attendance rate, so too will our annual attendance grow. I will say this — we are seeing increased interest in our dynamic 2015 season!
Q: Hey Brett, we've seen a few high-profile castings in the last couple years. Is this something we can expect to be the norm for the festival going forward? I guess what I'm really asking is, will Benedict Cumberbatch be Sweeney Todd, and why not?
A: We're thrilled to be able to feature great actors in all of our roles. To have the opportunity to bring Taylor Dayne, George Wendt and most recently, Tom Wopat to Auburn has been a treat. Is Benedict interested? If so, have him call me.