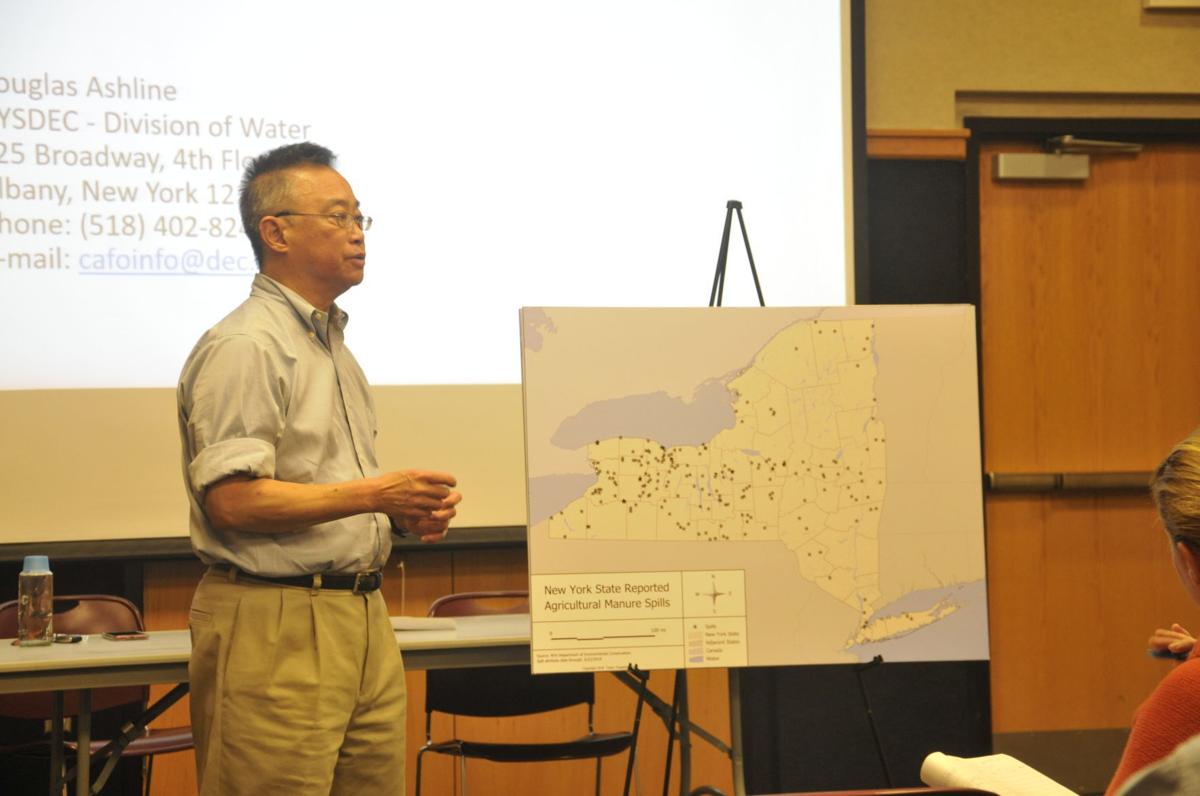 AURELIUS — A local activist group dedicated to combating harmful algal blooms is renewing its campaign asking for state assistance in protecting water quality on Owasco Lake.
In response to a lawsuit, the state Department of Environmental Conservation in September posted the first draft of a revised permit governing Concentrated Animal Feeding Operation (CAFO) farms under the Clean Water Act (CWA). The publication of the draft triggered a public comment period, which is set to conclude Oct. 11.
At an emergency meeting Monday at the Cayuga-Onondaga BOCES, Auburn City Councilors and Save Owasco Now members Terry Cuddy and Jimmy Giannettino asked for members and the public to join a letter-writing campaign urging the DEC to apply the new permit requirements to all CAFOs, not just those under the CWA.
Nutrient runoff from farms, including but not limited to CAFOs, is often cited as one of the primary contributors to the surge of HABs in recent years, with a state-developed HAB action plan pointing to agriculture as the source of 83 percent of pollution into Owasco Lake.
Local farmers along with representatives from regional agriculture industry groups have repeatedly said that the state permits are even more strict in the requirements they place on farms than the CWA.
At the meeting Monday, Giannettino asked an audience of approximately 20 people to submit their comments on the permits to the DEC, and said the Auburn City Council would be considering its own comment later this week, echoing the sentiments expressed in September by the Owasco Lake Watershed Management Council.
Giannettino said if there was a chance submitting a comment could result in enforceable rules to protect water quality and protect public health, the group had a responsibility to do so.
"I think we have an obligation to do that," Giannettino said.
In addition to the CAFO permits, Giannettino and Cuddy also said it was more important than ever to continue advocacy, specifically directed at Gov. Cuomo, requesting help with the HAB issue in general.
"Political action is the only way to solve this problem," Cuddy said, later adding "We need the state to really step up more than it already has."
In a template letter provided to the audience, the group asks for the governor to implement a number of actions including placing Owasco Lake on a list of impaired water bodies, requiring the state to conduct Phase 1 Environmental Site Assessments for the sub-watersheds of the lake and implementing a Total Maximum Daily Load, a maximum amount of pollutants, with a clean-up plan within two years.
"This HAB crisis will become New York State's version of a 'Dust Bowl,'" the letter reads.
Walter Hang, president of the Ithaca-based environmental auditing firm Toxics Targeting and a frequent ally of Save Owasco Now! said at the meeting that the current measures taken by the state, including $65 million HAB action plans were simply not enough.
Echoing Cuddy's statements, Hang said a TMDL and a ground-level survey of pollution sources would be the surest way to protect the lake. While many often perceive those goals to be in opposition to farms, Hang said that's not the case.
If it meant protecting the lake, Hang said he'd be in support of state money helping farmers fund projects to help mitigate nutrient loss like planting riparian buffers.
Staff writer Ryan Franklin can be reached at (315) 282-2252 or ryan.franklin@lee.net. Follow him on Twitter @RyanNYFranklin